PHARR, Texas — Mexican drug smugglers tried to disguise a ton of marijuana as fake carrots inside a freight shipment. The drugs were shaped into small long packages that were orange colored as to disguise them with the real carrots.
The seizure took place at the Pharr/Reynosa International Bridge in their cargo area, information provide to Breitbart Texas by U.S. Customs and Border Protection revealed. Initially a tractor trailer went in for inspection and was sent to be scanned using a "non-intrusive" device.
After the vehicle was scanned, authorities CBP officers used a police dog to check the trailer of the vehicle and eventually discovered that some of the carrots were in fact marijuana packets disguised as carrots. Authorities found 2,817 marijuana packets disguised as carrots. The total weight of the seizure was 2,493 pounds. Authorities confirmed to Breitbart Texas that the approximate value of the drug seizure is $499,000.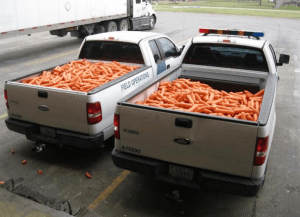 "Once again drug smuggling organizations have demonstrated their creativity in attempting to smuggle large quantities of narcotics across the U.S./ Mexico border, said CBP Port Director  Efrain Solis Jr. in a prepared statement.
CBP officers turned the case over to U.S. Homeland Security Investigations. Court records don't show if the driver of the vehicle was arrested. When it comes to tractor trailers, authorities historically have not arrested the driver of the vehicle since commercial truck drivers at times may not be aware of the cargo they are moving.
Commercial tractor trailers that drive across the Pharr international bridge generally come from the Mexican border city of Reynosa, which is under the control of the Gulf Cartel. That Mexican border city continues to be one of the main crossing areas used for drug and human trafficking by the criminal organization.
Ildefonso Ortiz is an award winning journalist with Breitbart Texas you can follow him on Twitter and on Facebook.