MCALLEN, Texas — A top ranking member of the Gulf Cartel who had been on the run since 2012 after skipping out in the middle of his drug conspiracy trial in this border city, has been arrested in the Mexican border city of Matamoros.
Cameron County Sheriff Omar Lucio confirmed to Breitbart Texas that Edgar "El Ewok" Hinojosa was the target of a joint arrest between Mexico's Federal Police and the U.S. Marshals Service. The fugitive drug lord is expected back in Texas later this week. He is a native of Brownsville Texas.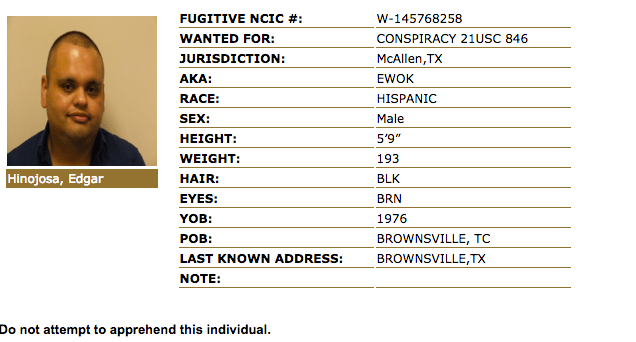 While details of Hinojosa's arrest were not readily available, on Tuesday, the border city of Matamoros was the scene of a two hour firefight where as Breitbart Texas reported, three bystanders were injured. It remains unclear if the shootout was tied to the arrest.
In March 2012, a federal grand jury indicted Hinojosa on cocaine conspiracy charges and he went to trial on September of that year.
Hinojosa  fought the charges against him and was allowed to remain out on bond during his three-day trial. After two days of testimony, El Ewok went on the run missing the third day of testimony. He was convicted by a jury even though he was not present. Upon his return to court he faces a possible life sentence.
Hinojosa had been a regional boss for the Gulf Cartel in the American border city of Brownsville where his group coordinated the shipment of multi-ton quantities of cocaine into Houston, court records obtained by Breitbart Texas confirmed.
Law enforcement officials consulted by this outlet confirm that prior to going on the run, Hinojosa had been able to operate in Brownsville with impunity and had befriended several local politicians through campaign donations and favors.
According to the FBI, Hinojosa had started out as a bodyguard for the late Reynosa plaza boss Hector Manuel Sauceda Gamboa better known as El Karis.
Ildefonso Ortiz is an award winning journalist with Breitbart Texas you can follow him on Twitter and on Facebook.