Breitbart News is now the 29th most trafficked site in the United States, surpassing PornHub and ESPN, according to figures from the latest Alexa rankings.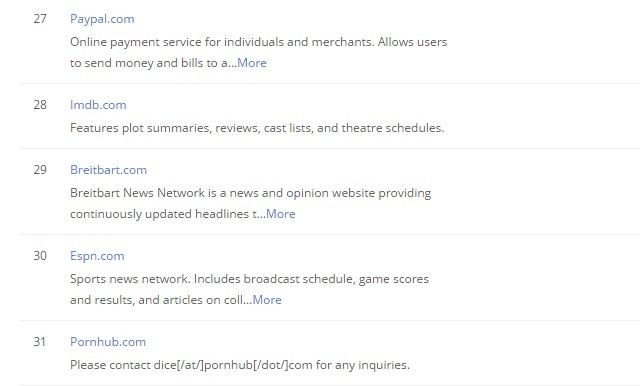 The analysis, which is based on a variety of factors, found that the average Breitbart reader spends 5 minutes 18 seconds on the site, whilst having an average of 2.64 pageviews.
It also found that 8.7% of Breitbart's traffic came from search engines and that 41,686 sites link in every week to Breitbart stories.
At 29th place, Breitbart is the third most trafficked pure news website in America, behind only to CNN and The New York Times. Its traffic has now overtaken that of outlets such as FOX News, The Huffington Post, and The Washington Post. 
Responding to the news, Breitbart News editor-in-chief Alexander Marlow said that "to have surpassed the top sports website in the world and the top porn site is a staggering accomplishment. We have an amazing (virtual) newsroom filled with brave and talented people."
Breitbart News has also proved itself to be a considerable force on social media, recently hitting over 3 million Facebook likes. Last May, Breitbart became the number one site for political social media, overtaking the second place Huffington Post by 2 million interactions.
During its coverage of the 2016 presidential race, Breitbart News also generated 300 million page views and 45 million unique visitors in 31 days between October and November.
Considered by many to be the largest conservative news site in America, with separate bureaus also established in London and Jerusalem, Breitbart News plans to expand its international and domestic presence in the coming months.
You can follow Ben Kew on Facebook, on Twitter at @ben_kew, or email him at bkew@breitbart.com.