WASHINGTON, D.C. — Two top Trump Administration officials took to the White House press briefing podium on Tuesday to push back against Democrats spiking the football on the new spending bill and criticism that the bill doesn't fund the new border wall that was promised during the President's election campaign.
"I believe this budget will help us begin to improve the way we do business and how we accomplish our goals to help make this country more secure," said Secretary of Homeland Security John Kelly.
He said that department's base discretionary budget is $42.4 billion dollars.
Kelly added:
We will be able to both sustain our critical security operations and make improvements that will make us all safer. That includes hiring ICE agents, improving cyber security, funding grants that support state and local communities in funding the Coast Guard operations at $344 million dollars above the FY17 budget request. And as promised, the budget will secure our borders and enforce our immigration laws. Border security has three factors: you need people, you need technology and you need infrastructure. This budget begins to provide, begins to provide all three.
Kelly indicated that the budget will allow funding to replace see-through steel wall along the southwest border, enforcement aircraft, and technology used to prevent illegal activity across the border.
The Secretary said he was shocked at the rejoicing of some officials over the slowdown in building the border wall. He said the slowdown makes the border under less control.
Budget Director Mick Mulvaney followed Kelly promoting that there is funding for replacing existing damaged border wall.
"There's no bricks and mortar for a wall in this, we can build this," Mulvaney said as he pointed to one of two pictures of old border fencing and newer replacement wall displayed at the front of the room.
"There is several hundreds of millions of dollars for us to replace cyclone fencing with 20-foot high steel wall…There's several hundreds of millions of dollars for us to build levy walls," he continued. "That's what we got in this deal and that's what the Democrats don't want you to know."
"This is the wall, by the way, that DHS said they wanted," said Mulvaney. "…because it actually works better." He said this was safer for Border Patrol agents, adding, "It's also half of the cost so we can build twice as much of it. This is a huge win for border security."
Pressed on there being no funding for a new border wall, Mulvaney replied, "Is it a replacement for existing wall, yeah. That's fine. Is it new wall, no." He pointed to a photo of smaller existing fencing and a taller, more fortified fencing set to replace it using funds included in the spending bill. "You can call it new wall, you can call it replacement, you can call it maintenance, call it whatever you want to. The President's priority was to secure the southern border and that's what this does."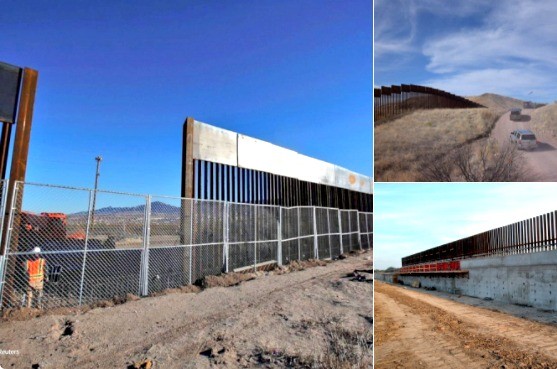 When asked, Mulvaney couldn't answer where along the southern border the replacement wall was being built.
During Monday's press briefing, Press Secretary Sean Spicer left lingering questions as to when Americans can expect to see the new border wall funded and completed. Spicer said the President got a lot out of the new spending bill, including $1.52 billion for border security. He indicated that it would be a push to fund the new portions of the border in the fiscal year 2018 budget, but stopped short of ensuring that funding would make it into that budget either.
"Make no mistake the wall's going to be built. The President has made it very clear," he insisted. Pressed on a timeline for completion, Spicer said only "as soon as possible."
Follow Michelle Moons on Twitter @MichelleDiana