HOUSTON, Texas — The death toll continues to climb in the ranch-lands surrounding the South Texas town of Falfurrias. This week, the Brooks County Sheriff's Office reported the death of a Mexican woman who was discovered less than three days after her demise.
On July 27th, Cecelia Rios celebrated her 32nd birthday, most likely in Mexico. About a week later she apparently crossed the border into the United States and eventually began the march through the soft sand in Brooks County after being dropped off by her smugglers. A few days later her nearly skeletal remains were found along a high-power line right-of-way located on the Cage Ranch in southern Brooks County. Her photo on her Mexican passport showed her to be an attractive young woman. On her left hand was her wedding ring.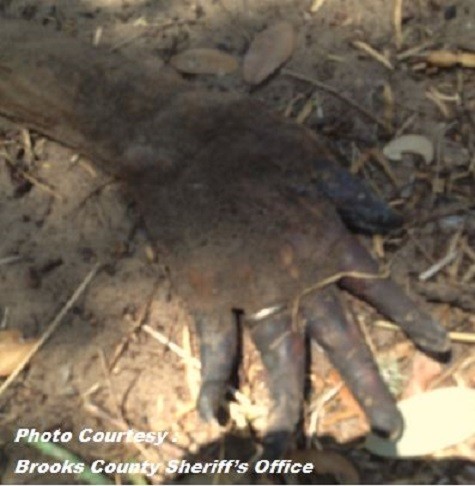 Cecelia's remains were found lying face-down in the sand, according to photographs provided to Breitbart Texas by the Brooks County Sheriff's Office, after apparently collapsing from either heat exhaustion or dehydration. Her body had been nearly picked clean by the animals and insects that inhabit this region except for her arms. "All of this took place in less than 72 hours," said Brooks County Chief Deputy Benny Martinez.
It is not clear exactly how she died or whether she had been subjected to the rapes that many of the women who are smuggled through this area are subjected to. It was also unknown if she was traveling with any children. In June, Breitbart Texas witnessed the capture of a woman who was about to embark on this same journey with a 10-year-old boy. She and her son were spared this fate after being captured by Deputy Daniel Walden, one of the volunteer police officers from neighboring Hidalgo County who comes to Falfurrias in his off-duty time to work as a non-paid deputy sheriff. The capture came at the end of a short police pursuit videotaped by this writer.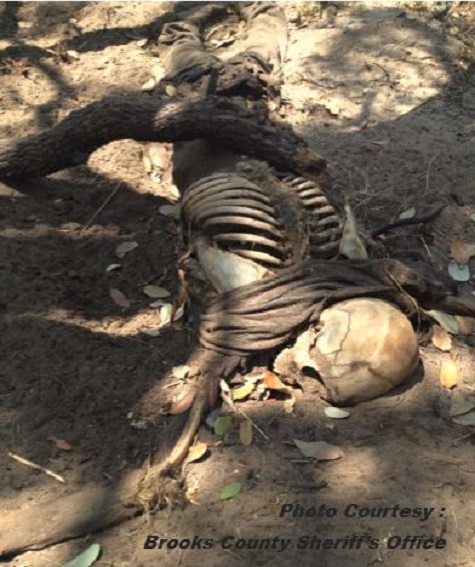 Cecelia Rios was the 45th person to be found dead in Brooks County this year. With temperatures climbing into the low 100s now, authorities expect this toll of death to climb as more and more people are being smuggled through the county.
What is known it that Brooks County does not have the resources to deal with this humanitarian crisis on its own. Each death costs the county about $2,500 in burial expenses and the cost of the medical examiner. These costs have reduced the law enforcement staff of Brooks county to only one paid deputy per shift who must cover up a nearly 1,000 square mile county by himself. This is why Walden, whose primary job is that of acting police chief of the Donna Independent School District's Police Department, created an organization named Border Brotherhood of Texas. This group of certified Texas peace officers, are volunteering to come work as patrol deputies. They come from as far away as San Antonio.
"Every smuggler's vehicle we can stop before they offload their human cargo represents lives that are potentially saved," Walden told Breitbart Texas during a recent ride along. Walden has also been called upon to use his skills as a trained medic to help some of the illegal immigrants he has found struggling to survive after wandering these fields for three or four days without water or food.
Walden has more police officers who want to volunteer their time to help Brooks County. However, it costs about $300 for each new deputy to be bonded, equipped with a uniform and bullet proof vest and sworn in as a deputy sheriff. They also need money to help offset the costs for the deputies to drive the nearly 200 mile round trip for each shift they work. Deputies volunteering in this program promise to work at least two 12-hour shifts each month. That costs that deputy about $100 per month out of their own pocket to go put their life at risk for free.
Walden has set up a Facebook page for the Border Brotherhood of Texas where readers can contact the group to make a donation for those who would like to help and keep up with the activities of these dedicated volunteers.
In the meantime, the surge continues by Texas Department of Public Safety troopers who are soon to be joined by members of the Texas National Guard but with no help for Brooks County, the bodies continue to pile up just 100 miles to the north.
Bob Price is a staff writer and a member of the original Breitbart Texas team. Follow him on Twitter @BobPriceBBTX.