HOUSTON, Texas — Tropical Storm Bill entered South Texas with 60 mph winds and heavy rains on Tuesday morning. The storm has since been downgraded back to a tropical depression, and continues marching northwards through Texas towards Oklahoma bring more flooding to residents along its pathway.
Flooding continues to be the big concern with Bill as the storm continues to pull in heavy rain bands from the Gulf of Mexico. These rain bands are trailing nearly 350 miles behind the center of the storm. Heavy rains will continue in Houston and East Texas on Wednesday and Thursday. Previously rain swollen rivers have little room to take on more water without overflowing their banks.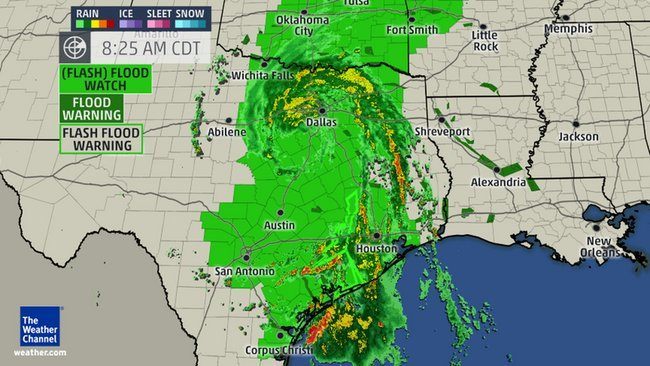 Texas Governor Greg Abbott has been monitoring the situation across the state closely. State resources have been staged for rapid deployment as necessary, according to a statement received by Breitbart Texas from the Governor's Office.
The storm is expected to continue a northern track and begin turning to the northeast on Thursday after it enters Oklahoma during the night. Widespread rains are expected to accumulate with between 3-5 inches of additional water. The town of Sealy, west of Houston, had received over seven inches on Wednesday morning.
Coastal #Texas #flooding as #Bill approaches. #TXwx RT@jlperry_jr @MichaelBerrySho Rawlings Bait Camp in Matagorda. pic.twitter.com/wJWPsUBsTT

— The Weather Channel (@weatherchannel) June 16, 2015
The continued rains will cause additional flooding in areas that received tidal flooding on Tuesday as the storm came ashore over Matagorda Island between Corpus Christi and Houston. Some roadways in South Texas remain closed from these floods.
The National Weather Service advises the storms moving through East Texas on Wednesday could produce tornadoes along a path from the Gulf Coast, through Houston and northwards to the Tyler/Longview area.
Rainfall in the area between Houston, San Antonio and Austin could fall at the rate of 2-4 inches per hour in isolated locations, according to The Weather Channel.
The Dallas-Fort Worth area is bracing for more heavy rains as Bill approaches, according to NBCDFW. The storm is moving north along the I-35 corridor at about 13 miles per hour. The slow moving storm creates more potential for locally heavy rains. Predictions call for up to 12 inches of rain in some areas.
Oklahoma is expected to receive about 9 inches of rain on Thursday and Friday. Missouri will follow along with about 7 inches of rain accumulation.
The North Texas rains must also find their way back to the Gulf of Mexico, which could cause additional flooding along South Texas rivers. The Trinity River is currently four feet above flood stage near Houston. The Guadalupe River is almost five feet above flood stage. The Guadalupe river flows from the San Antonio area to San Antonio Bay just north of Tivoli.
Bob Price is a senior political news contributor for Breitbart Texas and a member of the original Breitbart Texas team. Follow him on Twitter @BobPriceBBTX.