REYNOSA, Tamaulipas — An armored Mexican military truck that had been engaged in a firefight with Gulf cartel members was forced into a taco stand and crushed six bystanders. Four of the victims died during the crash, including a four-month-old baby. Witnesses say the Gulf cartel either used a grenade or shot the windshield out of the army truck to cause the deaths.

The shootout appears to have been the latest chapter in the hunt for the current leader of the Los Metros faction of the Gulf Cartel Julian Loisa "Comandante Toro" Salinas.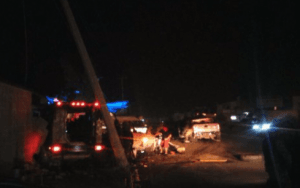 The crash took place Thursday evening as the Mexican military had been pursuing a white SUV that was speeding  against traffic near the Vista Hermosa neighborhood. The chase was the result of a military operation that began in the Valle Alto neighborhood that drew out the members of the Gulf Cartel. The gunmen began throwing road spiked around the city's main avenues Boulevard Hidalgo and Libramiento Matamoros.
The shootout began when the military tried to stop a convoy of 5 SUV's with cartel gunmen that were traveling along Boulevard Hidalgo when the gunmen tried to attack a military armored vehicle at various points near Vista Hermosa neighborhood.
Initially authorities had reported that the military vehicle had been rammed by a second cartel vehicle sending it into a taco stand. However on Friday, the Tamaulipas government issued a prepared statement claiming that the gunmen had fired into the windshield of the vehicle blocking the driver's view and leading to the crash.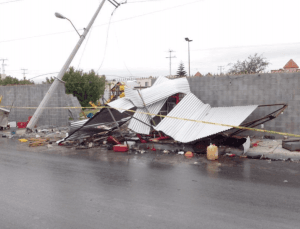 Sources consulted by Breitbart and witness accounts leaked onto social media point to the crash being caused by a grenade that was thrown at the armored vehicle and not machine gun fire. Other social media activists have claimed that the armored truck was struck with .50 caliber rounds in the windshield areas thus blocking all vision.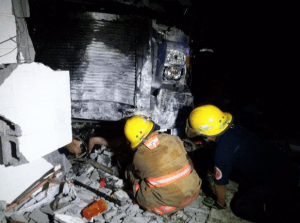 The cartel SUV that the military had been chasing ended up crashing into a parked vehicle but the gunmen ran away as the soldiers rushed to aid the innocent bystanders.
The truck ended up killing 40-year-old Idalia Hernandez Perez — the owner of the taco stand, her 19-year-old daughter Jessica Dayana Nieto, Nieto's daughter 4-month old Rose Flores Nieto and the taco stand cook 26-year-old Rene Morales.  Two customers were also injured during the crash.