Breitbart Texas traveled to the Mexican States of Tamaulipas and Coahuila to recruit citizen journalists willing to risk their lives and expose the cartels silencing their communities.  The writers would face certain death at the hands of the various cartels that operate in those areas including the Gulf Cartel and Los Zetas if a pseudonym were not used. Breitbart Texas' Cartel Chronicles are published in both English and in their original Spanish. This article was written by "J.A. Espinoza from Matamoros.
MATAMOROS, Tamaulipas — Two Mexican soldiers have been added to the growing number of missing persons in this border city. Instead of searching for one of the soldiers, he has been classified as a deserter by his military institution even though he has gone missing without a clue.
Missing persons posters are the only publicly released information that the two men are missing. They were wearing civilian clothes at the time of their disappearance. The missing person's posters point out that one of the men is an active duty soldier while the other one had left the service. The posters provide information about them and phone numbers to call with any leads.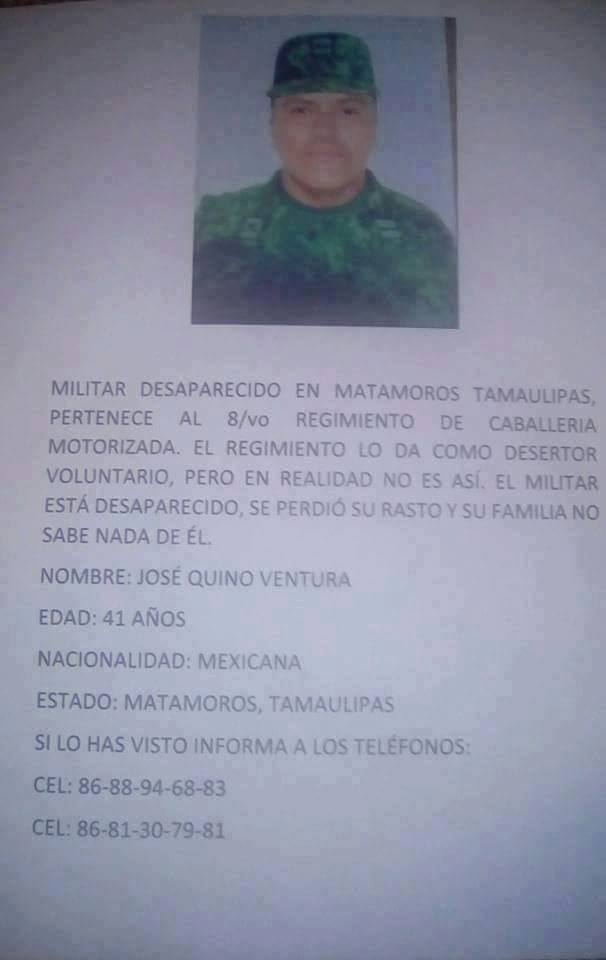 As Breitbart Texas previously reported, the border city of Matamoros has been suffering trough a wave of kidnappings and violence brought upon by the Gulf Cartel. The criminal organization has been targeting innocent civilians as a way to make more money.
Jose Quino Ventura, 41, a soldier form the 8th Motorized Cavalry Regiment is the active duty soldier that went missing. The military is considering him a deserter. His family claims that he went missing in February and did not leave the service.
The relatives went to the Tamaulipas Attorney General's Office unit for missing and kidnapped persons to present a formal complaint. According to the complaint, the soldier's wife reported her husband missing on February 15 after he left the military headquarters wearing jeans and a beige shirt with tennis shoes. The soldier never made it home.
The other missing man is 31-year-old former soldier Jose Luis Ortega Monarca,who lived in the Independencia neighborhood.
The last time the former soldier was seen he was wearing a white t-shirt with black shorts that had the Mexican Army logo printed on it. The man was headed to see his mother-in-law on February 20 and has not been seen since.  The family also filed a missing person's complaint, however the family has not received any answers.