A woman has been arrested after responding to a Facebook post from a Texas police department stating that methamphetamine and heroin may have been contaminated with the Ebola virus. The post asked concerned citizens to bring their drugs in for testing.
Chastity Eugina Hopson was arrested just before Easter weekend and charged with possession of less than one gram of a controlled substance, according to an article published in the San Antonio-Express News,. The 29-year-old woman was taken to the Burnet County jail.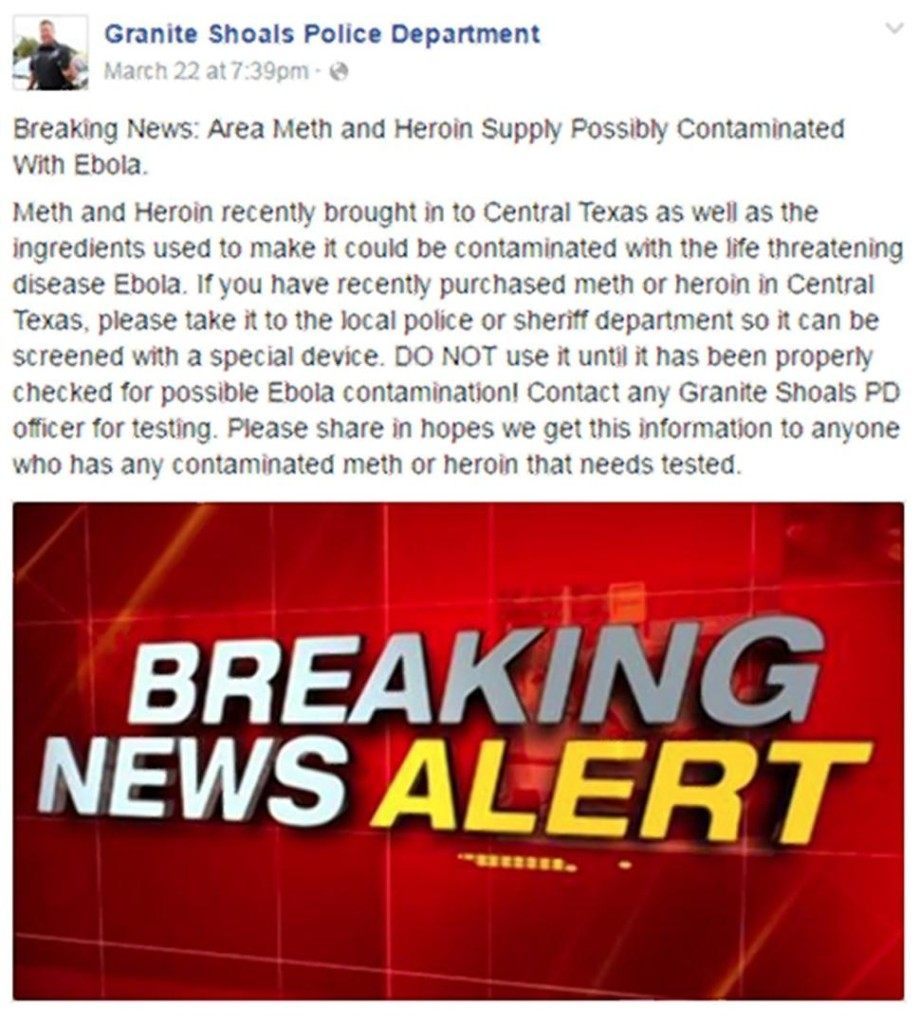 The Facebook post that Hopson responded to has now been taken down.
Law enforcement officers posted the "warning" saying that the local meth and heroin supplies had been infected with the deadly virus and that citizens should go to the police department in order to have their drugs tested.
Hopson saw the Facebook post placed by the Granite Shoals Police Department and responded to it.
The post stated, "If you have recently purchased meth or heroin in Central Texas, please take it to the local police or sheriff department so it can be screened with a special device." It warned in capital letters, "DO NOT use it until it has been properly checked for possible Ebola contamination."
Two days after the post, the police department posted that it had their "first concerned citizen" who had responded to the post. They also stated that they "gladly took the item for further testing."
The Facebook post which was published last Tuesday, received over 1,300 shares on Facebook and over 200 comments, the San Antonio newspaper reported.
According to the article  the Granite Shoals Police Department did not immediately respond to a phone call requesting more information about the arrest. It is not known if the woman has a prior record or if anyone else responded to the Facebook post.
The Facebook post, which has been taken down, was reported to have had comments on it accusing the police department of being unprofessional.
Hopson was being held in Burnet County jail on a $5,000 bond.
Lana Shadwick is a writer and legal analyst for Breitbart Texas. She has served as an associate judge and prosecutor in Texas. Follow her on Twitter @LanaShadwick2