UPDATE: The missing daughter of conservative radio talk show host Joe Pags has been found safe near the Texas border with Mexico. Pags made the announcement on Facebook shortly after this article published.
A very emotional Joe Pags went live in his radio studio and said, "I've got an amazing update. My daughter, Gabby, has been found. She is safe." He said he could not give out many details but that Gabby and Fretwell were found near the border. "We have to go get her now." Pags went on to thank the millions of people who responded to his plea for help with prayers of support.
He went on to say that his daughter was safe and healthy. "She is being checked out at a hospital, but she is safe," he said. "This guy (Fretwell) is in custody."
Original Story follows:
Texas-based conservative radio talk show host Joe "Pags" Pagliarulo took to the radio airwaves and social media on Friday to ask for help in finding his missing teenage daughter. The young girl disappeared two-days ago and was last seen with a 29-year-old man.
His daughter, Gabriella Pagliarulo, went missing earlier this week. Police asked him not to say anything publicly until Friday. Joe Pags made the announcement on his Friday radio show based out of San Antonio, Texas. The show is syndicated across the nation.
"We need her home. Gabby, we love you and miss you so much baby. Come home now. Daddy," the conservative host told his listening audience.
In making his appeal on Facebook for help, Pags wrote, "You've heard her singing on my show and you've seen our FB videos together. The information is detailed and they should be easy to spot. please contact the number on the picture or me here through DM immediately if you've seen them."
The Comal County Sheriff's Office reported the high school cheerleader was last seen with a 29-year-old man identified as Christopher Lee Fretwell. They believe they may be headed to California in a white Toyota Camry.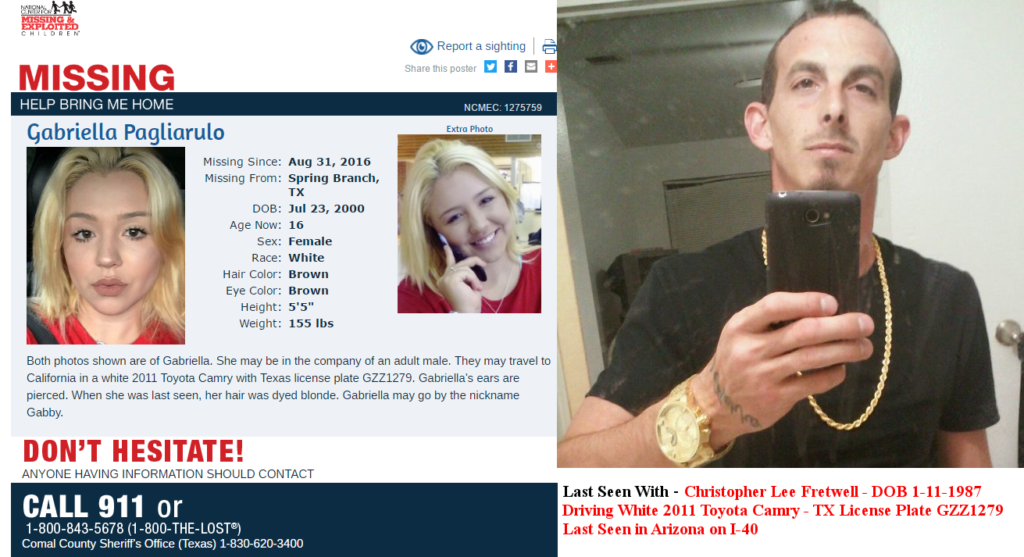 "If you can hear this Gabby, I love you unconditionally and I just want you to come home now," Pags continued. The then said he feels "like an utter failure as a father right now."
The young girl is described as having blonde hair, brown eyes and stands 5'5" tall.
Pags said they believe his daughter and the man are somewhere west of Texas. "Possibly Arizona, California … that area," he said.
Police are asking the public to watch for a white 2011 Toyota Camry with Texas license plates, GZZ1279.
Anyone spotting the young girl or Fretwell is asked to contact local police authorities or to call 1-800-843-5678 (1-800-THE-LOST). The Comal County Sheriff's Office can be reached in Texas at 1-830-620-3400.
The Joe Pags Radio Show is heard on radio stations across the country and on iHeartRadio. He currently has more than 330,000 Facebook followers and 27,000 Twitter followers.
Editor's Note: This article was updated to add the information of Gabriella Pagliarulo being found safely.
Bob Price serves as associate editor and senior political news contributor for Breitbart Texas. He is a founding member of the Breitbart Texas team. Follow him on Twitter @BobPriceBBTX.