A Texas veterinarian who killed a cat by shooting it with a bow and arrow and then posed for a photo has lost the right to practice for one year.
Kristen Lindsey posted the photo of her and the cat on Facebook. The caption – "My first bow kill [emoticon of cat] lol. The only good feral tomcat is one with an arrow through it's head. Vet of the year award…gladly accepted."
The photo went viral and spurred those horrified about the incident to call the Brenham Police Department and Washington County Animal Control, reported KBTX shortly thereafter.
The Texas Board of Veterinary Examiners decided to suspend Lindsey's veterinarian license for one year. She will not be able to work as a vet next year, and will be on probation for another four years reported the San Antonio-Express News.
The Facebook post fueled animal rights activists and others to file over 700 formal complaints with the Texas Board of Veterinary Medical Examiners between April 15th and October 1st 2015, reported the Express News. The complaints were reported to have come from all 50 states and 77 countries. The Board said it also received 27,000 emails.
A Facebook page called "Texas Animal Cruelty Laws – TACL," received thousands of shares when it posted about the incident on April 17, 2015. There have been at least 1.2K comments to the post.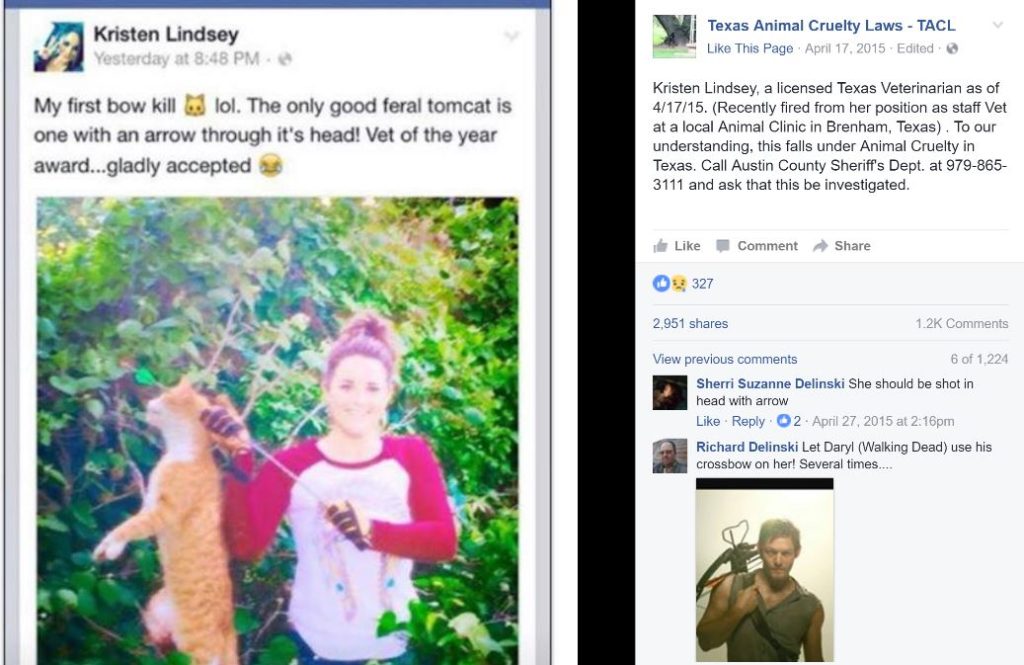 The Texas veterinarian lost her job with the Washington Animal Clinic in Brenham last year. The 33-year-old just received her license in 2012.
In addition to losing her job at the animal clinic, Lindsey also had to face a grand jury.
The Texas Penal Code provides that it is a state jail felony for one to "intentionally, knowingly, or recklessly: (1) torture an animal or in a cruel manner kill or cause serious bodily injury to an animal; or (2) without the owner's effective consent, kill, administer poison to, or cause serious bodily injury to an animal. If one has been previously convicted of an offense involving cruelty to animals, the offense is a felony of the third degree if the person has been previously convicted twice for this offense, or two times for cruelty to livestock animals (42.09), or once for this crime and once for cruelty to livestock.
Austin County law enforcement authorities conducted an investigation after receiving complaints. The Express reported in April 2015 that Austin County Sheriff Jack Brandes said they were interviewing witnesses and investigating the location where they believe the Facebook photo was taken. He was reported to say, "This is a very disturbing photograph. I think it's something our society can do without."
The Austin County grand jury no-billed the young veterinarian in June of last year. News reports say there was an issue of whether she shot the cat in an effort to protect her animals from rabies.
The controversial young woman was arrested in Harris County, Texas in March this year for driving while intoxicated. Records from the Harris County District Clerk's Office show that she is out on a $1,000 bond and that this is her first DWI charge. The documents also show that it is alleged that a breath analysis revealed an alcohol concentration level of at least 0.15.
Lana Shadwick is a contributing writer and legal analyst for Breitbart Texas. She has served as a prosecutor and associate judge in Texas. Follow her on Twitter @LanaShadwick2.