SAN FERNANDO, Tamaulipas — Mexican authorities killed five gunmen from the Gulf Cartel during fierce battle. Unofficial information points to one of the deceased having been a commander within the criminal organization.
The skirmish took place when authorities received an anonymous tip about a group of gunmen driving along a dirt road that leads to the city. A military convoy spotted a Dodge Ram and a Mazda CX5 that the shooters had been using.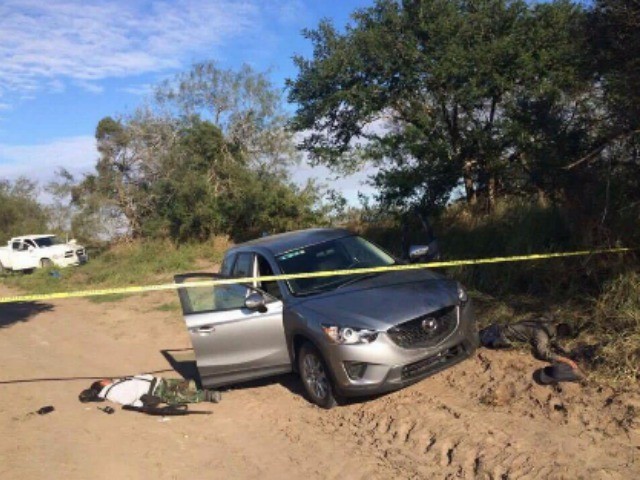 In an effort to avoid being captured, the gunmen began firing at the military troops who fought off the attack. The troops were able to kill all five cartel men without sustaining any casualties. The bodies were left on the ground inside a cordoned area, where they appear to have died clutching their weapons.
Mexican federal investigators were called in to process the crime scene. While the names of the dead have not been released, law enforcement sources point to one of the gunmen as being a man known as "Comandante Caballero". The man had been the regional leader of the Gulf Cartel in the town of Gonzalez in southern Tamaulipas. The recent shifting of alliances between factions of the Gulf and Los Zetas cartels has led to power struggles within the criminal organizations and gun battles with military forces.
Editor's Note: Breitbart Texas traveled to the Mexican States of Tamaulipas, Coahuila and Nuevo León to recruit citizen journalists willing to risk their lives and expose the cartels silencing their communities.  The writers would face certain death at the hands of the various cartels that operate in those areas including the Gulf Cartel and Los Zetas if a pseudonym were not used. Breitbart Texas' Cartel Chronicles are published in both English and in their original Spanish. This article was written by "A.C. Del Angel" from Reynosa, Tamaulipas and "J.A. Espinoza" from Matamoros, Tamaulipas.