NUEVO LAREDO, Tamaulipas — Cartel gunmen dumped nine tortured bodies outside of a home a few blocks from this city's border with Texas.
The multiple executions took place early morning in the Viveros neighborhood on the northeastern side of the city, an area close to the international bridges with Laredo, Texas.
Tamaulipas authorities were initially mum about the gory crime scene and in a short statement revealed: "The Tamaulipas Attorney General's office began an investigation into the murder of nine individuals."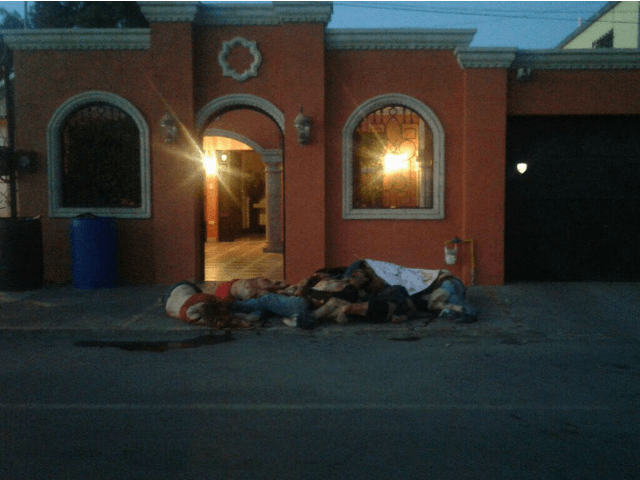 Luis Alberto Rodriguez, the spokesman for the Tamaulipas law enforcement task force called "Coordination Group" revealed the victims are five females and four males. One of the men was handcuffed.
"While it is not fully corroborated, there is a family relation between the individuals," the official revealed. "The investigations will confirm that."
On top of the piled-up bodies, a poster board displayed the message: "This is not a game, nephew."
While no law enforcement official has publicly revealed more details, the victims appear tortured and subsequently executed with a firearm. Local news outlets in Nuevo Laredo remained silent since they are commonly the targets of threats by drug cartels.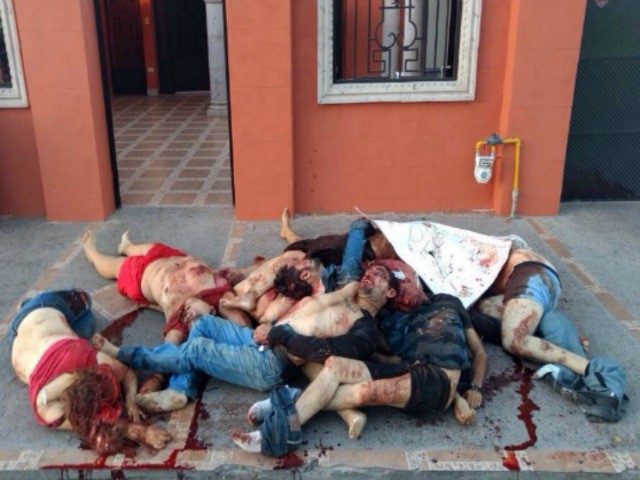 On social media, citizen journalists revealed that the house where the bodies were dumped belongs to a woman who is related to Pablo Cesar "Takia" Alvarez, a regional Los Zetas commander of the Cartel Del Noreste faction. The organization currently controls Nuevo Laredo.
"El Takia" was a regional boss for Nuevo Laredo until 2016 when he was captured; since he was underage at the time, he was sent to a juvenile detention center. The cartel commander was rescued by a team of gunmen, but he was arrested shortly after.
As soon as he was an adult, Takia was taken to the Ciudad Victoria prison where he helped run the prison from the inside on behalf of the CDN. After a series of riots and escapes, federal authorities moved El Takia to another prison.
Editor's Note: Breitbart Texas traveled to the Mexican States of Tamaulipas, Coahuila, and Nuevo León to recruit citizen journalists willing to risk their lives and expose the cartels silencing their communities.  The writers would face certain death at the hands of the various cartels that operate in those areas including the Gulf Cartel and Los Zetas if a pseudonym were not used. Breitbart Texas' Cartel Chronicles are published in both English and in their original Spanish. This article was written by Tamaulipas' "Francisco Morales" and Nuevo León's Tony Aranda.