REYNOSA, Tamaulipas — A squad of state police officers used their bodies to shield two toddlers during a fierce firefight. One child was wounded during the clash. The police officers shielded the toddlers as they fought off various cartel gunmen until they were able to get the children to emergency medical personnel.
The episode began when state police officers responded to various areas in Reynosa about shootouts between cartel gunmen. Officers engaged along Boulevard Hidalgo, one of the main roads in Reynosa.
Body camera video obtained by Breitbart Texas revealed the moments Tamaulipas state police officers fought off cartel gunmen.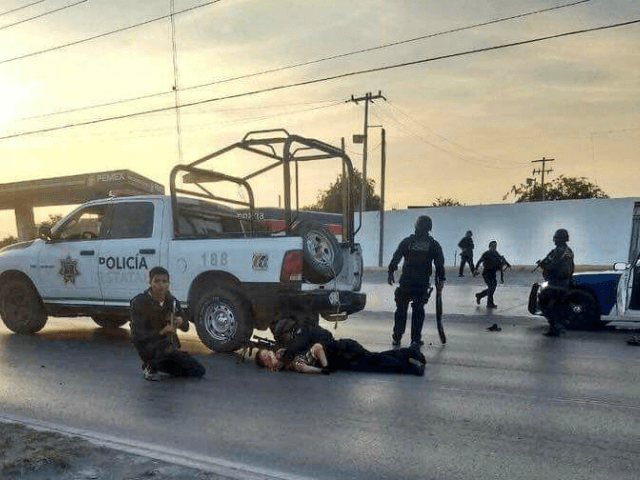 During the clash, fleeing cartel gunmen riding in an SUV crashed into a mid-size car, killing a young woman and injuring one of her two children inside. Police rushed toward the vehicle to rescue the two toddlers and get them out of the line of fire.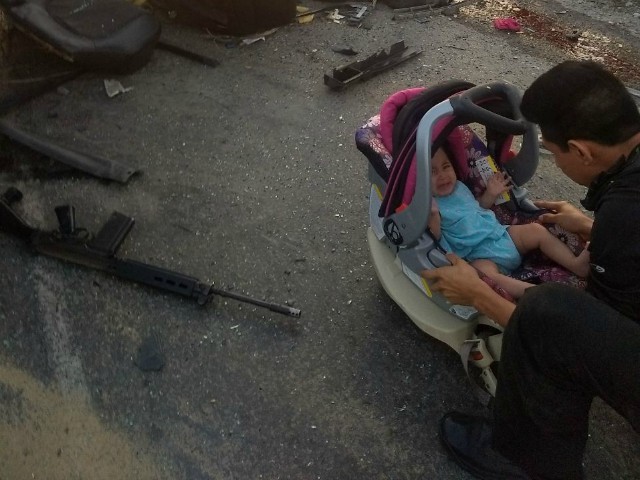 The gun battles appear to be part of the ongoing war for control of Reynosa. Two rival factions of the Gulf Cartel continue to fight for dominance of the area's drug trafficking and human smuggling territories. The fighting has led to fierce gun battles where convoys roam the streets searching for rivals. The fighting has also led to a climbing number of executions. Since the violence began in May 2017, Breitbart Texas documented the deaths of 416 individuals in Reynosa, including innocent bystanders, military personnel, police officers, and cartel gunmen.
Editor's Note: Breitbart Texas traveled to the Mexican States of Tamaulipas, Coahuila, and Nuevo León to recruit citizen journalists willing to risk their lives and expose the cartels silencing their communities.  The writers would face certain death at the hands of the various cartels that operate in those areas including the Gulf Cartel and Los Zetas if a pseudonym were not used. Breitbart Texas' Cartel Chronicles are published in both English and in their original Spanish. This article was written by "A.C. Del Angel" from Tamaulipas.