MONTERREY, Nuevo Leon — The fear of being the target of the same cartel violence that killed her husband prompted the widow of a murdered drug boss for the Beltran Leyva Cartel to take refuge in a safe house. Her attempts to go underground and avoid being a target led to her arrest by state authorities.
Recently, state authorities detained the family of the late drug boss Cesar "La Borrega" Niño Garcia when they tried to move to a safe house out of fear of becoming victims of the same cartel fight that killed their loved one. 
State authorities identified the widow as 54-year-old Leticia. She was accompanied by her daughters who are 26, 12, and 6-years old. Four guards protected the family during their residential move.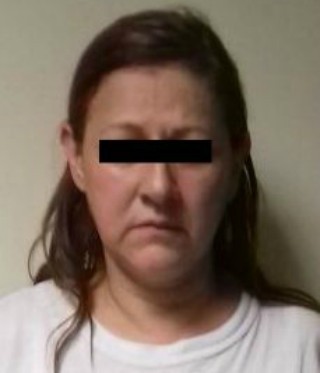 A law enforcement report obtained by Breitbart Texas revealed that after the arrest, Leticia moved into the Topo Chico Prison on drug distribution charges. At the time of her arrest, Leticia had 4 bodyguards and she had  two 45-caliber pistols, 37 doses of cocaine, and marijuana, allegedly owned by "La Borrega" "
Leticia's husband, La Borrega, was an operator of Beltran Leyva Cartel who was executed by a team of assassins as he was walking out of a local meat market, Breitbart Texas reported. Detectives from the  Nuevo León Prosecutor's Office surprised and arrested a team of bodyguards guarding Leticia's moving trucks, during her move to a safe house in the municipality of Apodaca.
The death of Niño Garcia and the fear that his family felt are connected to a bloody power struggle within the Beltran Leyva Cartel that is taking place in Nuevo León. Intelligence reports reveal that the violent war is taking place between two top cartel commanders who are fighting for regional control of the luxurious municipality of San Pedro. The fight is over the distribution of drugs as well as smuggling routes to the United States. The municipality of San Pedro is one of the most luxurious areas in Northern Mexico. The town is home to rich businessmen and the staff of the United States Consulate.
Niño Garcia is one of two capos who used the name La Borrega. Breitbart Texas recently reported on the execution of Raul Gámez Moreno also known as La Borrega, who was a top boss of a Los Zetas faction known as the Cartel Del Noreste. Just like Nino Garcia was killed during an internal dispute within the Beltran Leyva Cartel, Gámez Moreno was allegedly killed over a dispute within Los Zetas.
Editor's Note: Breitbart Texas traveled to the Mexican States of Tamaulipas, Coahuila, and Nuevo León to recruit citizen journalists willing to risk their lives and expose the cartels silencing their communities.  The writers would face certain death at the hands of the various cartels that operate in those areas including the Gulf Cartel and Los Zetas if a pseudonym were not used. Breitbart Texas' Cartel Chronicles are published in both English and in their original Spanish. This article was written by Tony Aranda from Nuevo León.