Cartel gunmen are suspected of crashing a drone outfitted with grenades into the home of the Secretary of Public Safety of Baja California. The official was on his way to meet with U.S. consular authorities at the time of the attack. 
The attack took place in Tecate, Baja California, when the Secretary of Public Security Gerardo Manuel Sosa Olachea was on his way to meet with Sue Saarniola, the U.S. Consul General in Tijuana. En route to the meeting, Sosa's security personnel was alerted about a drone flying over his home, El Semanario Zeta reported. State agents and military personnel collected the drone, which had a video system and two fragmentation grenades taped to it.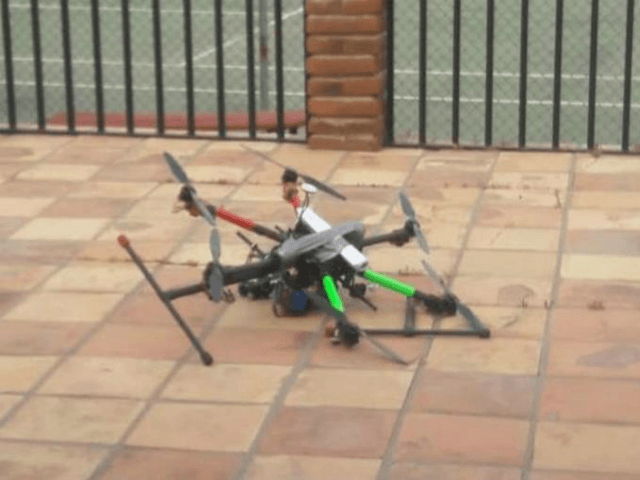 In a statement, the state government revealed Sosa does not live in the house he has in Tecate; since he took office, he changed his job to the city of Mexicali. In the statement, the state claimed it would redouble efforts in fighting organized crime. In an interview with local media, Sosa ruled out any direct personal threats since he was appointed last October, although he suspects the attack is tied to drug cartels lashing out following various seizures and raids on narco-laboratories in the region. Authorities did not reveal arrests for the drone.
In October, Breitbart Texas reported on the arrests of four men riding in an SUV and carrying a drone with an IED in Guanajuato, a region the Jalisco Cartel Nueva Generación is looking to take. The investigation of the drone with explosives was classified as a case of national security by Mexican authorities who did not reveal any additional information on the case since. 
Editor's Note: Breitbart Texas traveled to the Mexican States of Tamaulipas, Coahuila, and Nuevo León to recruit citizen journalists willing to risk their lives and expose the cartels silencing their communities.  The writers would face certain death at the hands of the various cartels that operate in those areas including the Gulf Cartel and Los Zetas if a pseudonym were not used. Breitbart Texas' Cartel Chronicles are published in both English and in their original Spanish. This article was written by Tony Aranda from Nuevo León.