A Texas teacher is under investigation for incendiary remarks he allegedly made over social media about the teens involved in the "Make America Great Again" (MAGA) hat theft incident in a San Antonio Whataburger on July 4.
Breitbart Texas reported the viral video captured a man agitated by the sight of a 16-year-old wearing a MAGA cap. He threw a drink in the teenage boy's face, shouted profanities at him, grabbed the hat off the teen's head, and stormed out of the eatery with it. Police later identified him as 30-year-old Kino Jimenez. He was arrested and charged with felony theft of a person. The teen, Hunter Richard, said he wore the hat to support the president. He has since received a new hat, this one autographed by President Trump.
Now, officials with the Channelview Independent School District say they are investigating the Twitter account of sixth grade social studies teacher Jogi Pattisapu for purportedly calling the teens in the MAGA hat video "Nazis" and "sh*tcake" and "douchebag" kids.
The tweet stated: "These sh*tcake kids r the same type to wear a MAGA hat to the African American museum. The same douchebag kids who do a Nazi salute in a class picture then claim it was a joke. F*ck Em."
Pattisapu's Twitter account is not public and the tweets are protected, but the Houston Chronicle purportedly obtained screenshots of the tweets from an individual who sent the social media threads to the Houston-area school district and local media.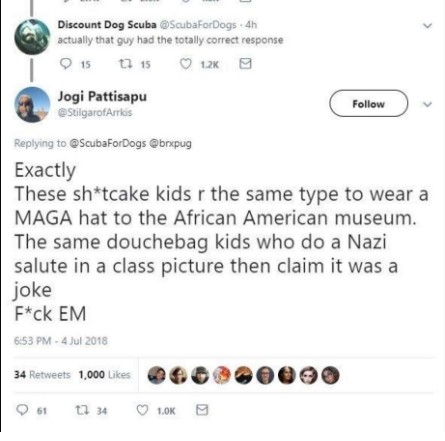 One Twitter user disagreed with Pattisapu's comments and responded: "Politics aside, how can you support a grown ass man committing assault + theft on an innocent little kid over a damn hat…a full grown adult…over a hat…"
The screenshot showed Pattisapu fired back: "The same way u support the police when they killed tamir rice. The same way u supported Trump with the racist "Birther" shite for 6 years. The same way u look the other way when ur family and friends drop racist stereotypical right wing talking points."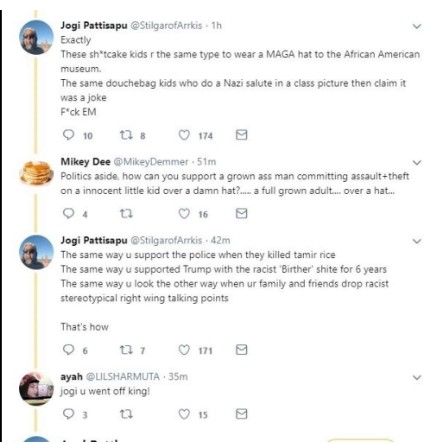 Channelview ISD spokeswoman LaKeisha LeBlanc said the school district was "aware of the comments made on social media." She added: "The district is taking this matter seriously and we are conducting an investigation." However, LeBlanc stated she could not comment on whether any disciplinary action will be taken.
Pattisapu teaches at Anthony Aguirre Junior High. His virtual classroom page lists his valid Texas educator certification for grades four through eight. He identifies as a "nerd," "Comic Geek," and "Marvel Fanboy," calling "wacky trivia" a pastime. "I will tell you things that are cool, gross, funny, and will leave you thinking. I am not like any teacher you have ever had before," he writes in a back-to-school like letter to parents and students.
Meanwhile, on the locked personal Twitter page, Pattisapu described himself as: "Atheist, Liberal, Public School Teacher, son of immigrants." He included a few truncated lines from Walt Whitman's poem "Song of Myself" and hashtagged Wakanda, the fictional home of superhero Black Panther.
In Texas, sixth grade social studies covers contemporary societies and the historical, social, political, economic, geographical, and cultural influences and contributions of individuals, groups, events, and technologies that shaped present time, according to the state standards, the Texas Essential Knowledge and Skills (TEKS). Channelview ISD instructional policy mandates that teachers "shall not use the classroom to transmit personal beliefs regarding political or sectarian issues," when teaching controversial issues.
The Employee Standards of Conduct policy says the district holds personal online use by staff and faculty to the "same professional standards in their public use of electronic communication." It highlights that if an employee's personal use violates state or federal law, district policy, or if it interferes with an employee's ability to effectively perform his or her job duties, then, the employee is "subject to disciplinary action, up to and including termination of employment."
Follow Merrill Hope, a member of the original Breitbart Texas team, on Twitter.