While U.S. prosecutors claim to be taking a hard stance against human smuggling, a local Texas police chief is calling out lacking cooperation and promptness from federal authorities in the wake of deadly human smuggling incidents.
"Today we are celebrating our failure," said Port Mansfield Police Chief David Mayes after a conference where federal prosecutors announced the arrests of six suspects in connection with two human smuggling incidents which killed at least eight migrants. "We are celebrating [the smugglers'] failure. It sounds somewhat harsh, but we only catch them when they mess up. This happens every day. They use the waterways because there is no one looking."
On Friday morning, several law enforcement figures gathered at the federal courthouse in Brownsville to announce the arrests of six members of a human smuggling organization linked to the two deadly cases. Dubbed Operation Justice For All, U.S. Attorney Alamdar Hamdani revealed that the effort included federal, state, and local authorities who worked to track down six members of the organization in a ongoing case.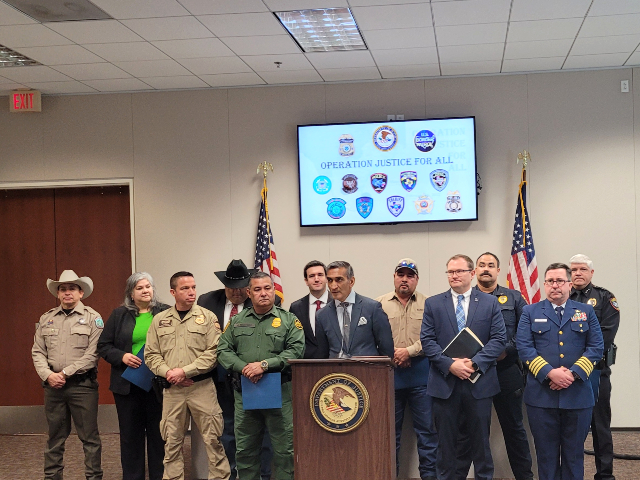 Authorities identified the suspects as 39-year-old Juan Manuel Tena; 37-year-old Julia Isairis Torres; 33-year-old Israel Torres Jr.; 21-year-old Erasmo Garcia III; 21-year-old Alexis Rafael Adorno; and 26-year-old Jose Refugio Torres. The suspects are all from Texas. Federal prosecutors obtained an indictment on January 10 and arrested them this week. Court documents revealed that a seventh suspect is at large.
One of the cases took place in February 2022 when a boat filled with migrants traveling from South Padre Island to Corpus Christi capsized near Port Mansfield, killing four migrants and one human smuggler while seriously injuring two others. The remains of a ninth migrant have yet to be found.
The second case took place in March 2019 when human smugglers were moving migrants from the Rio Grande Valley to Houston in a pickup when the vehicle rolled over, killing four migrants and injuring several others.
During the news conference, the U.S. Attorney would not comment on the involvement of the Gulf Cartel with the human smuggling cases. However, law enforcement sources confirmed to Breitbart Texas that the group was in fact connected to the Gulf Cartel, the dominant criminal organization in the region.
After the news conference, Port Mansfield Police Chief David Mayes said his department was the first on the scene in 2022. He said federal authorities initially assisted with the search for the other victims, but federal prosecutors did not take the case until Texas Rangers obtained warrants. According to Mayes, there was no cooperation with federal prosecutors and it was not until the news conference when he was able to learn who was arrested.
Breitbart Texas was able to find warrants for multiple counts of manslaughter filed against some of the alleged human smugglers at the 197th Texas State District Court in Willacy County in April 2022.
Breitbart Texas asked Hamdani what had happened between the filing of the initial warrants in state court and the handing down of the federal indictment nine months later. The U.S. Attorney stated that he could only comment on the contents of the federal indictment.
According to Mayes, cartel smugglers use rough weather and tides as cover to move migrants knowing there is minimal patrolling from law enforcement. He revealed that in addition to the limited resources of his small department, the Texas Game Wardens are the only other authorities consistently out in that area finding smugglers.
"Lives are lost," the chief said. "We have multiple situations where someone reports to us that they saw someone get swept out to sea. These are deaths that will never have a name."
Ildefonso Ortiz is an award-winning journalist with Breitbart Texas. He co-founded Breitbart Texas' Cartel Chronicles project with Brandon Darby and senior Breitbart management. You can follow him on Twitter and on Facebook. He can be contacted at Iortiz@breitbart.com.