Jacqueline Kennedy Onassis, who died 20 years ago today at the age of 64, was a heavy smoker. It was a closely guarded secret. Image mattered most. Always image!
A hundred years ago this June, her mother-in-law Rose Kennedy became engaged to rising star Joseph P. Kennedy–as head of Boston's Columbia Trust, "the youngest bank president in the world." At the same time, her father, John "Honey Fitz" Fitzgerald, Mayor of Boston since 1906, was poised to implode. His opponent in that year's mayoral race threatened to go public about his affair with Elizabeth 'Toodles' Ryan unless he pulled out.
Honey Fitz disapproved of Kennedy, seeing in him someone like himself "willing to pull strings and take shortcuts," wrote Cari Beauchamp in Joseph P. Kennedy Presents: His Hollywood Years. Likewise, he saw a "womanizer with a bifurcated life, one lived to the fullest in the outside world and one lived very separately, and only occasionally, at home."
Joe Kennedy openly romanced show girls while courting Rose. She had grown accustomed to the life of power and glamour her father gave her, the same kind of life Joe Kennedy would give her. Joe and Rose wed in the fall of 1914.  
Kennedy made a fortune in Hollywood, where image trumps all–on the way to conquering the city of presidents, where it matters just as much.
In 1919, Kennedy, just 31, realized the rising motion picture industry was a "gold mine." Between 1926 and 1930, he maneuvered his way to mogul status. First he managed the Film Booking Office (FBO), turning it around with his practical hands-on banking experience; then was asked to run Pathé (US) and the Keith-Albee Orpheum (KAO) theaters, becoming chairman of their boards–Pathé and Cecil B. De Mille's Producers Distributing Corporation, uniting under KAO's control in mid-1927. And, he also ran First National, a major film studio.
1928 was a pivotal year. In January, just after The Jazz Singer (1927), the first "talkie," stormed America, KAO Corporation was formed in Delaware to acquire all the stock of B.F. Keith Corporation; Orpheum Circuit, Inc; Vaudeville Collection Agency; B.F. Keith-Albee Vaudeville Exchange; and Greater New York Corporation.
Rumors flew that it was only a matter of time before FBO and KAO merged, which, publicly, Kennedy said was "absurd." But, in May 1928, KAO sold a controlling portion of its stock to Kennedy. KAO's chain of vaudeville and motion picture theaters, with a seating capacity of 1,050,000, presented a combination of vaudeville acts like those Bob Hope cut his entertainment teeth on and silent pictures (with orchestral accompaniment), which 14 years after DeMille's first feature film, were going strong. Some 800 films were made each year, 85 percent in Hollywood.
On October 23, 1928, with Wings (1928) a hit, and merger denials notwithstanding, Radio Corporation of America (RCA) bought Kennedy's KAO stocks and assumed ownership of FBO to create Radio Keith Orpheum Pictures (RKO), with Kennedy running both. The merger's purpose was to create a market for RCA's sound-on-film technology, RCA Photophone. Once RKO was established, vaudeville acts were just an interlude for the tens of millions of weekly theatre goers, whose main interest was now talking pictures.
Hollywood had never seen anything like it–nor has it since. The Kennedy scion was running three studios at once and leading the sound revolution. He finally sold his controlling interest in Pathé to RKO on January 29, 1931, and, with that, left town. As Betty Lasky, daughter of Hollywood pioneer Jesse Lasky, told Beauchamp, "Joe Kennedy was the first and only outsider to fleece Hollywood."
In the process, he had transformed the business, a feat little noted at the time of his death some 25 years before Jackie's. As Beauchamp summed it up, "He had shifted the gears of an entire industry from one that took the creative long view to one whose guiding doctrine was the next quarter's balance sheet, unheard of then but taken for granted in today's multinational corporate Hollywood."
His manner of behaving, for better or for worse, also made an impact, on his son Jack, who in the wake of his brother Joe's untimely plane crash and death in World War II, was designated to win the golden ring for the family in the theater of politics.
When Jack's political career began, Joseph P., concerned that the image of a footloose bachelor in his 30s would not win him votes, was pleased when his engagement to Newport socialite turned Washington photographer, Jacqueline Bouvier, was announced. Jackie, on the other hand, was not as wealthy as her image conveyed. Her mother Janet's new husband Hugh D. Auchincloss was not bankrolling his stepdaughter's dreams, evidenced by her having to take the photographer's job. So her reasons for marrying Jack seemingly mirrored, in part, those underlying her mother-in-law Rose's marriage to the family patriarch. In both cases, such considerations came at a price.
As Beachamp writes, "His son's escapades had been a source of pride to Joe and he had even gone so far as to reimburse Jack's friend Lem Billings when he took young Bobby to the same Harlem whorehouse where Jack had lost his virginity." As recently revealed in letters Jackie wrote to a priest confidante, his loose sexual mores were of great concern to her.   
Hollywood was a big locus of JFK's marital infidelity.
"Just as he had when he was a congressman, Jack continued to squeeze in a trip to California whenever possible," writes Beauchamp.  He would go to the home of Pat and Peter Lawford, overlooking the ocean–where women abounded. "'Angie Dickinson was the perennial,' (a neighbor told Beauchamp) although the actress denies their coupling. Another regular visitor was Marilyn Monroe." And, two months before his assassination, according to Beachamp, JFK bedded 61-year-old Marlene Dietrich when she visited the White House. When she told him in response to his inquiry that she had never done the same with his father, he was "triumphant," writes Beauchamp. "'I always knew the son of a bitch was lying.'"
Yet, wipe that all away and what you're left with is "Camelot."
Image trumps all.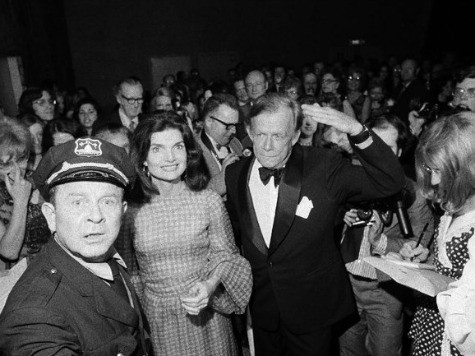 (Jackie Kennedy Onassis is escorted by her friend Bill Walton to a testimonial dinner on May 15, 1974 for W. Averell Harriman.)
On a personal note, one friend of the Kennedy's– not consumed by image–was Bill Walton, a confidant to both Jack and Jackie since their Georgetown days.  I was fortunate to transform the biography of this true friend, titled William "Bill" Walton: A Charmed Life, written by his nephew's wife, Mary Hackett. Having worked with the couple as they changed the face of Washington from the Oval Office, among other assignments, Bill took Jackie under his wing after JFK's death, helping establish the Kennedy library, traveling with her around the world, and going to key events with her including this one pictured in this AP photo, snapped some 20 years to the day before her death.
Mary Claire Kendall is currently writing a book about legends of Hollywood, focused on stories of recovery, for publication in 2015.