Clothing retailer PacSun is facing massive customer backlash on Memorial Day for selling a T-shirt featuring an upside-down black-and-white flag.
Angry customers have flooded the company's social media pages to decry the "disrespectful" A$AP Worldwide T-Shirt, which was designed in collaboration with rapper A$AP Rocky and features an upside-down flag on its front and the name "A$AP" and the number "06" on its back.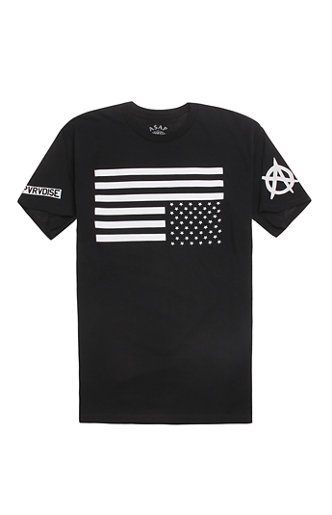 "You think it's appropriate to sell a flag of distress on memorial day?" Facebook user Clayton Johnson wrote on the company's Facebook page.
"This is not how my flag is displayed," added Chris Taylor. "To many men & women have died defending this flag to be disrespected by an idiotic T-shirt [sic]."
According to Inquisitr, the trouble started when astute shopper Rachel Zawacki-Kuss noticed a Memorial Day display featuring the T-shirt at the Tanger Outlet PacSun store in Foley, Alabama. She snapped a picture of the display and uploaded it to Facebook.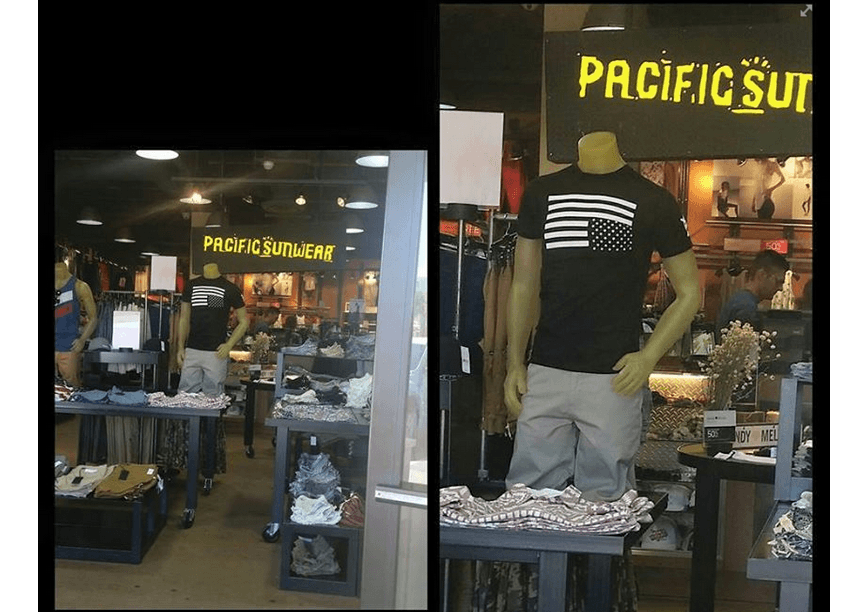 "Happy memorial day?" Zawacki-Kuss captioned the photo. "Saw this shopping this morning. At Tanger Outlets in Foley Alabama. Pacsun y'all. Bunch of winners. I know I won't be shopping here."
The post was quickly shared around social media, and by Monday, PacSun was at the center of a public relations nightmare, with many people calling for a boycott of the company. The customer backlash extended to the company's online store, where the T-shirt retails for $23.95.
"As a Veteran who has lost Veterans, all I feel when seeing a shirt like this on display at an establishment I have purchased from before, is shame," Jess Leigh wrote in her review on the item page. "I don't wish upon anyone from this company to have to ever hear a 21 gun salute- but if they ever do, rest assure they wont continue to think this shirt is very cute. I am ashamed of Pac Sun. Done."
Others defended the controversial T-shirt:
"Very proper!" wrote reviewer Jenn Pekrul. "A nation in distress flies it's flag upside down and if you think we are not in distress, you've been under a rock all your life!"
The U.S. Flag Code, Title 4 Chapter 1 stipulates that "the flag should never be displayed with the union down, except as a signal of dire distress in instances of extreme danger to life or property."
The T-shirt in question is part of rapper A$AP Rocky's clothing line at the company. The "A$AP Worldwide" line has another T-shirt featuring an American flag for sale, but that flag is right-side-up with an image of the rapper superimposed on top.
In June, the company released a video promotion for the "A$AP Mob" collection:
The rappers are not the only celebrities with their own PacSun-based fashion lines; earlier this month, Kendall and Kylie Jenner released their "Kendall & Kylie" line of summer clothing for the "California lifestyle" clothier. The pair had also collaborated with PacSun earlier this year on a
spring clothing line
.
According to
the
New York Daily News
, the PacSun Tanger Outlets store in Foley, Alabama, where the T-shirt was first noticed, has removed the item from its shelves. PacSun has not yet commented on the backlash, though
USA Today
reports
that the company is expected to issue a statement on the T-shirt soon.