Video game publisher Bethesda Softworks had its E3 showcase on Sunday, June 14. The studio premiered role-playing game Fallout 4, first-person shooter DOOM, stealth title Dishonored 2, and strategy card game The Elder Scrolls: Legends.
https://www.youtube.com/watch?v=2I2vH2d-IHc
But Bethesda's more violent titles were met with dissatisfaction from feminist critics Anita Sarkeesian and Jonathan McIntosh, the pair behind the Feminist Frequency video series which critiques games and the gaming industry.
Stealth game Dishonored 2 seemed like the perfect fit for Sarkeesian and her co-writer McIntosh, as gamers can choose to play as a male or female character and can also choose to complete the game by not killing anyone at all. However, Sarkeesian and McIntosh were still unimpressed. Aside from the following tweets, others were redacted after receiving critical responses.
A bit sad that #Dishonored2 didn't make the leap to an exclusively female lead but really pleased they're using Emily in marketing! #BE3

— Feminist Frequency (@femfreq) June 15, 2015
This statement seems a bit odd when considering that defenders of modern feminism claim the movement's goal is equality for all genders when they are accused of promoting misandry.
The "non-lethal" solutions to many Dishonored levels were downright sadistic. Handing over an unconscious woman to her stalker for example.

— Jonathan McIntosh (@radicalbytes) June 15, 2015
Sarkeesian and McIntosh also lamented the violence displayed in both DOOM and Fallout 4.
It's really troubling (and depressing) that the #BE3 audience is enthusiastically cheering for bodies being ripped apart.

— Feminist Frequency (@femfreq) June 15, 2015
When it comes to violence I see folks saying "watching movies and playing games are the same". Nope, fundamentally different experiences.

— Jonathan McIntosh (@radicalbytes) June 15, 2015
But a distinction between fiction and reality was absent from these critiques and others. Without context, Sarkeesian's tweet could describe a real-world mutilation, that which, unlike violence in media texts, bears direct real-world consequences. While McIntosh's discrimination between violence in video games and movies likely stems from the person's ability to passively watch or actively create the violence, the violence itself is still fictional.
McIntosh initially tweeted that there must be "something deeply deeply seriously wrong with anyone" enjoying the violence on display in the DOOM reveal, but later deleted it.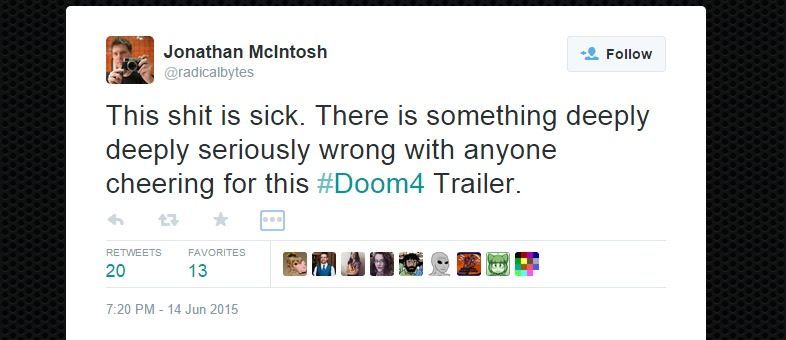 His attempts later to try to frame gamers criticizing his attacks on the game as being overly defensive seemed disingenuous as a result of his earlier statements.
Think about it without getting defensive. No one wants to ban DOOM. But what message does that send to the world about the gaming community?

— Jonathan McIntosh (@radicalbytes) June 15, 2015
Here were some gamers' responses:
https://twitter.com/officerdimes/status/610290579164000256
https://twitter.com/Shaun2k5/status/610290477284372480
https://twitter.com/Occamization/status/610288906102288384
@BadFriend_s2 @radicalbytes I indeed get offended when i see someone decapitated by #ISIS. It makes me want to cut a demon in half in #DOOM

— Real Human Bean (@Rebell117) June 15, 2015
https://twitter.com/ZaidJilani/status/610307798782492672
One commenter noted the tendency of gaming critics never to be satisfied.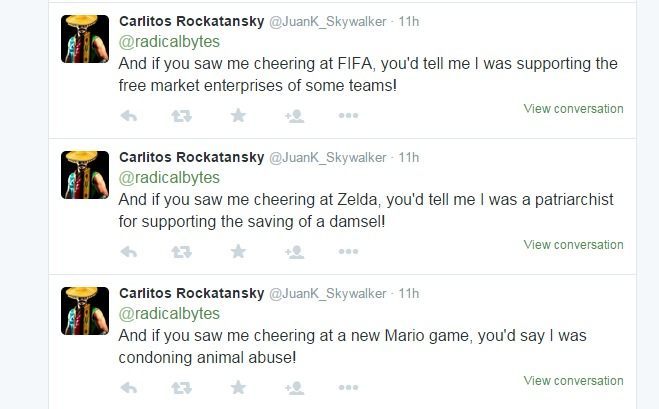 The mocking continued:
https://twitter.com/TequilaBullets/status/610272760661712896
https://twitter.com/LoveFNDeluxe/status/610272608852971520
https://twitter.com/Literally_Phil/status/610277201360105472
But some of the more genuine comments highlighted an ideological disparity between gamers and the feminist critics that seek to regulate the industry.
@radicalbytes This is an open platform, don't go crying if you're criticised for your critic, it goes both ways.

— Joel (@BelAirDrip) June 15, 2015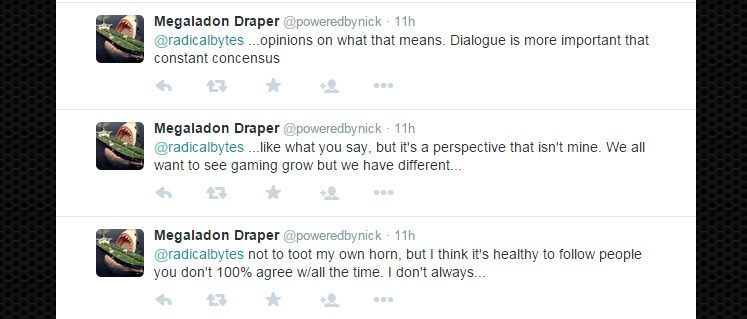 This libertarian mindset, which supports open dialogue and an analytical public sphere, is not shared by Feminist Frequency, which has authoritatively blocked comments on its videos since well before #GamerGate. Feminist Frequency and #GamerGate have taken drastically different routes at E3; while the cultural critics continue to complain and conflate real-life and fiction, #GamerGate supporters have started a gaming journalism ethics initiative named Deepfreeze.it, which aims "to supply a reader with easy-digestible information to determine the reliability of an individual writer or outlet."
This latest faux-outrage comes in the wake of #GamerGate blocklist creator Randi Harper's accusations of author Vivek Wadhwa trying to "silence women" and "profit off feminism" in an Amazon book review that did not actually address the book's content. Amazon removed the review, and well-known Gothic-horror author Anne Rice publicly condemned Harper's bullying tactics.
Follow Rob Shimshock @Xylyntial on Twitter.