Before the movie begins, over the opening Universal Pictures logo, director F. Gary Gray's "Straight Outta Compton" opens with the sound that came to define South Central Los Angeles in the late 80's and early 90's — the sound of a police helicopter flyover. The year is 1986, the city is Compton, and Eric "Eazy-E" Wright is surrounded by bad people pointing pistols and sawed-off shotguns. Unfazed, E's still demanding money owed to him from a drug deal.
It is an impossible situation. Either Eazy-E saves his own life by backing down and losing his street rep, or he's dead. And it is plainly obvious he has no intention of backing down. Then, just in the nick of time, his life is saved by the arrival of a unit from the Rampart Division's notorious L.A.P.D. CRASH squad.
The movie seems wholly unconcerned with the irony of the fact that without the aggressive policing instituted by then-police chief Daryl Gates, the founding member of N.W.A. (Niggaz Wit Attitudes) would not have survived to become rich and famous attacking the aggressive policing instituted by then-police chief Daryl Gates.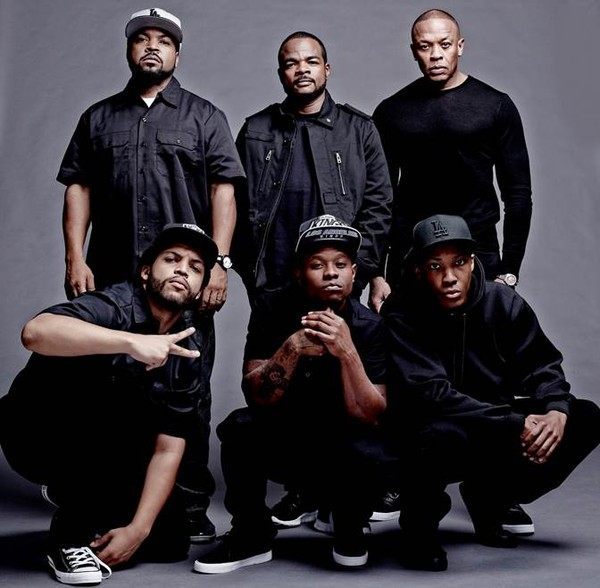 N.W.A. was a little before my time. I was five years out of high school when the groundbreaking "Straight Outta Compton" was released in 1988, and it was only through a friend's bootleg that I heard "Fuck Tha Police." Even me, the whitest guy in America, knew that everything was about to change. The anger, the belligerence, the power of the words and the beat were captivating. What was most striking, though, was the talent.
And this is where the movie most disappoints.
"Straight Outta Compton" doesn't play like a biographical look at the most consequential moment in music history since Elvis Presley appeared on "The Ed Sullivan Show." Instead, it plays like fiction; like a clichéd 1991 movie about the rise and fall and just-in-time-for-the-third-act rise of  a fictitious musical group. "New Jack City" with gangster rappers instead of drug dealers.
For the most part, although at nearly 150 minutes there are plenty of slooooooow spots, "Compton" is engaging and entertaining. The problem is that there is no real insight into the astonishing brilliance of Eazy-E, Ice Cube, and Dr. Dre, the three primary members of N.W.A. who went on to become just not superstars, but in the case of Cube and Dre, highly influential moguls to this very day (Eazy-E died of AIDS in 1995).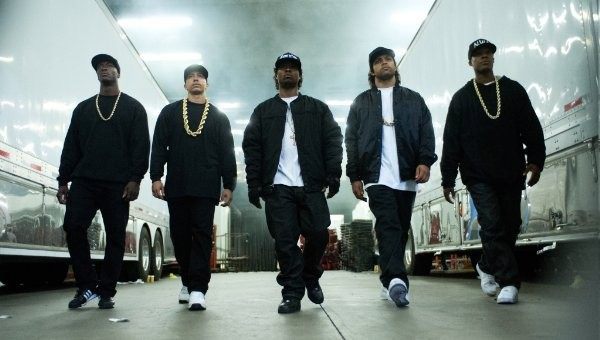 Born into the worst circumstances imaginable (at least in 1980's America) these three were the exact opposite of one-hit wonders. In the fields of music and film, on the stage and behind it as producers, Dre and Cube have gone further than Elvis, further than any Beatle or Rolling Stone.
With no fewer than a half-dozen scenes critical of an overly-aggressive and racist L.A.P.D., "Compton" endlessly beats us over the head explaining the inspiration for The Music.  And if you are looking for clichéd  backstage melodrama about the pitfalls of fame (drugs, girls, infighting over money), you will not be disappointed. Maybe I'm spoiled by "Get On Up," last year's remarkably insightful look at the musical genius of James Brown, but I not only wanted an autopsy of the genius behind N.W.A., I also wanted a front row seat above and beyond concert sequences and Dre behind the board telling his artist, "Do it again but feel it for real this time."
There is also a noticeable lack of focus. Except for Eazy-E, all the main players — including notorious rap producer Suge Knight (R. Marcus Taylor, lacking the required menace) and manager Jerry Heller (Paul Giamatti doing his best Paul Giamatti impersonation)  — are still alive. The result is that you can actually feel the movie tiptoe around lawsuits and strain to meet the personal agenda of the producers, those like Cube and Dre who are making a film about their own lives, and by extension, myth.
This of course means a vigorous whitewashing of warts:  Dre's brutal assault of female interviewer Dee Barnes, the fatal fallout of Cube's racist rants against law-abiding Korean storeowners, the debasement regularly blasted at powerless women and homosexuals, and most of all the incalculable cultural cost of idealizing criminal life.
N.W.A. didn't invent rap music, they are responsible, though, for birthing a genre of that art form best described as cultural nihilism.
And not once does the movie have the courage to question the amorality of those who consciously sought to escape a deadly lifestyle, and did so by glamorizing that lifestyle to countless others.
Follow John Nolte on Twitter @NolteNC