Italian mega-brand Dolce & Gabbana is being condemned for selling a new line of "Slave Sandal in Napa Leather with Pompoms" for $2,395.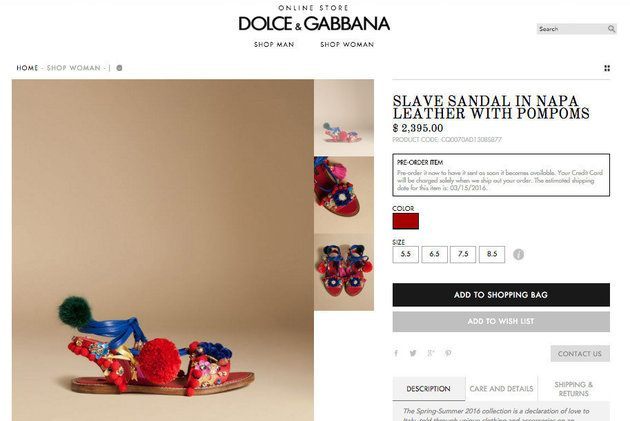 "The Spring-Summer 2016 collection is a declaration of love to Italy, told through unique clothing and accessories on an imaginary journey through the wonders of this country," is how Dolce & Gabbana's website described the controversial product.
Criticism for the fasion faux pas came quick.
That's a "slave sandal"? It looks like a tragic accident between some craft materials and a hot glue gun. https://t.co/SLvBYiYlq0

— Pinky Slivotitz™❄ (@ACreativeMuggle) March 4, 2016
https://twitter.com/CharlesEManning/status/705436147913248768
.@dolcegabbana Just wondering what possessed you to name your latest summer sandals "The Slave Sandal"? Wow.

— Kimberly A. Woodard (@BeingKimmieToo) March 3, 2016
The controversy was not lost on Dolce & Gabbana, as they were quick to update their website–changing the sandal's description to something more politically correct, without the word "slave."
Dolce & Gabbana is no stranger to controversy. In recent years, the fashion house has found itself in the middle of several scandals from openly opposing gay couples adopting children to being accused of exploiting African women.
Follow Jerome Hudson on Twitter @jeromeehudson