Last weekend at church I confessed my sin of personal vanity. I know what you're thinking! How could someone as humble and self-effacing as your (fabulous, beautiful, and wonderful in every way) correspondent be vain?
Anyhow, the priest — who, I must say, looked suspiciously like Breitbart executive Jon Kahn — gave me the penance of being a "team player," whatever that is.
It turns out being a team player means launching Breitbart's very first limited edition t-shirt: The Breitbart Border Wall Construction Co.
I was initially planning to resign from the company in protest, perhaps after claiming that our Editor-in-Chief Alex Marlow had put me in hospital by lightly brushing my arm (or worse, bruising my ego). But then Breitbart asked me to model for them with my buddy Ann Coulter — and said I could keep the clothes.
I couldn't possibly leave a company with such impeccable taste and judgment, so I agreed.
The t-shirt is almost as fabulous as the two queens wearing it. It may look like the wall just got ten feet higher, but that's because Breitbart got the most statuesque models available to show off their shirt.
I can't guarantee that wearing the Border Wall Construction Co. shirt will make you quite as attractive as me or Ann Coulter, but it'll go a long way. The shirts are limited edition, so get one while you can.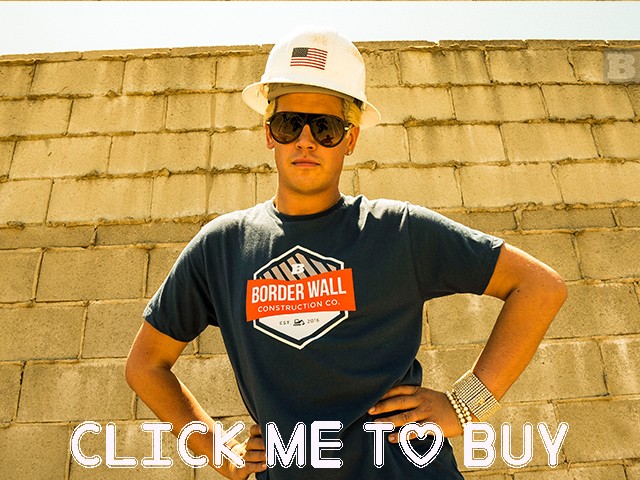 When I ask myself "What Would Daddy Do?" (and I ask myself that all the time), the answer is "Buy Breitbart T-shirts for yourself and for everyone else that loves America." For those wishing to put easily offended left-wingers in therapy sessions, flaunting your Breitbart swag will be a particularly stylish way to do it.
I'm an expert at winding up crazy progressives, and let me tell you: nothing will annoy liberals more than sporting this shirt in public.
Also, for students, these shirts are perfect for wearing on campus. But act quickly. They will probably declare the shirts a race hate crime before the end of the year.
This is, of course, just the beginning. We will soon be introducing a wider range of Breitbart products in a fully-fledged Breitbart swag store. Just don't hold your breath for prayer mats or B-shaped septum piercings.
Profits from the store will go to fighting the liberal mainstream one truth-telling, Facebook-suppressed powerhouse of an article at a time. With the sale of every shirt comes the expansion of the Breitbart Construction Company, allowing us to continue to take on projects that mean the most to the American people.
I tried to convince them to put some of the proceeds into building a bronze statue of myself, but they just weren't having it. I suppose I'll have to leave that to my Twitter followers.
But wait! There's more! Order now, and I commit to thinking positive thoughts about you for… I dunno, 2 milliseconds? That's all I can spare. I have to think about me too.