Star Wars actress Carrie Fisher speculated Sunday night that Donald Trump's occasional sniffling during the second presidential debate stems from the fact that he is "absolutely" a cocaine user.
The 59-year-old actress was tweeting along with the debate Sunday night when a fan asked her whether she thought the Republican candidate was a "coke head."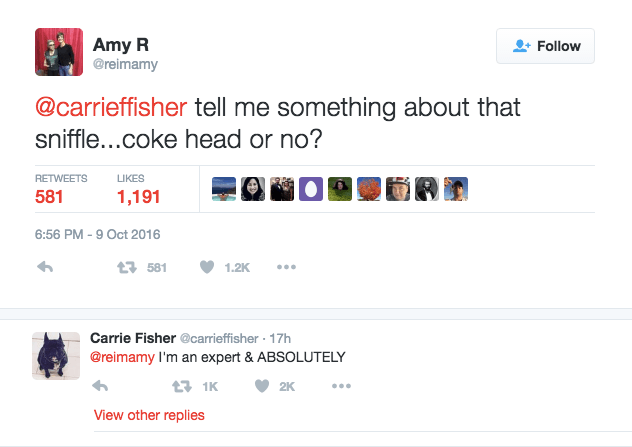 "@carriefisher tell me something about that sniffle…coke head or no?" the Twitter user wrote to the actress.
"I'm an expert & ABSOLUTELY," Fisher replied.
Fisher has been open about her own drug use during a period in the 1980s, including while she was working on set during the filming of the original Star Wars sequel.
"We did cocaine on the set of [The] Empire [Strikes Back], in the ice planet," Fisher told the Guardian in a 2010 interview. "I didn't even like coke that much. It was just a case of getting on whatever train I needed to take to get high."
The actress ultimately gave up drugs when she had begun to realize she was "losing [her] choice in the matter."
"If I'd been addicted to booze I'd be dead now, because you just go out and get it," she told the paper.
Fisher was one of many celebrities to weigh in during Sunday night's contest between Trump and Democratic candidate Hillary Clinton. The actress repeatedly criticized Trump, at one point calling him a "classless thug."
Donald trump is a classless thug Trying 2 scare us in2 voting 4 him-an entitled, elitist, racist misogynist-dangerous, unkind & w/o empathy pic.twitter.com/CaWPgjd03J

— Carrie Fisher (@carrieffisher) October 10, 2016
Isnt diplomacy part of the job of being president? With trump as president it will no longer being the highest office in the land. Low blow👃

— Carrie Fisher (@carrieffisher) October 10, 2016
Follow Daniel Nussbaum on Twitter: @dznussbaum