President Donald Trump's star on the Hollywood Walk of Fame was vandalized yet again Sunday morning during the Los Angeles Gay Pride and "Resist" March.
Trump's star — which has been vandalized several times since the beginning of his presidential run — was photographed Sunday morning covered in stickers bearing slogans including "Resist Homophobia" and "No! Drive out Pence/Trump fascist regime!"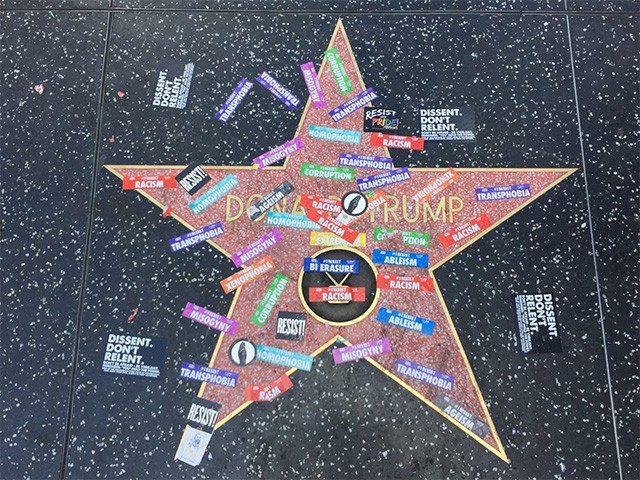 Sunday's defacement of Trump's star was far more mild than previous vandalism.
In October, Los Angeles man James Otis completely destroyed the star when he repeatedly struck it with a pick-ax in a pre-dawn incident that was captured on film by Deadline. Otis struck a plea deal with prosecutors in February that saw him avoid jail time in exchange for paying $4,400 to the Hollywood Chamber of Commerce and the Hollywood Historic Trust.
The star — which Trump was honored with in 2007 for his work producing the Miss Universe pageant and for his hit NBC reality television show The Apprentice — has previously been covered in swastikas and vulgar language.
In May, an unidentified person placed a golden toilet at the site of the star, with a message scrawled atop the toilet tank that read, "Take a Trump!"
The site of Trump's star has become a rallying point for both pro- and anti-Trump forces in the wake of Trump's election. Trump supporters previously gathered at the star to celebrate the Republican businessman's victory over Hillary Clinton in November.
Sunday's annual Gay Pride march in Hollywood was renamed the "#ResistMarch" this year as organizers incorporated opposition to the president into the demonstration's messaging. Marchers held signs denouncing the president as attendees heard speeches from elected officials including Los Angeles Mayor Eric Garretti, Rep. Ted Lieu, and City Council member Mitch O'Farrell.
Follow Daniel Nussbaum on Twitter: @dznussbaum