Congress has yet to announce whether it will conduct an investigation or hold hearings into the reports of systemic sexual abuse permeating Hollywood culture in the wake of the Harvey Weinstein scandal. However, over the years, many celebrities have descended upon the nation's capital to advocate or shine a light on their causes. Many of them have worked with Weinstein for years.
Below we list a few of these celebrities who have testified on Capitol Hill.
Ben Affleck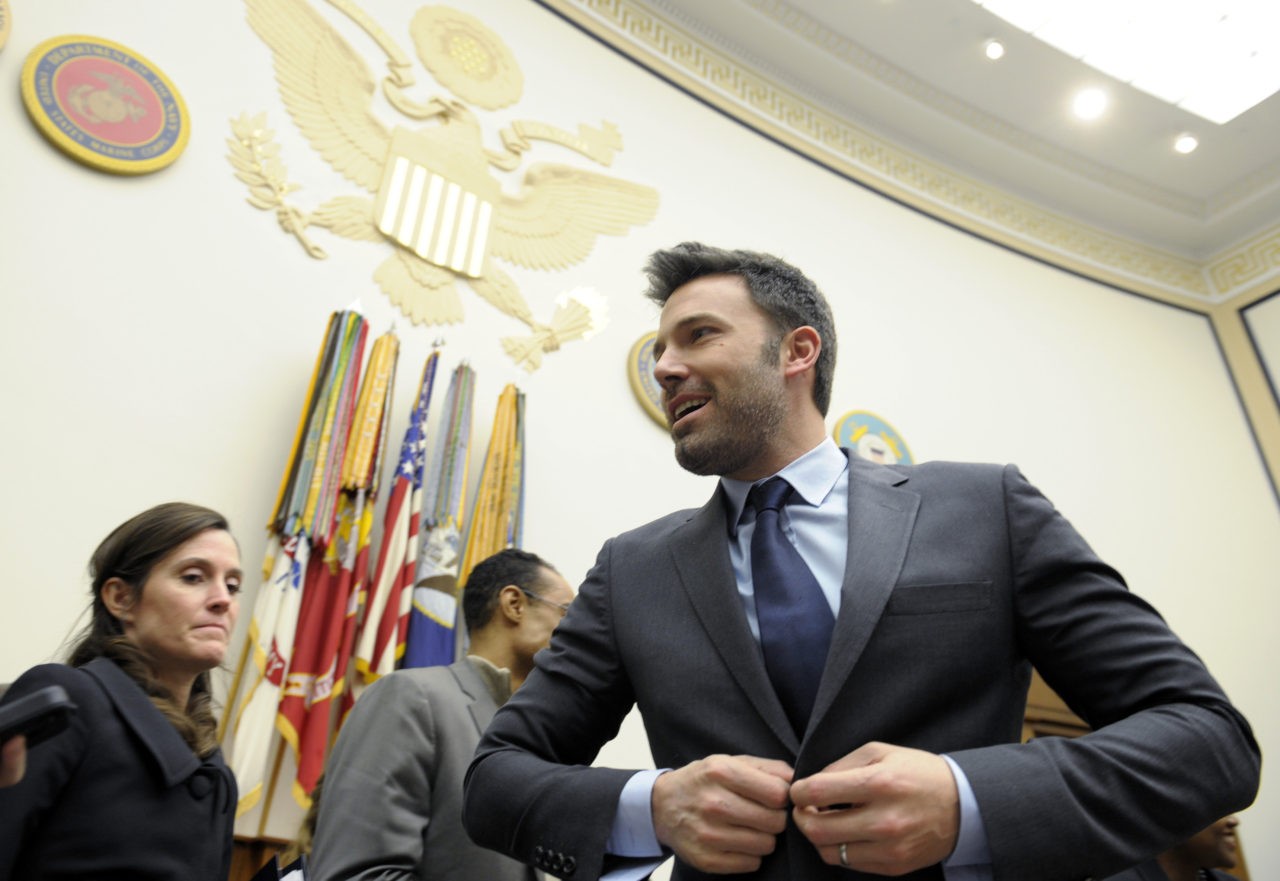 (Photo credit: AP Photo/Susan Walsh)
Actor Ben Affleck has testified more than a half a dozen times before numerous House and Senate committees, mostly on the Democratic Republic of Congo (2010, 2011, 2012, 2014, 2015). Affleck is the founder of the Eastern Congo Initiative, an advocacy and grant-making organization committed to peaceful solutions in the war-torn African nation. "I am not here to ask for precious American tax dollars, I am here today to respectfully request you use the most important power you have, your collective voice as representatives of the United States of America," Affleck said. Affleck also testified about the "Promise of the Genomic Revolution" in 2001 and lobbied with Sen. Edward Kennedy (D-MA) for a minimum wage increase in 2004. Affleck — who has worked with Weinstein for years — denounced the Hollywood mogul's behavior, which led actress Hilarie Burton to say Affleck groped her in 2003. A Hollywood website reported on a video showing Affleck groping Canadian TV reporter Anne-Marie Losique, who did the interview sitting on his lap while he repeatedly talked about her breasts. Television writer Jen Statsky and author Annamarie Tendler also have said that Affleck groped multiple women at a Golden Globes party in 2014.
George Clooney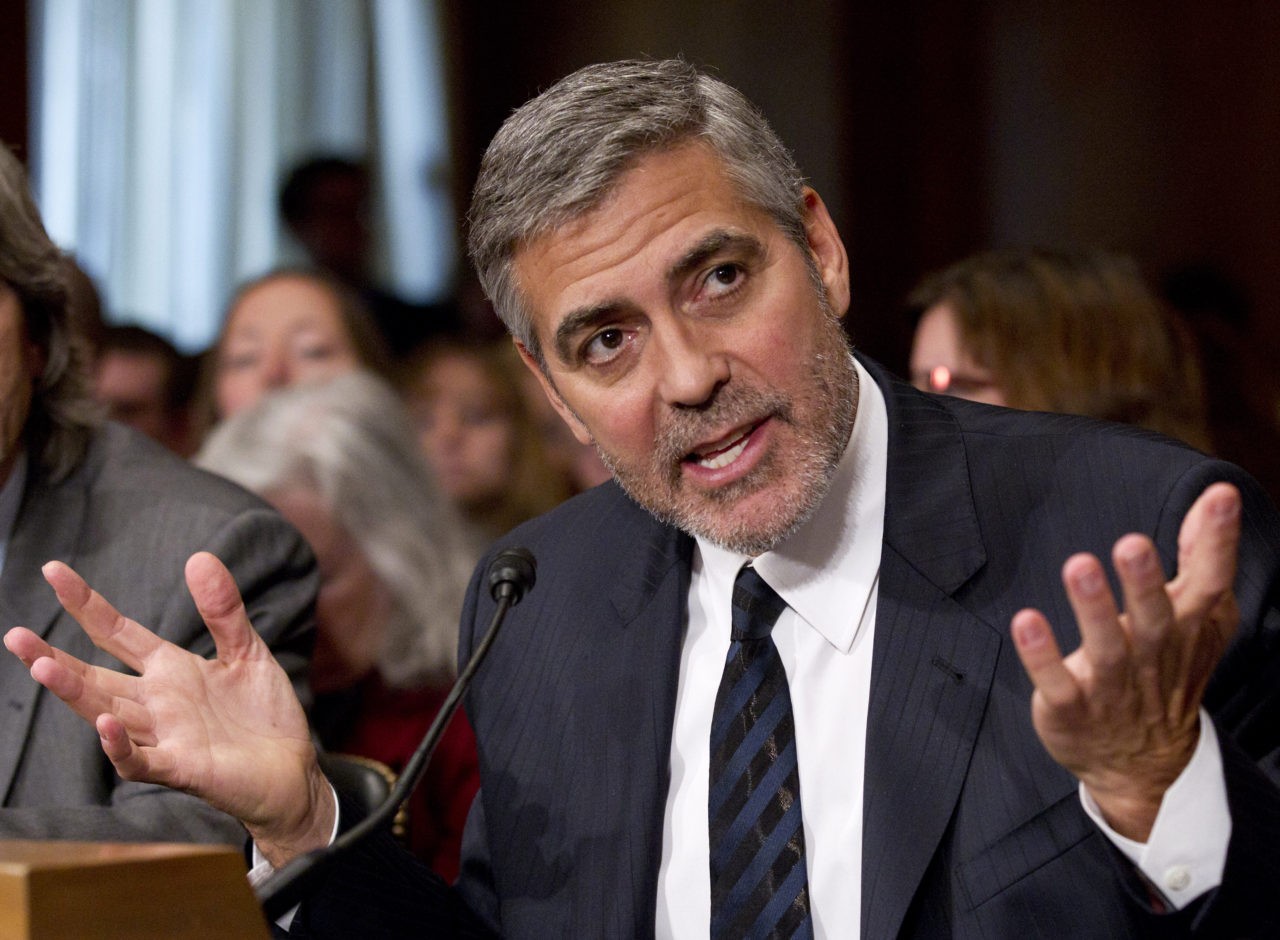 (Photo credit: AP Photo/Manuel Balce Ceneta)
Actor George Clooney testified before Congress on March 14, 2012, warning of a humanitarian crisis in the volatile border region between Sudan and South Sudan, where residents were hunkered down in the Nuba Mountains because of aerial bombardments. The actor went to Capitol Hill after returning from a visit to the region, where he said there is a "constant drip of fear." Clooney, who was given his first major big-screen role by Weinstein, condemned his long-time collaborator. "It's indefensible. That's the only word you can start with," Clooney said. "Harvey's admitted to it, and it's indefensible."
Gwyneth Paltrow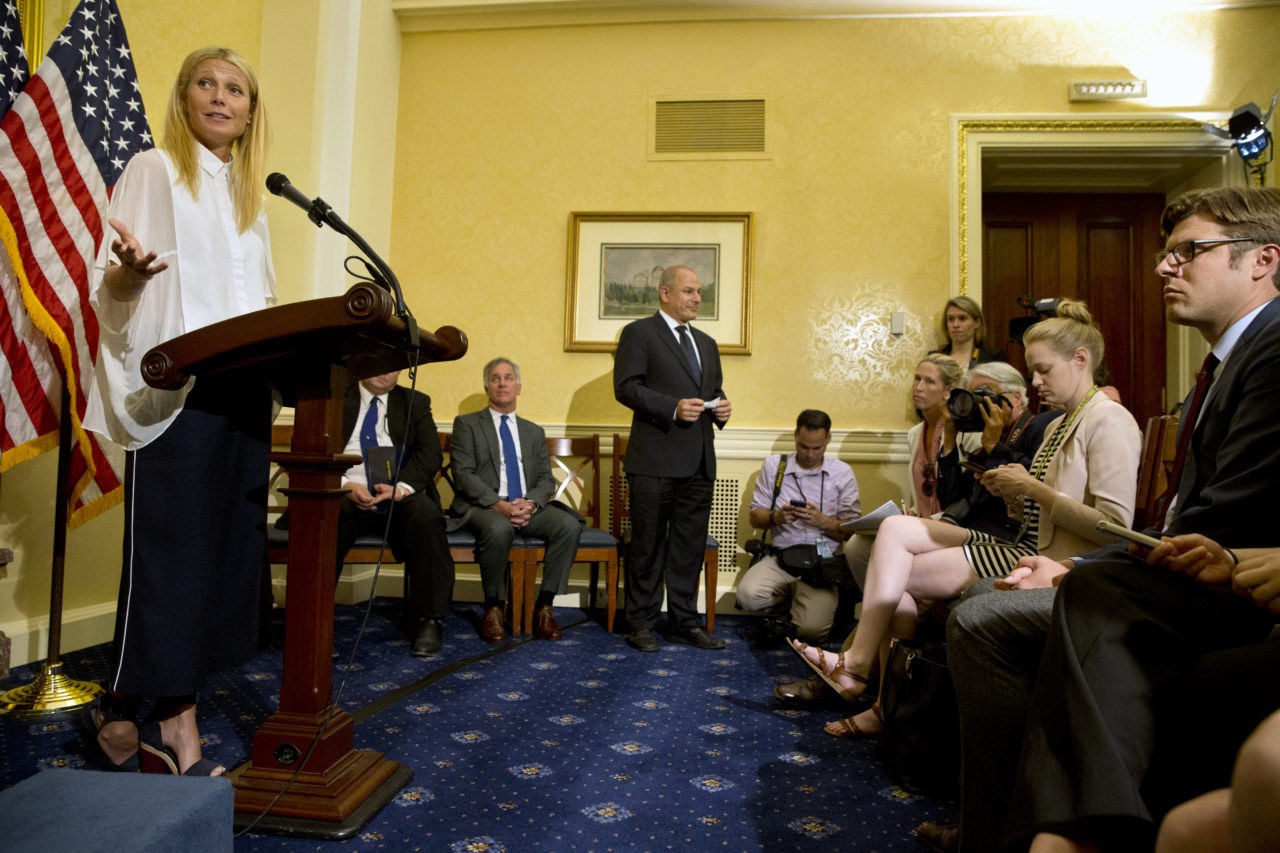 (Photo credit: AP Photo/Jacquelyn Martin)
Actress Gwyneth Paltrow took to Capitol Hill on August 5, 2015, to campaign against a bill that would prevent states from passing individual GMO-labeling laws. Paltrow, who also writes a lifestyle blog called GOOP and has written cookbooks, said she was adding her voice to the bill's opposition because she is a concerned mother, not an expert. Paltrow, who starred in so many Weinstein films that it earned her the nickname "First Lady of Miramax," said when she was 22 years old he abused her, and when her boyfriend, Brad Pitt, confronted him he took it out on Paltrow. "He screamed at me for a long time," she said. "I thought he was going to fire me."
Amy Schumer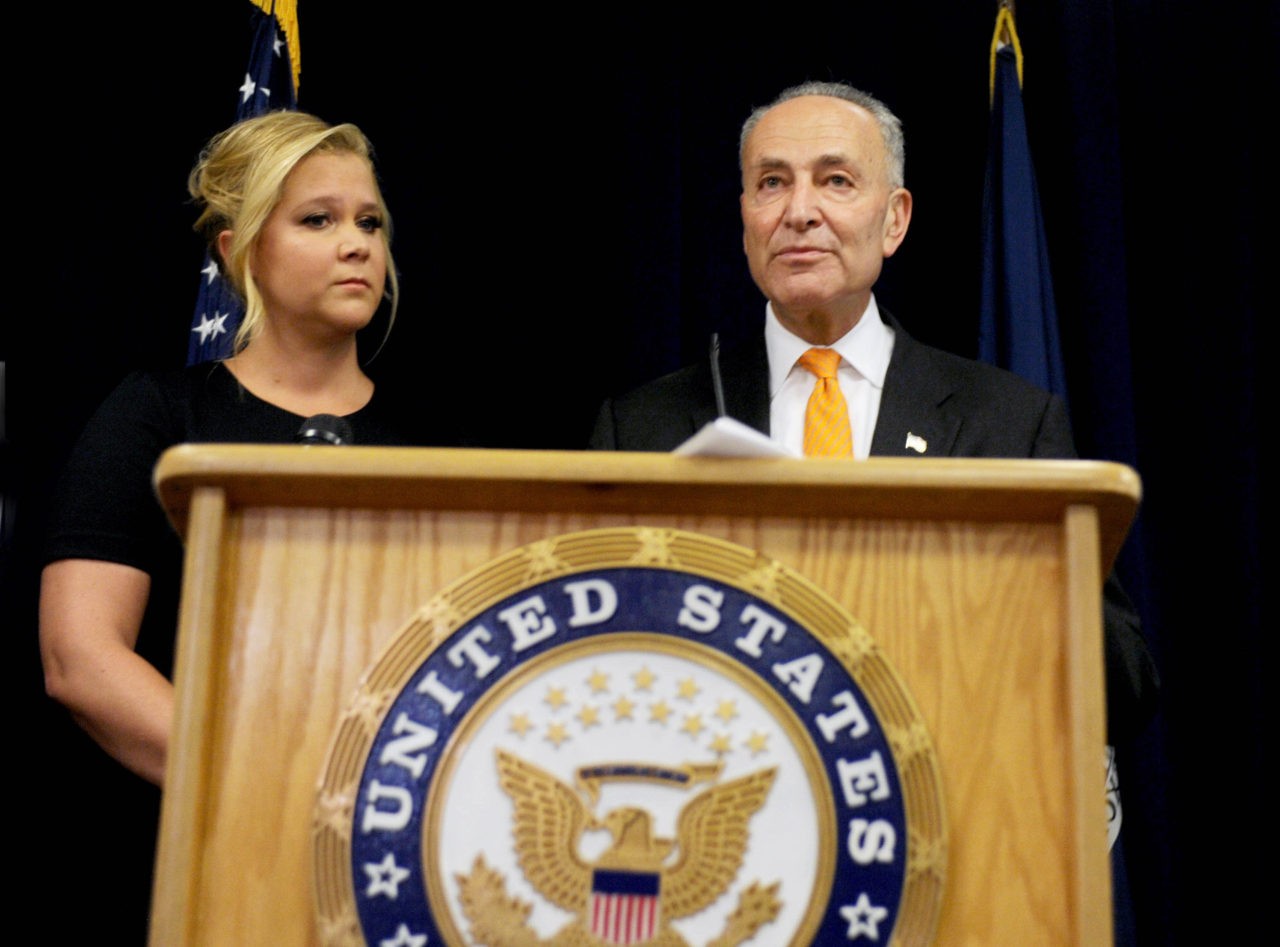 (Photo credit: Dennis Van Tine/STAR MAX/IPx)
Comedian Amy Schumer teamed up with her cousin, Sen. Chuck Schumer (D-NY), to speak out about "gun violence" on August 3, 2015, on Capitol Hill. The New York Times reported: "Ms. Schumer has pledged to become involved in efforts to curb gun violence, though the news conference on Monday was the first time she made expansive comments on that front. She eulogized the victims, Jillian E. Johnson, 33, and Mayci Breaux, 21, and stopped herself after beginning to identify the gunman while reading from notes." Schumer asked his cousin to come to the Capitol to speak in favor of legislation he planned to introduce.
Stephen Colbert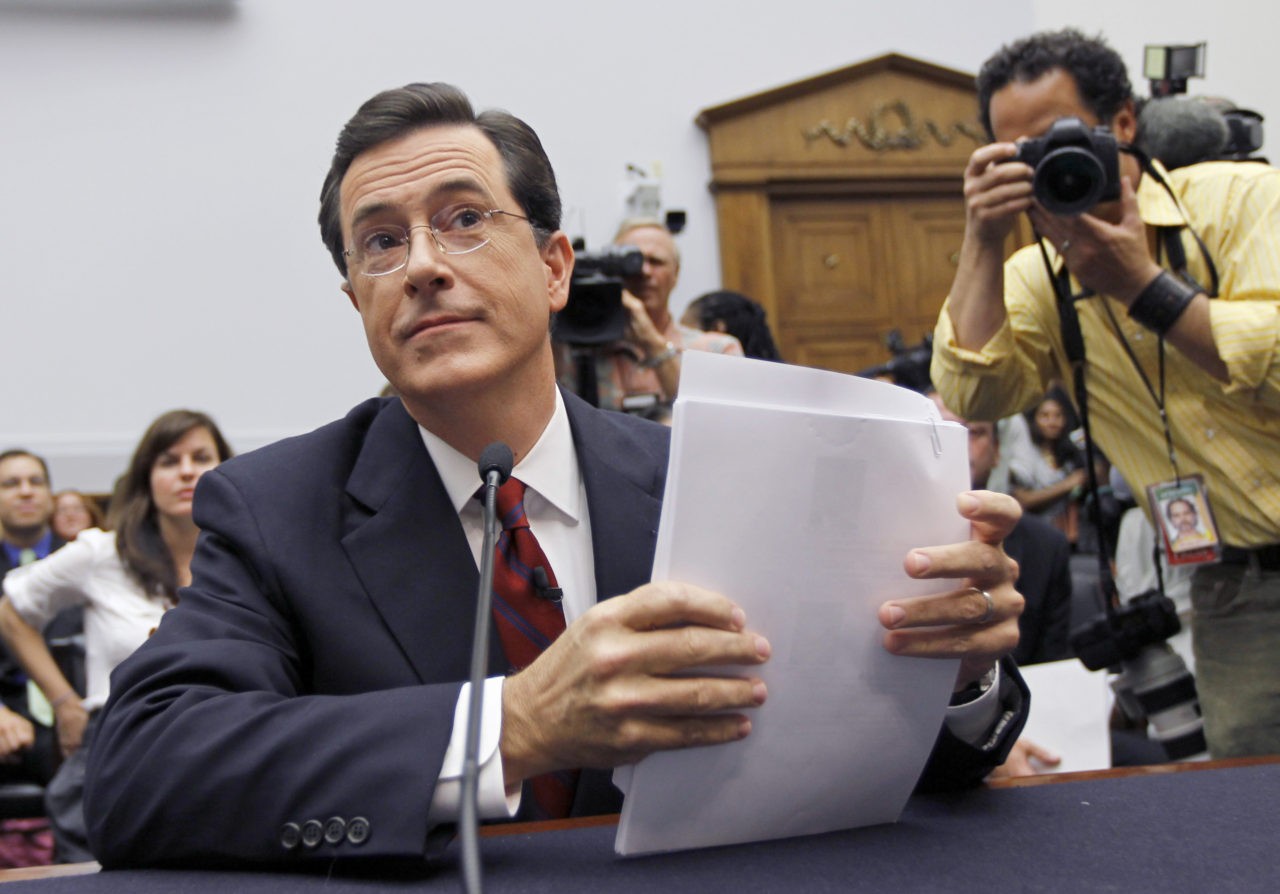 (Photo credit: AP Photo/Alex Brandon)
Comedian Stephen Colbert testified before Congress on September 24, 2010, as part of the "Take Our Jobs" campaign by the United Farm Workers of America labor union. The comic highlighted the work done by migrant farm workers and used comical remarks to make his point. "America's farms are far too dependent on immigrant labor to pick our fruits and vegetables. Now the obvious answer is for all of us to stop eating fruits and vegetables. And if you look at the recent obesity statistics, many Americans have already started." Colbert called Weinstein "a bad person." The Late Show host finished a recent segment on Weinstein by linking his behavior to President Trump's "grab 'em by the pussy" comments from last year.
Seth Rogen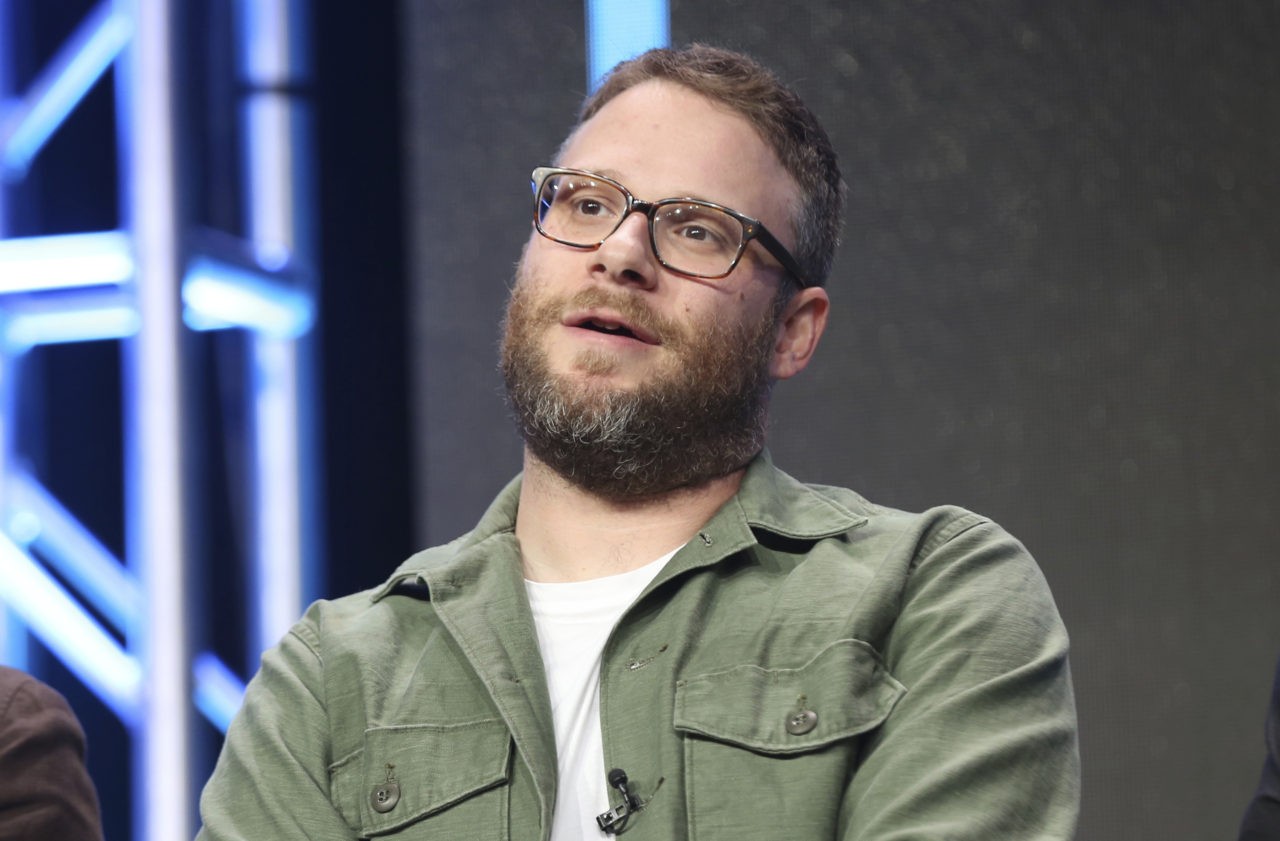 (Photo credit: Willy Sanjuan/Invision/AP)
Actor Seth Rogen testified before Congress on February 27, 2014. The Los Angeles Times reports Rogen, who started the Alzheimer's organization Hilarity for Charity, said deaths from Alzheimer's had increased almost 70 percent in the last 15 years. Five million Americans currently have the disease, and as many as 16 million will have it within the next 35 years, Rogen said. He described how important the issue became to him when his wife Lauren Miller's mother, Adele, was diagnosed with early-onset Alzheimer's at 54. Rogen said he had a negative experience working with Weinstein. "I was like, 'This is a bad dude and I'm never going to work with him again.' And everyone is like, yeah — but they still do," Rogen said.
Ashton Kutcher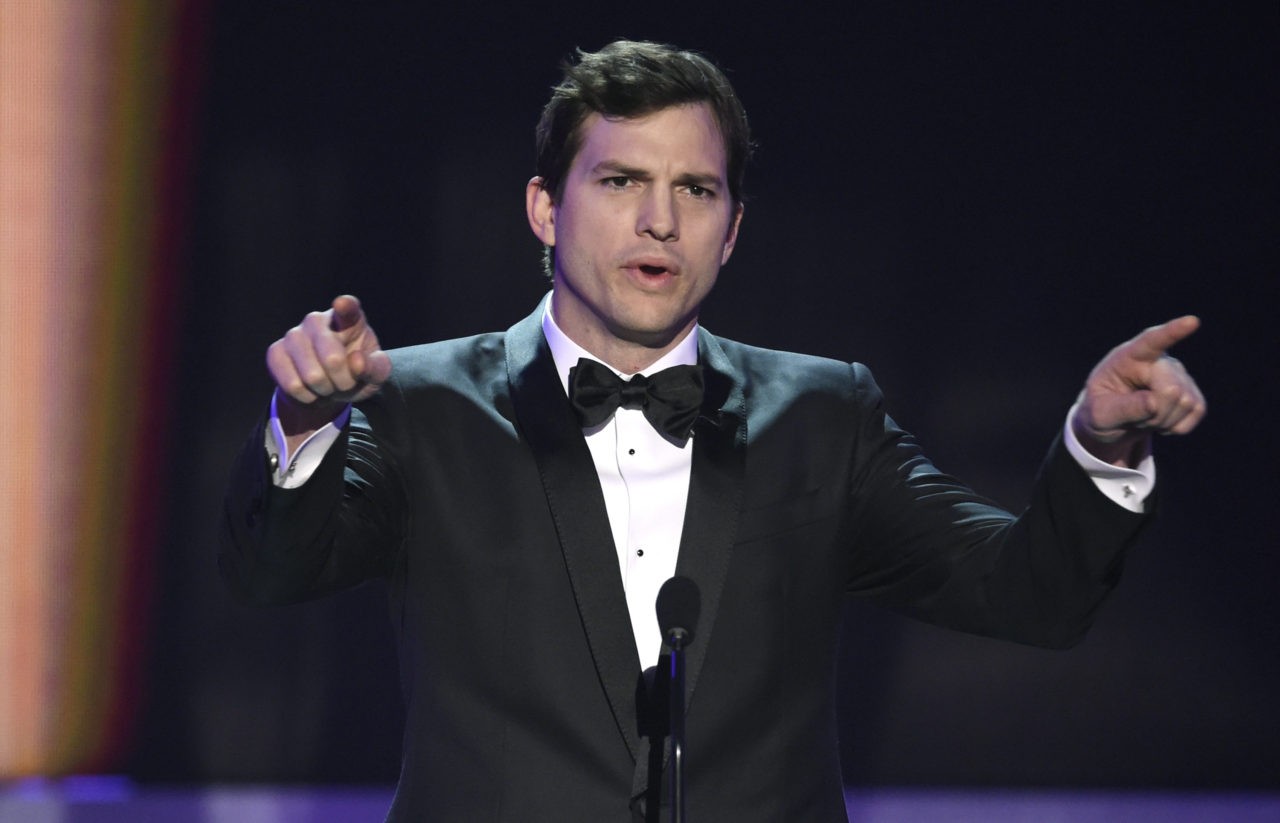 (Photo credit: Chris Pizzello/Invision/AP)
Actor Ashton Kutcher testified before the Senate Foreign Relations Committee on February 15, 2017. In his 15-minute opening remarks, Kutcher praised the committee for bipartisan cooperation on the issue, calling his opportunity to speak "one of the greatest honors of my life," his voice cracking as he recalled his work with victims. "As part of my anti-trafficking work, I've met victims in Russia, I've met victims in India, I've met victims that have been trafficked from Mexico, victims from New York and New Jersey and all across our country. I've been on FBI raids where I've seen things that no person should ever see," Kutcher said.
Nicole Kidman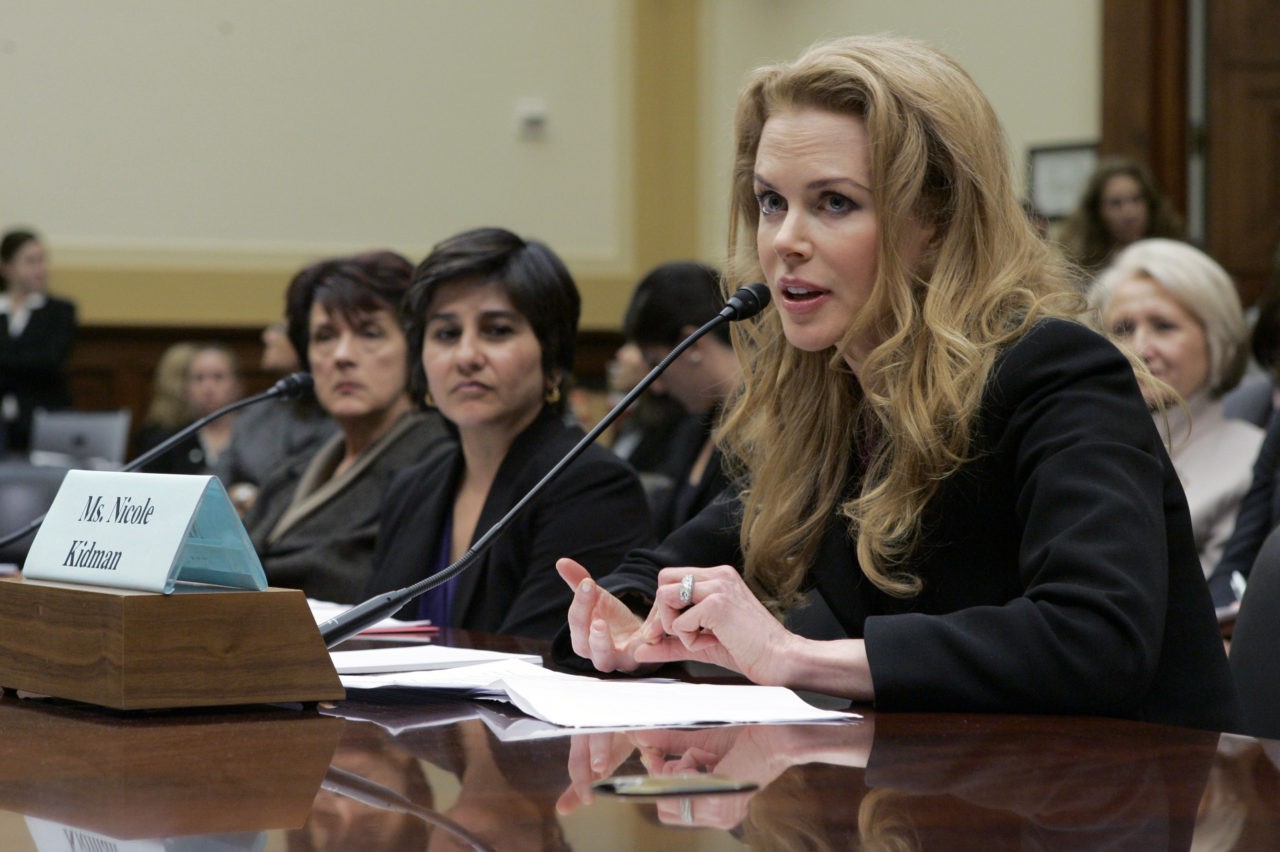 (Photo credit: AP Photo/Susan Walsh)
Nicole Kidman testified before Congress on October 22, 2009, where she accused Hollywood of contributing to violence against women by portraying them as sex objects. Kidman was speaking in her role as a UN ambassador to the House Foreign Affairs Subcommittee that was considering legislation to tackle violence against women overseas. When asked by Rep. Dana Rohrabacher (R-CA) whether the film industry "played a bad role" in the way it portrayed women, Kidman replied "Probably," but she then added that she refused to take roles that portrayed women as sex objects. "As I've stated before publicly, I support and applaud all women and these women who speak out against any abuse and misuse of power — be it domestic violence or sexual harassment in the workforce," Kidman said about Weinstein in a statement. "We need to eradicate this behavior."
Woody Allen
(Photo credit: AP Photo/Ira Schwarz)
Woody Allen testified before Congress on May 13, 1987, on what he called the "sinful" practice of coloring classic old black-and-white movies such as "Casablanca" and "It's a Wonderful Life," and new black-and-white films like his own "Manhattan" and "Broadway Danny Rose.'' The villain of his complaint was Ted Turner, the broadcaster, who has led the pro-coloring forces and who announced plans in 1986  to color 100 black-and-white films from the M-G-M, Warner Brothers, and RKO libraries. Allen has faced his own sexual controversies, including the alleged abuse of his adopted daughter Dylan, and his marriage to his adopted daughter Soon-Yi. Allen said he was sad about Weinstein but then clarified that he meant Weinstein is a "sad, sick man." Ronan Farrow, who refuses to speak to his father, was one of the journalists who broke the story about Weinstein.
Elmo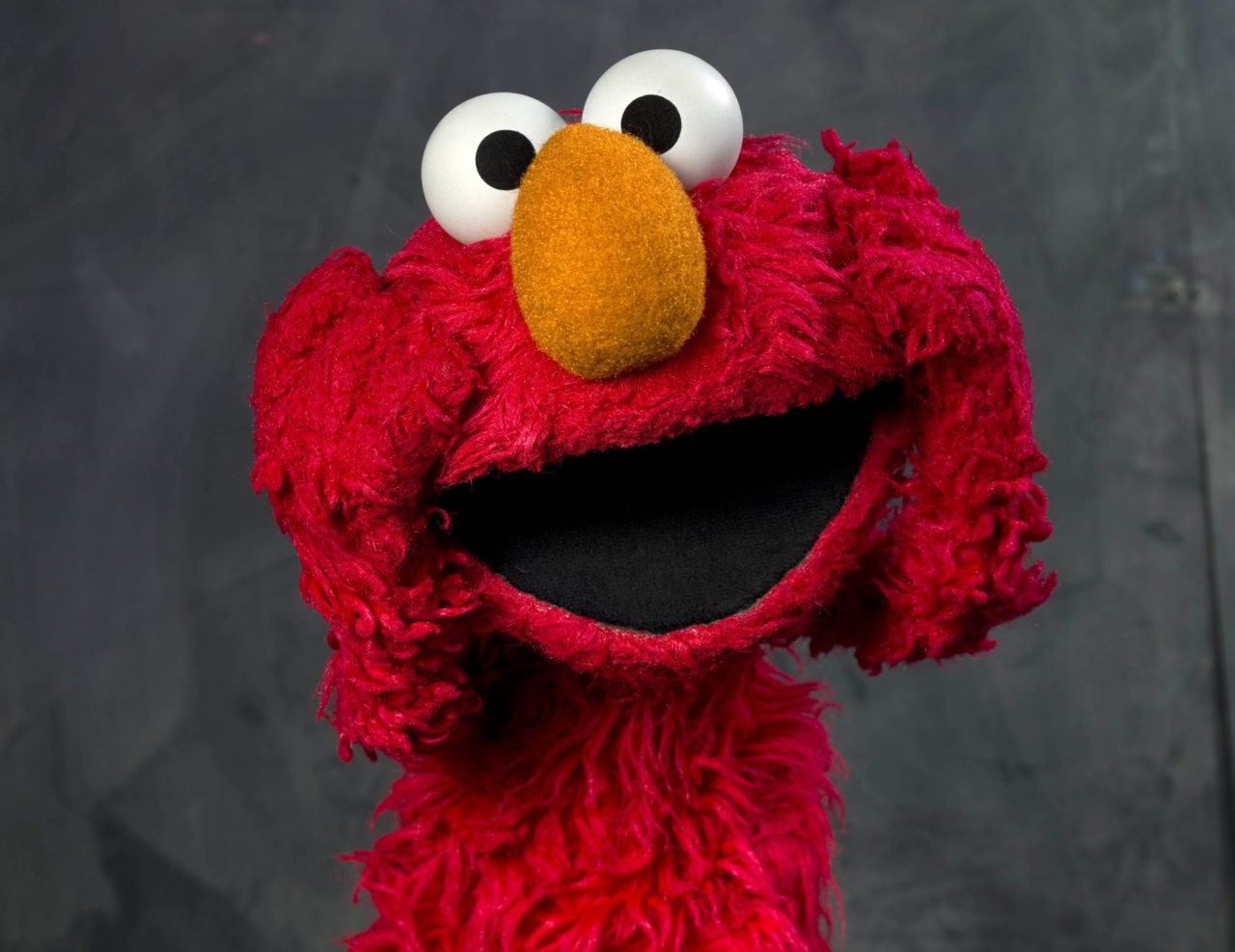 (Photo credit: AP Photo/Victoria Will, file)
The Sesame Street Muppet Elmo "spoke" to Congress on April 24, 2002. The red, furry favorite to toddlers everywhere was on Capitol Hill to urge Congress to spend more money on music research and musical instruments for school programs.
Oprah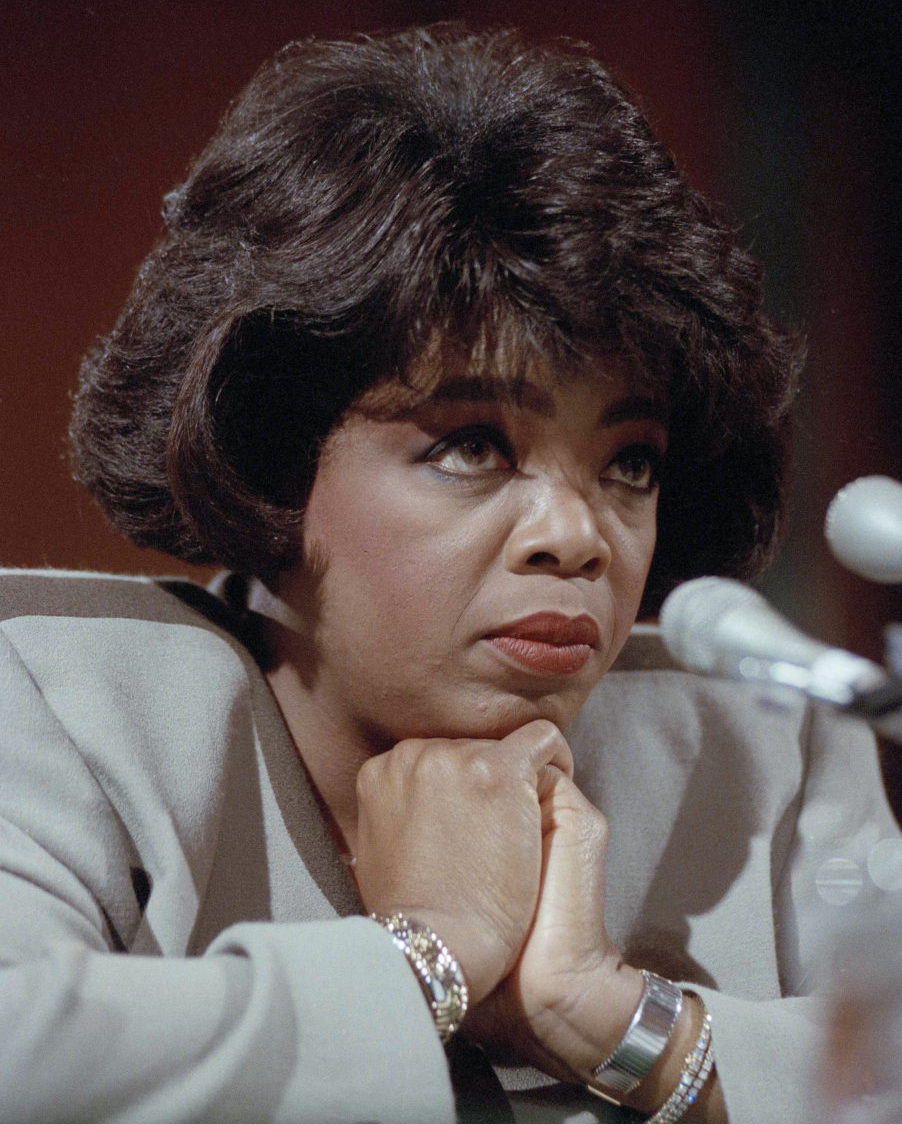 (Photo credit: AP Photo/John Duricka)
Oprah Winfrey testified before Congress on November 12, 1991. A victim of child abuse, Winfrey hired former Illinois Gov. James Thompson to bring her ideas of how to combat the problem directly to the man who could translate her concern into law, then-Senate Judiciary Committee Chairman Joseph Biden (D-DE.). The three had met earlier, and Biden agreed to take her idea and introduce it as the National Child Protection Act of 1991. "I'm always trying to look for the rainbow in the cloud, whatever is the silver lining," Winfrey said about Weinstein. "And this is what I do know for sure: Something this major happens, when you have the fallout, 50 women coming forward, that it's a watershed moment."
Julia Roberts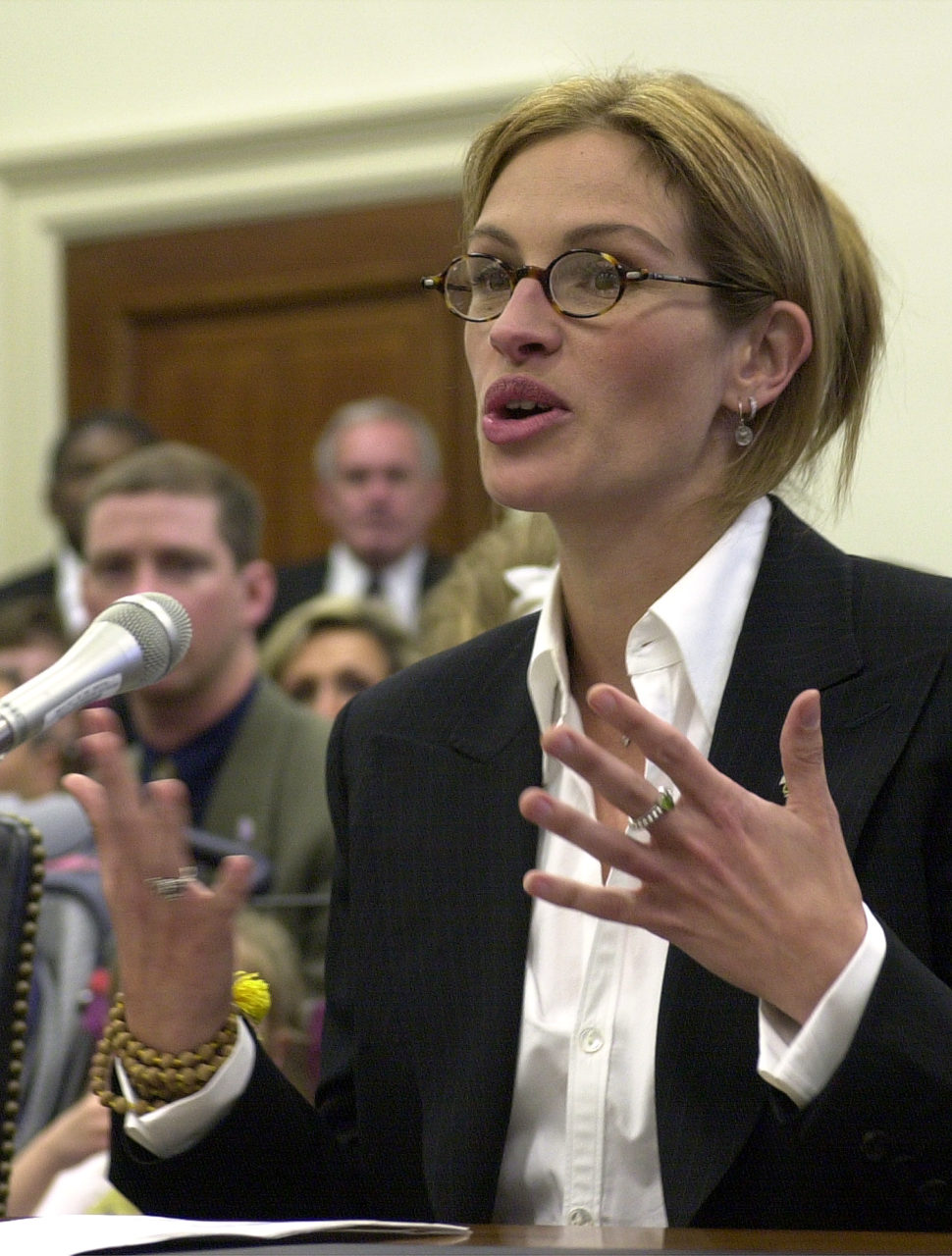 (Photo credit: AP Photo/Dennis Cook)
Actress Julia Roberts spoke to Congress on May 9, 2002, to encourage a boost in federal funding to research Rett syndrome, a neurological disorder that prevents its victims from communicating or controlling their body movements. Roberts joined about 20 families representing the International Rett Syndrome Association, or IRSA, before a subcommittee of the House Appropriations Committee.The group was seeking $15.5 million in funding to examine Rett syndrome and related disorders for the fiscal year 2003. In a statement issued earlier this month, Roberts urged people to stand up against Weinstein's "predatory behavior" and to "help victims find their voices and their healing, and to stop it once and for all." Roberts' 2013 film, "August: Osage County," was produced by The Weinstein Company.
Sheryl Crow
(Photo credit: AP Photo/Evan Vucci)
Musician Sheryl Crow, a breast cancer survivor, testified before Congress on May 21, 2008, to support an act that would fund research for finding a cure for the disease. Crow spoke about the need to pass the Breast Cancer and Environmental Research Act. The act would provide $200 million in funding towards research of environmental factors that contribute to breast cancer. Crow also testified about music copyright law in 2000. Crow and many other stars, including Lady Gaga, have joined the #metoo social media campaign.