The rap song "Boycott Target" has jumped past singles by superstars Taylor Swift and Morgan Wallen to become the number one song on iTunes on Tuesday.
"Boycott Target" — from rappers Forgiato Blow and Jimmy Levy — was released Thursday and has become a runaway hit on multiple platforms. A music video for the song tweeted by Forgiato Blow has accumulated more than 4.4 million views after Rep. Marjorie Taylor Greene (R-GA) encouraged people to check it out.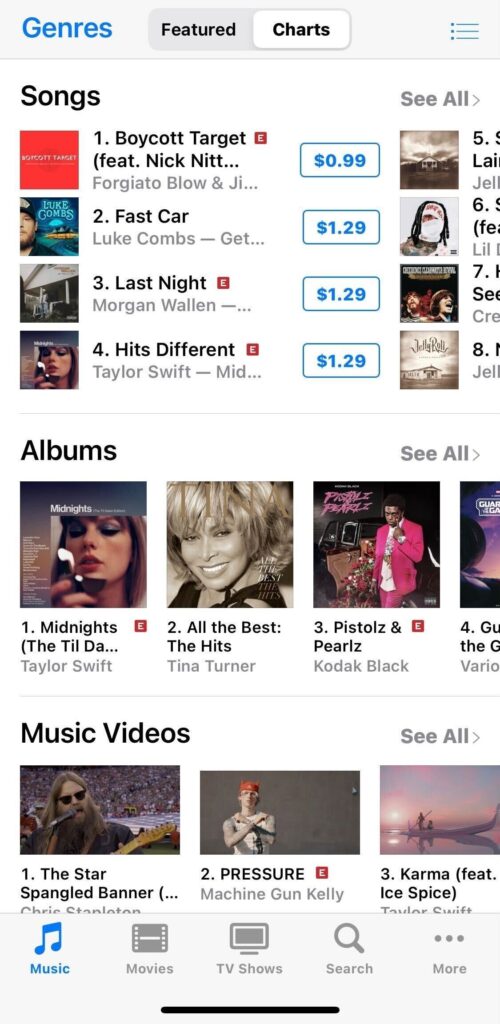 The rap anthem has surged past both Morgan Wallen's "Last Night" and Taylor Swift's "Hits Different," which currently sit at No. 3 and No. 4, respectively, on iTunes' "Top Songs" chart. The No. 2 spot is currently occupied by country star Luke Combs' "Fast Car."
American Conservatives are once again showing who has the real buying power.

It's not the woke mob, they only bully and riot. https://t.co/x490RKdBVA

— Rep. Marjorie Taylor Greene🇺🇸 (@RepMTG) May 26, 2023
As Breitbart News reported, Target not only pushed gay and transgender-themed clothing for children, but also partnered with a Satanist designer, UK-based Abprallen, on its Pride line of apparel, which insists "Satan loves you" and "Satan respects pronouns."
As a result, Target has lost $9 billion in stock market value since debuting its LGBTQ apparel for children.
Amid the widespread consumer backlash, the mainstream news media rushed to Target's defense by falsely claiming conservatives were behaving violently in reaction to the LGBTQ clothing line.
The Associated Press  spread the conspiracy theories about violent behavior but then stealth-edited its story to remove the smear without noting an update or correction.
Target's vice president for brand marketing is Carlos Saavedra, who has served on the board of the Gay, Lesbian & Straight Education Network — or GLSEN, which is pronounced "glisten." The organization has advocated for gender transitions for children.