Feminists are demanding that a statue commemorating the end of World War II be removed from Normandy in Northern France because it depicts a sexual assault. 'Unconditional surrender' by J Seward Johnson is based on a photo from VJ day in New York, when a young sailor kissed a woman to celebrate the end of the war.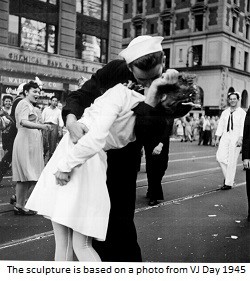 The 25ft statue which weighs 13 tonnes was placed close to Pegasus Bridge to mark the 70th anniversary of D-Day. Whilst the Caen Memorial Museum have described it as an "iconic work" French feminist group Osez Le Féminisme have started a petition to have it removed. 
They maintain the women in the original photo did not consent to being kissed and it was therefore a sexual assault. Alfred Eisenstaedt who took the original photo has confirmed the sailor in the photo was kissing any woman who came close to him. He is said to have had little regard for whether they were young or old, attractive or not.
The group told The Times: "The sailor could have laughed with these women, hugged them, asked them if he could kiss them with joy… No, he chose to grab them with a firm hand to kiss them. It was an assault."
They claim the woman in the photo backs up their allegation, although there is some despute over her identity. Museum director Stéphane Grimaldi says the woman is Edith Shain, a nurse who maintained she had not been assaulted in any way. The feminists say she is Greta Zimmer Friedman, an Austrian whose parents died in the concentration camps.
Friedman has publicly stated that she did not ask to be kissed, she was quoted as saying: "I wasn't kissing him. He was kissing me". However, she never made a complaint against the sailor, and in fact remained friends with him afterwards. The two met up on several occasions.
The name of the statue is a reference to the demand by Allied Forces that Axis Powers surrender without any conditions. This was achieved in 1945 after heavy casualties were inflicted on both sides. One of the bloodiest days of the conflict was 6th June 1944, nicknamed D-Day because it was when 156,000 British and American soldiers invaded France.
Whilst the laws on sexual assault can be difficult to navigate, in general terms consent does not nessesarily have to be verbally expressed. Instead if both parties are confortable with the situation then no offense has taken place, as a result it is unlikely a court would uphold the feminists claims about the original incident.