UKIP leader Nigel Farage is known for his sense of humour, yet rarely takes on stand-up comedians at their own game.
So when left-wing comedian Frankie Boyle decided to send a foul-mouthed tweet to the UKIP leader earlier today, he probably didn't expect Farage to respond.
When the UKIP leader tweeted a link to comments by Andrew Lawrence (as reported by Breitbart London yesterday), adding: "It's rare to find someone so honest in the media, particularly in comedy," Frankie Boyle decided to reply in is usual style, saying: "There are a lot of honest people in comedy, which is why they keep calling you a ****."
Probably unlike any other political leader in the UK, Farage decided he'd actually respond to Boyle by tweeting back: "Probably the funniest thing I've ever heard you say!"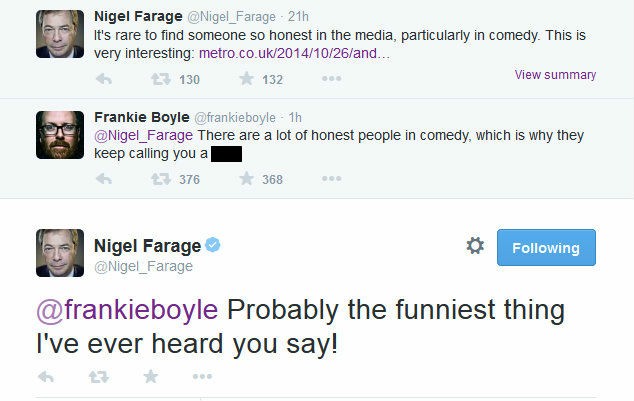 Andrew Lawrence, who is himself a stand-up, hit out at his fellow comedians who "crack cheap and easy gags" against UKIP, saying that "aging, balding fat men" were guilty of "liberal back-slapping".
Click here to see the full uncensored exchange.