Microchip manufacturer Intel, which has close ties to the state of Israel, has partnered with a radical far-left feminist activist who hates Israel, has accused the state of building an "apartheid wall" and has described Israeli government spokesman Mark Regev as "evil incarnate," Breitbart can reveal.
Intel describes its company history as "closely interwoven with the evolution of the State of Israel." The company was founded in the United States in 1968; just six years later, it opened an office in Haifa. Intel Israel is now the country's largest private-sector employer, with nearly 10,000 people, spread across offices in Haifa, Jerusalem, Petach Tikva, Qiryat Gat and Yakum.
Last year, Intel invested $6 billion in Israel to upgrade its chip manufacturing plant–the largest single investment by a foreign company in the country's history. And Intel invests prolifically in Israeli startups, supporting the local economy. It is a significant contributor to the national economy. In fact, it's tough to think of a corporate entity anywhere in the world more invested in the success of the state of Israel than Intel.
It is odd, therefore, to discover the company sucking up to far-Left campaigners Feminist Frequency, partnering with them as part of a new $300 million "diversity drive"–and even, reportedly, giving that organisation money, given that its due diligence checks will surely have uncovered the ugly public statements from Feminist Frequency co-founder, writer and producer Jonathan McIntosh, who has expressed no small degree of outright disgust for Israel, its people and its policies in the past.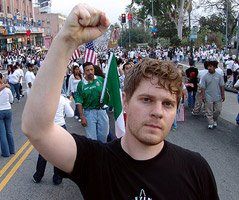 McIntosh, who describes himself as a "pop culture hacker" and "transformative storyteller," previously achieved brief notoriety on the internet for his YouTube videos, among them "Buffy vs Edward" and "Donald Duck meets Glenn Beck." He is the mastermind behind the Feminist Frequency "Tropes vs. Women" YouTube series and hosts his own videos on the channel, including "25 Invisible Benefits of Being Male While Gaming".
McIntosh sits on the board of the New Media Rights group and is an advisor to Silverstring Media. But he is also a far-Left agitator who attended anti-Israel events for years, who has acquired a notorious reputation in the video games industry for his outrageous and sometimes downright wacky opinions about "toxic masculinity," feminism, capitalism, and, in particular, Israel.
He "refused to celebrate the killing" of Osama bin Laden, writing that he would not welcome the death "of any human being regardless of how reprehensible they might have been." Yet McIntosh later wrote, on the death of Christopher Hitchens: "He was a despicable, vile, hateful, warmongering human being. Good riddance."
McIntosh has spoken remarkably disparagingly about Intel's native Silicon Valley, claiming that it is "full of repugnant white dudes who believe capitalism and their personal technology idea will save the poor brown people." His Feminist Frequency co-host Anita Sarkeesian is an equally hard-line leftist propagandist who claims: "There's no such thing as sexism against men."
On the subject of Israel, McIntosh has in the past made stomach-churning public remarks such as: "Israel confirms their apartheid wall was a land grab after all." But what many readers will not know is just how deep his hatred of the fragile Middle Eastern state goes. In fact, McIntosh is a vehement, dedicated, life-long anti-Israel activist whose amateur photography has been credited on websites such as Question Israel and Electronic Intifada, as well as End the Occupation and Indymedia for years.
He does not restrict himself to photography. McIntosh remarked on Twitter in 2011 that, "Israeli's PR spin doctor Mark Regev should win some kind of award for insane Orwellian doublespeak." On a separate occasion he described Regev as "evil incarnate." McIntosh blames Israel for the creation of the Stuxnet computer virus in the absence of evidence and claims that Israel's ongoing conflict with Palestine is "part of their plan to prop up internal power structures."
Israel PR guy Mark Regev is evil incarnate, there's no other way to describe his utter lack of humanity: http://bit.ly/msSebI #palestine

— Jonathan McIntosh (@radicalbytes) June 6, 2011
Great motion graphics video explaining the terrifying Stuxnet weapon/virus most likely created by the US & Israel: http://bit.ly/kI7uSs

— Jonathan McIntosh (@radicalbytes) June 21, 2011
As a conspiracy theorist, anti-capitalist and outspoken hater of Israel and Israeli foreign policy–anti-semite is going too far–Jonathan McIntosh is a remarkable person for Intel to be associating itself with, and especially, if press reports are accurate, financially supporting. Micah Curtis, a reporter for technology news site TechRaptr who has been investigating McIntosh, told Breitbart: "The idea that Intel is getting into business with such a person is incredibly concerning.
"It goes without saying that many of Intel's customer base would not be happy to hear that they are getting into bed with a far-left radical such as Jonathan McIntosh. Diversity is never a bad thing, but Intel may want to look into putting their $300 million somewhere else."
McIntosh is an outspoken opponent of GamerGate, the consumer movement advocating better ethics in game journalism. In October, an Intel vice president told Breitbart that gamers were "doing great work" fighting back against feminist criticism and that he was "sick of slander and self-loathing" from the video games press.
"I am pressing that team, it's not mine, but I am exerting influence when I can, to stop spending money with people who hate themselves and hate our clients," the source told us at the time. Evidently, the vice president in question was unsuccessful–and he has since stopped returning calls and emails.
https://twitter.com/PlayDangerously/status/552704789096570880
https://twitter.com/PlayDangerously/status/552706746209140736
https://twitter.com/PlayDangerously/status/553059834883354624
Breitbart correspondent Virginia Hale argued persuasively last week that Intel's $300 million "diversity" drive, of which this new investment and partnership is part, represents a retrograde step for the company. It is both discriminatory and wrongheaded, she argues, negatively affecting male job applicants in order to fill arbitrary gender quotas, to no clear business benefit.
But even more remarkable than the large sum Intel has set aside to make life needlessly difficult for itself is the question of why a company so deeply rooted in Israel would countenance a partnership with a person who is so virulently opposed to the company's core values.
The following video, created by critics of Feminist Frequency, has already garnered over 125,000 views, many of them from flabbergasted Intel customers. Neither McIntosh nor Intel returned a request for comment.