It is "relatively easy" for jihadists to gain access to the European Union by coming with an influx of refugees, the head of the European Union's counter-terrorism group has warned.
Although jihadists have to this point seemed to find no difficulty in slipping between Europe and the Islamic State by way of porous eastern borders and Turkey, the enormous volume of humans crossing the Mediterranean every week, and EU-funded efforts to help them, appears to be offering another route of ingress. Counter-terror chief Gilles de Kerchove said: "We must be vigilant. It is relatively easy to enter into the European Union when one joins an influx of refugees", reports TheLocal.at.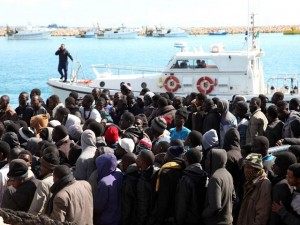 The European Union provides funding to the Italian Navy and Coastguard to collect refugees and migrants who decide to travel to Europe by boat from North Africa, most often heading for the Southern Italian coast and Islands. The United Kingdom withdrew support for the mission last year, noting that offering a Mediterranean 'safety net' only encourages more people to risk making the crossing.
The great influx of people is moved across the internal sea with the aid of human traffickers and smugglers, who often use unseaworthy boats which aimed in the general direction of Europe and allowed to sail without crew, factors which dramatically increase the danger to life. Hundreds have died attempting the crossing just this year but up to 2,000 are saved and brought to Europe a day.
Over 50,000 people applied for asylum in Europe last year, a number which will almost certainly be broken this year. Every month of 2015 has been record-breaking so far in terms of human arrivals – and around a fifth are thought to have come from just one country, Syria. As many of those arriving by boat don't have passports or identity documents, their true identities, nationalities, and any past involvement with terrorist groups is hard to prove.
Terrorists entering a nation posing as innocent refugees and applying for asylum is a problem with which Australia has grappled, and solved. A terrorist arrested in February for conspiracy to commit murder by stabbing blonde people in the kidneys with hunting knives arrived in the country by boat using a false passport during the Labor-party era of open borders. The new policy of using the Royal Australian Navy to turn migrant boats away has sent such an effective message to would-be travellers only one boat attempted the journey in the whole of 2014.