Labour supporters look to be panicking in the constituency of Great Grimsby as both Unite and Unison have joined forces with Hope Not Hate for an anti-UKIP campaigning day.
Staff from the unions, which donate millions to Labour, have sent a letter to members calling for help to deliver 20,000 Hope Not Hate newspapers in a bid to stop UKIP's Victoria Ayling from taking the seat.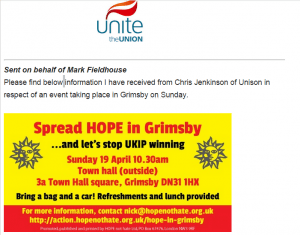 In an email seen by Breitbart London, Chris Jenkinson, the local government officer for Unison who is married to the Labour candidate Melanie Onn, called on his opposite number at Unite, Mark Fieldhouse, to help spread the word about the campaign.
Ukip are throwing the kitchen sink at this seat, spending loads of money, all donated by handful of rich individuals none of whom have any association with Grimsby or its communities, and they are becoming more and more outrageous as the weeks go by. It will sicken you to know that last week Nigel Farage said on the BBC "in towns on the east coast children cannot play in the streets because of immigrants". This vile racism is designed for one purpose,  to divide communities and detract attention from the real challenges facing ordinary people.
 
Hope Not Hate have produced a great tabloid newspaper highlighting the dangers of Ukip and their brand of politics. But we need to get it to 20,000 homes and that's where you can help. If you've got a couple of hours on Sunday come over to Grimsby and help us post 20,000 messages of Hope and help to defeat Ukip.
 
Please feel free to share this with anyone who you know who might be willing to come and help out. The infographic can be used on social media.
 
Best wishes.
 
Mark Fieldhouse
Regional Political Officer
The leaflet in Labour colours of yellow and red even offers refreshments and lunch, which has resulted in complaints being made to the Electoral Commission and Humberside Police as political rivals say it counts as 'treating', which is a criminal offence.
Electoral Commission rules state that a person is "guilty of treating if either before, during or after an election they directly or indirectly give or provide any food, drink, entertainment or provision to corruptly influence any voter to vote or refrain from voting".
The union member who revealed the email said he did so because "he is using his official position in a trade union to further his wife's political ambitions."
Dave Briggs, Founder of website Nope, Not Hope, said "Local opposition to UKIP is so small that Labour are now relying on Hope not Hate bussing in activists with no connection to Grimsby to make their protest look meaningful. And treating everybody to lunch in the process, something which is illegal under electoral law.
"When is the protest scheduled for Middlesbrough, where 9 Labour councillors resigned because of racism in the local Labour Party?
"We also await news of Hope not Hate action in Harrow, where 13 Labour councillors of Asian heritage resigned en masse because of discrimination in the local Labour Party. Hope not Hate appear to have missed these."
UKIP Candidate Victoria Ayling said:"It seems that they must be very scared of UKIP to resort to these measures. Knocking on the doors, there are many people, both former Tories and former Labour as well as previous non voters saying they are voting for UKIP."
Read More
Victoria Ayling:  The Woman Who Could Turn Grimsby Purple