As David Cameron unveils the first all Conservative cabinet for the first time in 23 years, Ed Miliband's 8ft Limestone plaque has been put on eBay.
Described as an 'unwanted present' and currently selling for £1.20, the #EdStone has been marked as 'Low reserve for quick sale' with the prankster telling watchers to "grab a bargain."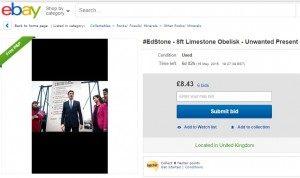 '£30,000 worth of unwanted limestone obelisk. Some idiot has carved some inane slogans on it, but these can easily be erased. Just like it's current owner has been erased from the political landscape of much of the country.
Grab it before it disappears – along with the chap pictured next to it.'
Meanwhile the Prime Minister has reappointed George Osborne, Theresa May, Philip Hammond and Michael Fallon to their pre-election positions in the government.
Mr Cameron will spend the weekend deciding who else will join him in the cabinet and will need to replace the Lib Dems who held cabinet positions including former Business Secretary Vince Cable, Energy Secretary Ed Davey and Chief Secretary to the Treasury Danny Alexander who all lost their seats in Thursday's poll.
In a public vote of confidence, Mr Osborne has been appointed as the first secretary of state as well as his previously held position as Chancellor. The post denotes seniority in the cabinet and will show that the Prime Minister knows how important the economic recovery was to the party's success in the election.
He will also consider whether he finds a role for Boris Johnson who was elected back into Parliament on Friday after seven years away serving as Mayor of London. Mr Johnson still has a year left to serve as mayor as well as being an MP for the constituency of Uxbridge and South Ruislip.
Harriet Harman, meanwhile, is acting as Labour leader since the resignation of Ed Miliband on Friday morning, just as she did in 2010 after Gordon Brown's resignation. No contenders have put their names forward yet but names swirling in the ether include Yvette Cooper, Andy Burnham and Chuka Umunna. The outsider seems to be Dan Jarvis, the former Special Forces major who increased his majority in Barsley and has respect from all sides of the house having served in both Iraq and Afghanistan. Such a leader would be the polar opposite of geeky Ed Miliband and could win the party support of many right leaning voters should the Conservatives not change their stance on the Armed Forces.
Mr Miliband said Labour needed an "open and honest debate about the way forward without constraints".
The Lib Dems are also looking for a new leader after the worst result in the party's history which saw them from from 57 seats to eight. Attention has focused on former party president Tim Farron whose name was mentioned throughout the night by Liberal Democrat candidates and supporters even before the full results were in.
With pre-election possibles now out of the race having lost their seat, speculators are also looking to former health minister Norman Lamb – who previously worked for former Labour MP Greville Janner – a close ally of Nick Clegg's. Also viewed as in the running is former Scottish secretary Alistair Carmichael, but with the SNP so dominant in Scotland the party may want to stick with an MP who represents an English constituency.
With local council results still coming in, the Conservatives have made gains by taking control of an extra 26 councils. And it has been a better day for UKIP after only winning one seat despite having 3.8 million votes cast for its candidates.
Thanet District Council has #GonePurple. First Authority in the United Kingdom to have a #UKIP majority!

— UKIP (@UKIP) May 9, 2015
Nigel Farage delightedly tweeted that his party had taken control of Thanet Council and the party have also picked up seats in the other 2020 target seat of Boston where they have 12 councillors and are the official opposition while the Tories have 13 seats leaving it in no overall control.