LONDON, United Kingdom – Migrant rough sleepers have caused outrage after being photographed camping right on top of the memorial (pictured above) to the victims of London's 7/7 Islamic terror attacks. The migrants, thought to be Romanian, are reported to have used the plaque inscribed with the names of the 52 victims as a dinner table and turned the immediate vicinity into a makeshift toilet.
Several events to mark the 10-year anniversary of the atrocity are planned for next week and survivors of the attack are said to be angered by the ignorance and disrespect demonstrated by the migrants. One onlooker told the Evening Standard:
"They were [at the 7/7 memorial site] when this poor person went to pay their respects to the dead early one morning. What he saw was basically a rubbish heap and the rough sleepers did not move. They seem ignorant of what the memorial means.
"At one stage they used the memorial plaque as a dinner table, it was disgusting. One of the group was even using the site as a toilet. This is just so out of order."
Jacqui Putnam, a survivor of the train attack at Edgware Road that killed six, told the Standard: "This is shocking behavior and deeply offensive to the families of those who died and the survivors. It does not matter where these people are from, this is obviously a memorial and they are being deeply disrespectful. More needs to be done to protect the memorial."
When Breitbart London reached the memorial in Hyde Park this morning, the majority of the migrants had moved back to their more permanent camp on Park Lane by Marble Arch (pictured below). They have been camped at the site on and off since 2012, costing the British taxpayer upwards of £500,000. The number of homeless Romanians in London has almost trebled since boarder controls were lifted a year and a half ago.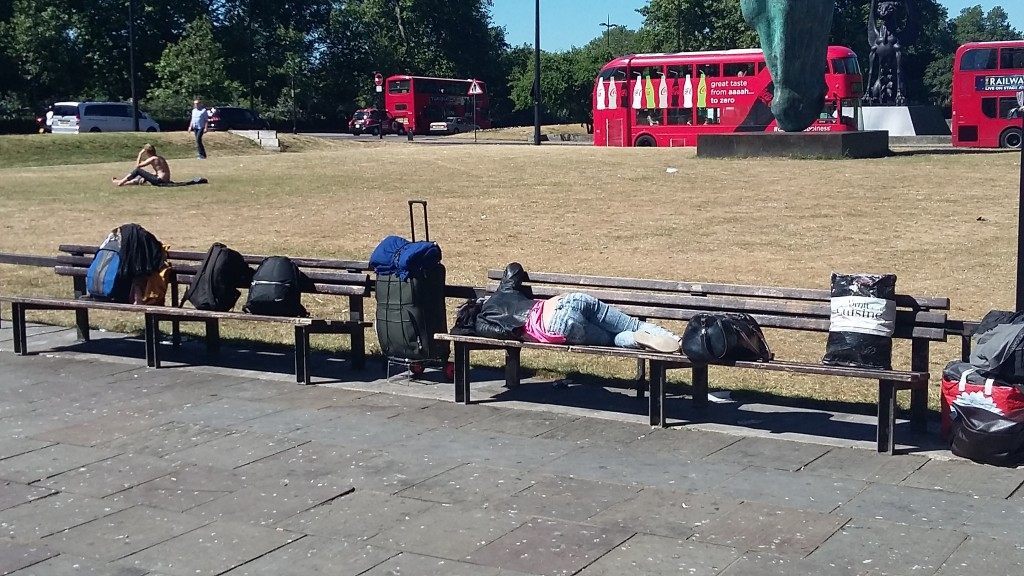 Councillor Nickie Aiken of Westminster City Council said:
"All memorials should be treated with sensitivity and respect, but this one even more so with the tenth anniversary of the London terror attacks just a few days away.
"I was appalled when I saw the photographs. As soon as we knew about the problems, the council notified Royal Parks Police and Immigration Enforcement officers, bringing together the right agencies to address the issue as soon as possible.
"My thoughts are with the family and friends of the victims of 7/7 and hope these pictures do not cause further upset at what must be a very difficult time."
The memorial was similarly disrespected on the anniversary of the attacks last year when vandal sprayed the words "Blair lied thousands died", "Four innocent Muslims" and "July 7 truth" in red and black paint onto the sculpture.