LONDON – Strawberries and cream. Champagne. Pimm's. All are closely associated with Wimbledon for a reason. Breitbart News sat down with Jonathan Parker, head of catering at the All England Lawn Tennis Club (AELTC), to discuss the classics, but also other excellent dining options at the iconic tournament.
No doubt strawberries and cream remains the most popular food on the grounds. The tradition spans back to the beginnings of the All England Lawn Tennis Club.
"The whole thing started many years ago at Wimbledon when all tennis was played on the lawn so then every afternoon everyone would take afternoon tea on the lawns of Wimbledon," he explained. "People would have tea and sandwiches, but they'd also have strawberries so that's why strawberries and cream become synonymous with Wimbledon."
Wimbledon serves 61,729 pounds of strawberries with 6,159 quarts of cream during the tournament. They place at least 10 strawberries in a punnet, which is a small bowl specifically for small fruits and vegetables, and splash the silky smooth cream over them. Sugar is optional. Does the treat sound like it needs any sugar? The strawberries are sweet and melt before your teeth can sink into them.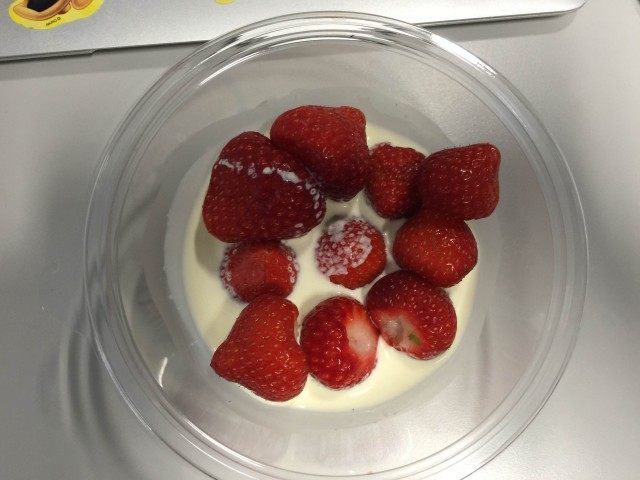 But these are not ordinary strawberries. They are the best English strawberries. Wimbledon receives strawberries from Hugh Lowe Farms in Kent. The tournament moved back a week, which means a slightly different strawberry appeared in the punnets for week two.
"We work with one farmer, Hugh Lowe, who has a farm in Kent and he grows his strawberries especially for us," he said. "He stages his crop for week 1 and stages his crop for week 2. So for the first time we actually have different varieties because Wimbledon moved back a week and that means our normal variety of strawberry runs out before week 2."
He continued: "There's not much difference. The Sonata is a little juicier, which makes it a little harder for us to handle, but that's what it takes to have the best English strawberries at Wimbledon."
I tried both types and they are absolutely delicious. Thankfully, Wimbledon does not run out of strawberries during the day. But at the end of the day, there are no leftovers.
"There have been a few days where we suddenly peak, but we've been at the same crowd level now for the last 10 years," he said. "Strawberries are picked for us at 5 a.m., so we make the call, this is how many we need and we haven't gotten it wrong for the past few years."
Bars exist all over the ground, but Pimm's and champagne remains a staple at Wimbledon.
"Pimm's is a very old fashioned drink and it's mixed with lemonade. Ours is a gin-based cocktail really with different fruits and herbs and it creates this very distinctive [taste], but refreshing and fruity."
Wimbledon attracts people all around the world, which means different palettes to satisfy. Yet, besides the strawberries, the British food on the grounds remain the most popular.
"We have fish and chips, of course, but also sandwiches," he said. "We love our sandwiches. We also have our summer salads and pizza. But we also do Mexican, we do Thai."
As I walked around the grounds I did notice the majority of people eating the fish and chips. The dish is one of the better fish and chips I ate while in London. The food is not greasy despite being fried, which means the chips are not soggy by the time you sit down. There is enough crunch to the fish, but it does not fall apart in your lap as soon as you take a bite.
Parker said they slightly change the menu every year, but quite a bit exists every year. He told Breitbart News:
We change the menu every year. We're always bringing in innovation and try new things, but there are things we can never change. Obviously, number one, strawberries and cream or the pizza. We have something called the sausage grill, which is an English Cumberland sausage, which is really famous. Everyone who works at Wimbledon or comes every year gets an English Cumberland sausage baguette. Other things we will not change is sandwiches. You can never not have a ham and cheese sandwich at Wimbledon. You need an egg mayonnaise ham sandwich at Wimbledon.

This year we have a special chicken salad. We have a Sutton who chicken made especially for us here at Wimbledon. It's an organic chicken, beautiful flavor. We've been making a farm to fork salad. We have a farmer that grows the leaves for us and we've got special dressings. It's been a huge successful. We also do a special afternoon tea that people can preorder.
The Wimbledon Afternoon Tea Picnic is new for 2015. It includes the traditional tea sandwiches with two cups of tea along with scones, strawberries and cream, pastries, and water.
If someone does not want a huge meal, AELTC set up snack kiosks all over the grounds. These include candy, ice cream, or potato chips.
With high quality foods on the line, Breitbart News asked how the catering company selects chefs and which farms to use.
"We bring in a lot of our own chefs from our company to head up all the kitchens and all the restaurants," he said. "We actually have quite a lot of returning staff, which always make life a lot easier. We have a number of chefs who work for us for a long, long time and they come back every year."
The process to find farms is in depth because of their specific attention to every minor detail, including lettuce leaves. Even though every year is hectic, going back to familiar faces eliminates one stress factor for the company.
"We mostly work with our green grocer and he recommended a family firm that they work with," said Parker. "We tested all the leaves and all the products. We want a robust supply, a safe supply. So it's important to work with our wholesalers because they've done a lot of work with safe systems."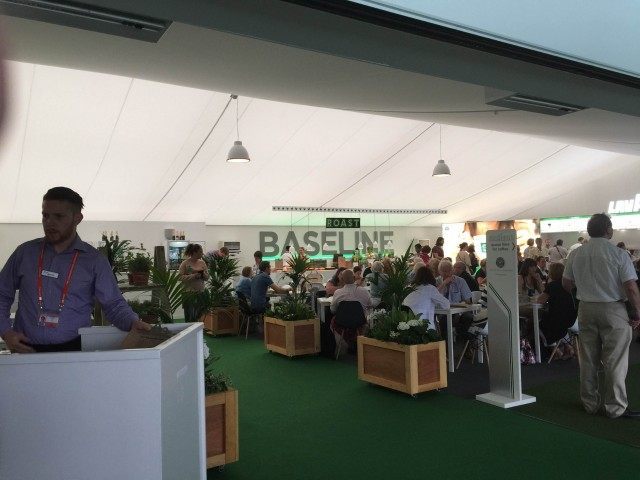 While the attendance is mostly adults, Wimbledon developed an area for children. It is called Play Tennis and located at Court 12. Kids can play tennis in a tent or purchase more kid-friendly food.
"We have one little restaurant called Play Tennis in the south part of the grounds. Healthy little snacks, but also hot dogs and hush puppies," replied Parker. "But there's not a lot of kids at Wimbledon. More adults come to Wimbledon. Generally people bring their spouse or sibling as a treat because generally through the ballot you only get two tickets."
AELTC added a gorgeous media restaurant. Located under Court 14, the massive eatery includes many options for the reporters and photographers.
"We had a survey," said Parker when asked how they determined what food to offer in the restaurant. "They mainly wanted freshly made sandwiches, but pretty much the media can now get everything they want. They can get a smoothie and great coffee. A freshly made pizza, freshly made sandwiches, a pasta bar, we have stir-fry in the evening. We have fresh sushi, hot dishes."
Parker told Breitbart News the players seek out almost the same food as the reporters.
"The players are pretty similar, but the players are looking for fresh vegetables, salads," he said. "Pasta is very popular obviously for the slow release carbs. Protein is so important to them now so sushi is a very quick way for them to take on slow release carbs and protein."
AELTC even made sure to provide food for the guests even if it differs from the player.
"Of course they have guests, who don't always want to eat healthy," he said. "They can get their own sandwich made, their own sushi made. Gluten free is quite popular with the players so we offer gluten free for them as well."
Come for the tennis, stay for the food!