Immigration into Germany last year hit its highest level for 20 years, with nearly 1.5 million people entering the country, and nearly one million people leaving. The number of people claiming asylum seeker benefits jumped by a staggering 61 per cent, the German Statistics Office (GSO) said on Thursday.
The news comes as a poll published Wednesday showed support for Chancellor Angela Merkel and her party slipping for the second week in a row on the back of the ongoing European migrant crisis.
According to the GSO figures, net migration stood at 550,000, meaning that many more people moved to Germany in 2014 than left. The majority were from Europe, mostly from Poland. Liberal asylum laws and generous benefits make Germany the EU's biggest recipient of people seeking asylum.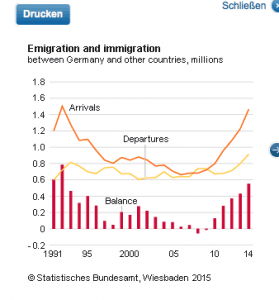 Overall a total of 1,465,000 people immigrated to Germany in 2014. This was an increase of 238,000, or 19 per cent, from 2013. Based on provisional figures, the Federal Statistical Office (Destatis) reports that such a high level of immigration was last recorded in 1992 (1,502,000 people).
Meanwhile a total of 914,000 people departed from Germany in 2014 – 116,000 (or 15 per cent) more than in the previous year. The resulting migration surplus of 550,000 people, the balance of arrivals and departures across Germany's borders, is also the highest since 1992.
The increase in the number of arrivals recorded in 2014 was due to the fact that more foreigners immigrated to Germany: 1,343,000 of the 1,465,000 immigrants held a foreign passport – 234,000 (or 21 per cent) more than in 2013.
This year numbers are likely to be driven higher again by people arriving from the Middle East and Africa, tens of thousands of whom are entering Germany after a journey across the Mediterranean and a landfall in Greece or Italy. We are already seeing part of that human flood tide make their first demands on Germany for benefits, housing, freedom of movement and future acquisition of German passports which will also enable free travel across the Schengen zone.
Economic migrants from south-eastern Europe, included 13 per cent more from Italy last year, while arrivals from Spain and Greece fell 26 per cent and 29 per cent respectively.
There were also strong rises from eastern European countries such as Romania, Bulgaria and Croatia.
Some 363,000 asylum seekers claimed benefits in 2014, with about 38 per cent from Europe. Critically there was a more than doubling of the number of claimants from Syria, who made up 11 per cent of the total. The biggest increase was claimants from Eritrea – three times the number compared with the previous year.
On Monday German Chancellor Angela Merkel described coping with the influx of asylum seekers as Europe's biggest challenge. Poll figures show that voters in Germany agree.
A Forsa poll put Merkel's conservative bloc down one percentage point on 40 per cent after a two-point dip last week, which the pollster blamed on divisions within her party on the third bailout for Greece.
In a hypothetical direct vote, Merkel came out one point lower than last week. However, on 52 per cent, Merkel – one of Germany's most popular post-war chancellors – is still some 37 points ahead of SPD Chairman Sigmar Gabriel.
"Angela Merkel cannot yet score on the dominant issue of refugees because she feels under pressure and it doesn't suit her pragmatic and calm political style," said Forsa chief Manfred Guellner. "People are noticing that and know that even the chancellor cannot solve the refugee problem in a stroke."
The rising numbers of immigrants will not abate soon nor will the corresponding pressure on social services and financial welfare.
Late last month Merkel declared all Syrian asylum-seekers welcome to remain in Germany – no matter which EU country they had first entered. In doing so Germany became the first EU country to suspend a 1990 protocol which forces refugees to seek asylum in the first European country in which they set foot.