In the wake of the Paris attacks, the left wing commentariat – by which I mean, the commentariat – took every measure they could to lecture the political right about using the Paris attacks to warn about their concerns over migration and terrorism. 
"Don't you DARE link those poor refugees to terrorism," they insisted – failing to realise that a) it wasn't necessarily the migrants themselves that we're worried about in terms of terrorism, but rather the consequences of open border immigration for security, radicalisation, trafficking, welfare, economic, and infrastructure reasons; and b) that the people being illegally trafficked into Europe with the consent of our governing classes are not "refugees" until they are deemed to be so by the relevant authorities. But that's by the by.
To conflate terrorism with free movement… to suggest that open borders somehow facilities those among us who would wish to do us harm… well that's "raaaccciisssssttt!"
Personally, I prefer the line used by the increasingly prescient UK Independence Party leader Nigel Farage, who told a capacity crowd at Basingstoke's Anvil theatre: "This dream of the free movement of people, this dream for others of the Schengen area. It hasn't just meant the free movement of people, it has meant the free movement of Kalashnikov rifles. It has meant the free movement of terrorists, and it has meant the free movement of jihadists."
I stood in Brussels Midi station waiting for a Eurostar back to London last week. While I waited, I called into the Breitbart News Daily radio show to talk about where I had just been – the "no go zone" of Molenbeek – and the increasing terrorism and security implications for the continent of mass migration. Just 12 hours later, Brussels was on full lockdown.
But as I hung up the phone, following my interview, I was accosted by a man who described himself as a "Mexican living in Europe". He said he was an entrepreneur, and took issue with my "inflammatory" rhetoric over free movement and security.
"I am not French," he said, "but I live here now," he explained before asking if I wrote for the Daily Mail and telling me how I was terrifying fellow passengers by talking about Molenbeek and terrorism.
"You may not be French," I replied, "but you appear to have something significant in common with them. You're very rude."
Perhaps not the nicest thing I could have said while the Tricolore hung in my flat in London as my show of support for France after the Paris attacks. But this man – a Mexican – telling me that my country, linked by train with my continent, should have open borders and free movement of people was just plain galling.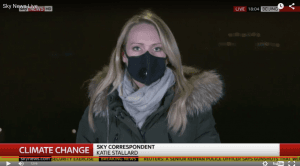 The right is never allowed to talk about facts, examples, and evidence – even though the left often accuses us of being shy in this area. But when it comes to things like climate change – scaremongering is de rigeur.
Just look at Sky News's coverage of the Paris Climate Talks this morning, where Katie Stallard (right) donned a protective mask live on television to talk about how China is polluting too fast.
No shit, Stallard. China's an industrial powerhouse. But downtown Beijing is hardly indicative of the pollutants entering our atmosphere "on the regz".
And then you have the French President Francois Hollande, who has warned in advance of the Paris Climate Summit: "The fate of humanity is at stake in this conference. After the attacks in France, we have to deal with the urgent priorities and respond to the terrorist challenge but also act for the long term."
Sky News this morning: The British public are increasingly sceptical of man made global warming. SO HERE'S SOME MORE PROPAGANDA!!!!

— Raheem Kassam (@RaheemKassam) November 29, 2015
Invoking a terrorist atrocity as a marketing device for a very politically motivated conference is both sick and perverse.
But when it comes to lefties and their ideals, it would appear that anything is on the table. Just ask Diane Abbott.