After insisting that "nominees for BBC Sports Personality of the Year are decided on their sporting achievements" an 'impartial' BBC news reader has bluntly labeled Britain's new heavyweight champion of the world a "dickhead" who "should not" win due to his socially conservative views on homosexuality, women and abortion.
Tyson Fury is an 18 stone brawler and the son of Irish travellers who left school at the age of 11. Largely in keeping with his background, some of his views are severely socially conservative, old-fashioned, even distasteful.
He is Christian, and fiercely committed to his wife; he has boasted of how they did not consecrate until after the ceremony and he believes the best place for a women is "in the kitchen on her back".
He's also really, really not a fan of homosexuality or abortion.
"We live in an evil world," he told the Daily Mail just before his recent world championship bout with Wladimir Klitschko, "The devil is very strong at the minute, very strong, and I believe the end is near. The bible tells me the end is near."
Adding: "There are only three things that need to be accomplished before the devil comes home: one of them is homosexuality being legal in countries, one of them is abortion and the other one's paedophilia.
"Who would have thought in the 50s and 60s that those first two would be legalised?"
After his surprise victory over Klitschko, making him world champion and a favourite for BBC Sports Personality of the Year, his views came under renewed scrutiny.
Labour party MP's summoned him to parliament for re-education and more than 90,000 people signed the obligatory online petition to have the boxer dropped from the short list for the BBC award.
The BBC initially attempted to appear neutral, putting out a statement in response to the petition, which read.
"The nominees for BBC Sports Personality of the Year are decided on their sporting achievements. As Fury became heavyweight champion of the world over the weekend, the panel feel that he should be a contender for this year's award."
However at 11.30pm last night, Clive Myrie, a 27-year veteran of the BBC, was discussing the issue on the newspaper review programme with the Telegraph's Christopher Hope, who infamously attacked UKIP for not having enough "black faces" in their manifesto booklet.
"You cannot be a dickhead and win Sports Personality of the Year", blurted out Mr. Myrie after clarifying that "it is past the watershed" – as if the British 9pm break in programming that indicates when someone can swear or not is also a political bias watershed.
Going by the photo below, however, I don't think Mr. Fury will be too bothered by the BBC revealing their underlying view of him.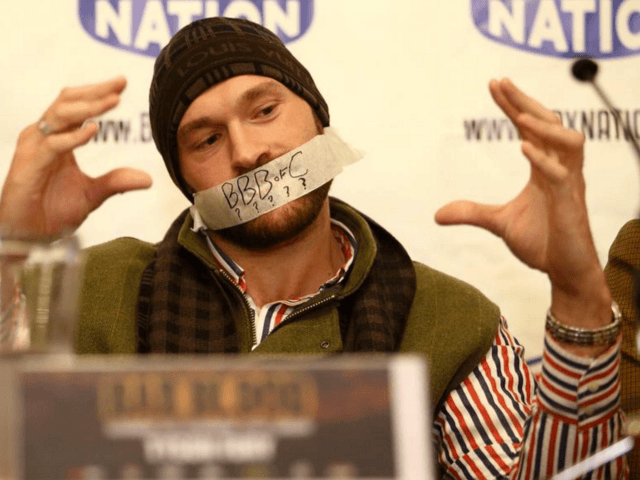 (Photo: Getty)