Australia's Prime Minister Malcolm Turnbull has warned Europe that Islamic State militants are using the refugee crisis to send terrorists across the Continent, and the way to defeat that threat is by using military force to stem the flow at source.
Mr Turnbull (pictured) said Tuesday's attacks in Brussels highlighted the "porous borders" of Europe and he went on to highlight Australia's strict approach to border control as an example to the world.
"For all intents and purposes there are no internal borders in Europe and their external borders are difficult to manage," Mr Turnbull told the Lowy Institute in Sydney.
"Australia is better placed than many of our European counterparts in dealing with the threat of terrorism because of the strength of our intelligence and security agencies, our secure borders and our successful multicultural society; one that manages to be both secure and free."
The attacks were inspired, if not planned, by Islamic State's Syrian headquarters, he said.
"While more attacks in Europe and elsewhere are seemingly inevitable, the genesis of many of the current issues lies in Syria. Defeating ISIL at its source will significantly constrain ISIL's reach into the west."
Mr Turnbull said Europe was facing a perfect storm of failed or neglected integration, foreign fighters returning from Iraq and Syria, porous borders and struggling intelligence and security systems.
Terrorism was not only a European issue but global – and given Australia's widespread interests it was also close to home, he argued. His call for Europe to reinstate internal borders was based on a simple premise:  "If you can't control your borders, you don't know who's coming or going," he said.
But Belgium's ambassador in Australia Jean-Luc Bodson countered, saying while you can have police control within a state, reinstating borders across Europe would come at a huge economic cost.
"Terrorism is a global worldwide phenomenon and is there to stay. There is nothing like absolute security," he said.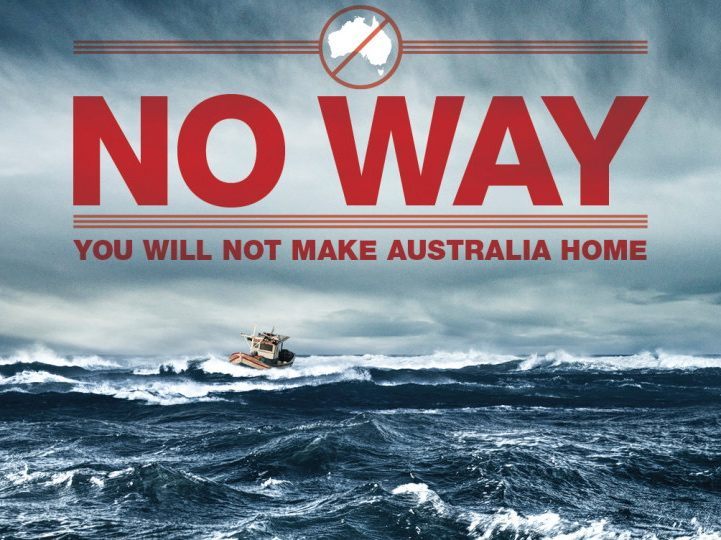 As Breitbart London has reported, Australia has one of the toughest approaches to illegal migration in the world. The country refuses to accept any migrants who do not enter through legal gateways. Migrants who attempt to arrive by boat with the intention of claiming asylum are not allowed to land and are sent to offshore processing centres across the South West Pacific.
Illegal migrants boats intercepted before they enter Australian waters are simply turned around –  by force if necessary – and sent back to their port of original departure.
A broad advertising campaign in neighbouring Indonesia (above right) helps reinforce the message that Australia's borders will not be breached.
This approach has been so successful that last August, Australia marked one full year without a single illegal migrant entry. That record has been held in the period since.
Follow Simon Kent on Twitter:

Follow @SunSimonKent

or e-mail to: skent@breitbart.com