The Financial Times (FT), one of the world's most influential economics and finance newspapers has splashed its front cover this morning with a still from the video from the Florida rally at which former Breitbart reporter Michelle Fields alleges that she was the victim of "battery" at the hands of Corey Lewandowski, the campaign manager for Donald Trump.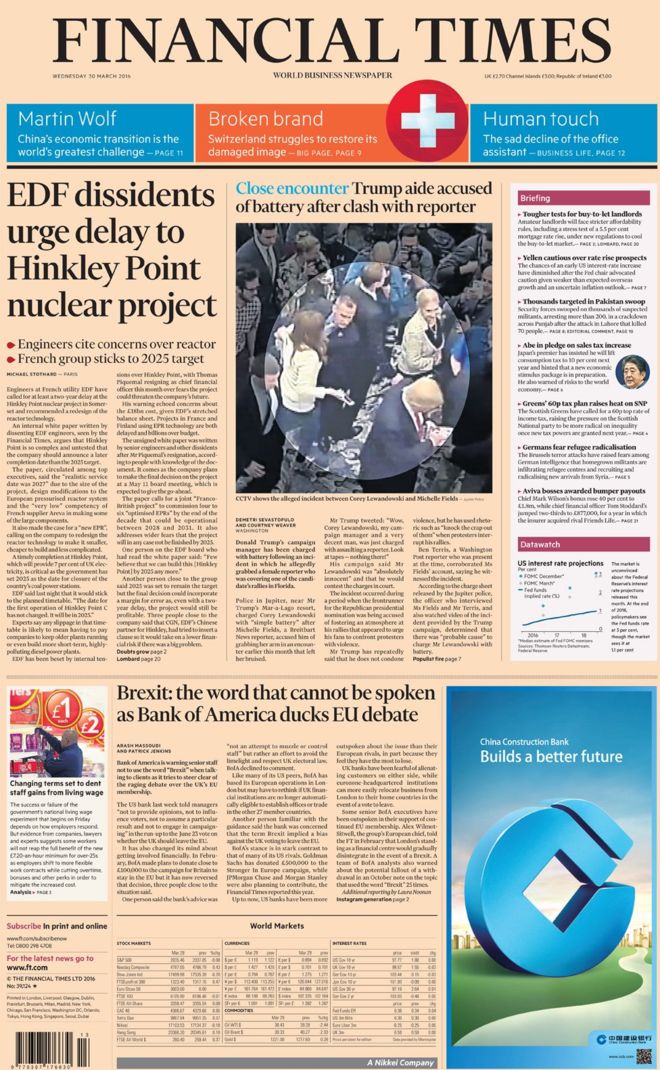 While the financial world is burning, the FT decided its front page story today should include a blurry still picture of the incident, as well as a dual-authored, 500 word report from Washington, D.C. reporters Demetri Sevastopulo and Courtney Weaver on the topic.
The FT story reads:
Donald Trump has defended his presidential campaign manager after Corey Lewandowski was charged with battery following an incident in which he allegedly grabbed a female reporter who was covering a rally in Florida.

Police in Jupiter, Florida, charged Mr Lewandowski on Tuesday with "simple battery" after a complaint from Michelle Fields, a Breitbart News reporter, who accused him of grabbing her in an encounter that left her arm bruised.

Speaking to reporters, the Republican frontrunner rejected claims that a video of the incident showed that his aide had manhandled the reporter and made clear that he would not fire him. "I don't discard people. I stay with people," he said. "That is one of the reasons I am the frontrunner by a lot."

Earlier on Tuesday, Mr Trump tweeted: "Wow, Corey Lewandowski, my campaign manager and a very decent man, was just charged with assaulting a reporter. Look at tapes — nothing there!"
The full report can be read, behind a paywall, here.
The website claims that "High quality global journalism requires investment" before asking its readers not to copy and paste its content.
Questions will be raised as to whether or not the FT is currently receiving the level of investment required to produce "high quality global journalism".