A Muslim Police Chief Inspector for Greater Manchester has indicated that, according to his understanding, "Freedom of speech does not mean freedom of offending culture, religion or tradition".
Chief Inspector Umer Khan made the statement on social media this weekend, and was immediately questioned by alarmed free speech campaigners.
He then apologised to those defending the right to be offensive for any "offence cause", and argued that, "free speech should be used to promote tolerance & respect all."
"[The statement regarding free speech] was a thought after a moving visit to Auschwitz", he added.
When asked if Mr. Khan and the police force generally support the right to offend religious beliefs, the Greater Manchester Police press office told Breitbart London: "I don't think we support anyone who would want to say anything offence[sic]".
"It's a storm in a tea cup… It's about promoting tolerance, freedom of speech, that's all he meant with it. He didn't mean for it to be taken in an offensive way at all… it's ironic, freedom of speech is what he's now getting in trouble for", the press office added.
A Greater Manchester Police Spokesperson added in an official statement: "A GMP Chief Inspector made a post on a personal Twitter account which has been taken out of context. 
"He has apologised for any concern caused, which wasn't the intention and has deleted the post."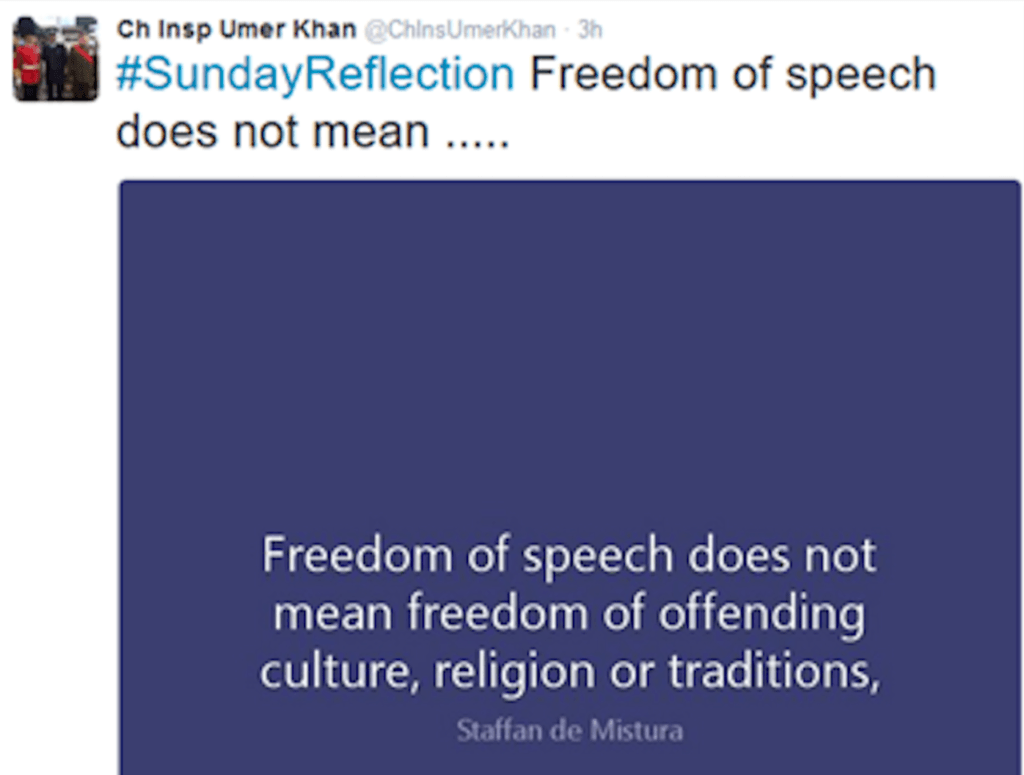 Speaking at the Jewish representative council of Greater Manchester last year, the senior Muslim police officer warned that religious tension was increasing in the city, and said police would tackle perceived "hate speech".
"I am proud to be a police officer working in Greater Manchester and proud to be a Muslim. We all need to respect each other's religions", he said.
Continuing: "Sadly, what is happening in other parts of the world is now coming to impact on the streets of our local communities where we like to think there is supposed to be peace, harmony, respect and tolerance.
"Over the last few years I have seen an increase in tensions between different communities and there have been massive increases in hate crime [against both Muslims and Jews]", he said.
To tackle the perceived "hate speech", Mr. Khan explained how Greater Manchester Police have launch a 'We Stand Together' campaign, which has been promoted alongside a phone app to make reporting perceived "hate crimes" easier.
However, a writer at the Godless Spell Checker blog, which first reported Mr. Khan's tweet, gave a well rehearsed argument for why "offending'" religion is important, and not always a "hate crime".
"Of course, any thinking person knows that [offending dogma is] exactly what freedom of speech means. Speech can never truly be 'free' unless it includes the right to say things some people may not enjoy hearing.
"Indeed, the right to 'blaspheme', mock sacred cows and challenge taboos is what has led to progress in any civil society. The price for this has always been 'offense'. And the great thing about 'offense' is that it's cheap.
"By Umer Khan's understanding, we are not free to offend people who endorse FGM, denigrate gay people as 'sinners' or think the appropriate punishment for adultery is death by stoning. It's their 'culture', 'tradition' and 'religion' after all."
Mr. Khan has been a police officer for more than twenty years, yet this re-interpretation of free speech comes at a time when British police are increasing their efforts to prosecute any "offensive" posts made on social media.
Just this week, a man from North Lanarkshire was arrested and detained for making a comedy video of his dog acting like a Nazi. According to the Daily Mail, police said the arrest should be a warning that videos which cause offence will not be tolerated.
In April this year, Glasgow Police threatened social media users, ordering them to be "kind" and not "hurtful" unless they wanted to "receive a visit… this weekend".
The force also investigated the provocative conservative commentator Katie Hopkins for an "offensive" joke about a Scottish nurse being treated for Ebola.
In February this year, Scottish Police arrested a 41-year-old man under the Communications Act after receiving a report of a supposedly "offensive" comment made on Facebook regarding Syrian migrants.