ITV – the news company which hosted the Cameron vs. Farage town hall discussions this week – has been caught attempting to exclusively seek "mature" voters to debate students in an attempt to portray the Brexit campaign as old, grey, and anachronistic.
Breitbart London has seen e-mails from ITV producers sent to 'Leave' activists asking to be put in touch with older voters for a debate on Britain's membership of the European Union. Campaigners say this is an attempt to portray one side as young and dynamic, and the other side as tired and outdated.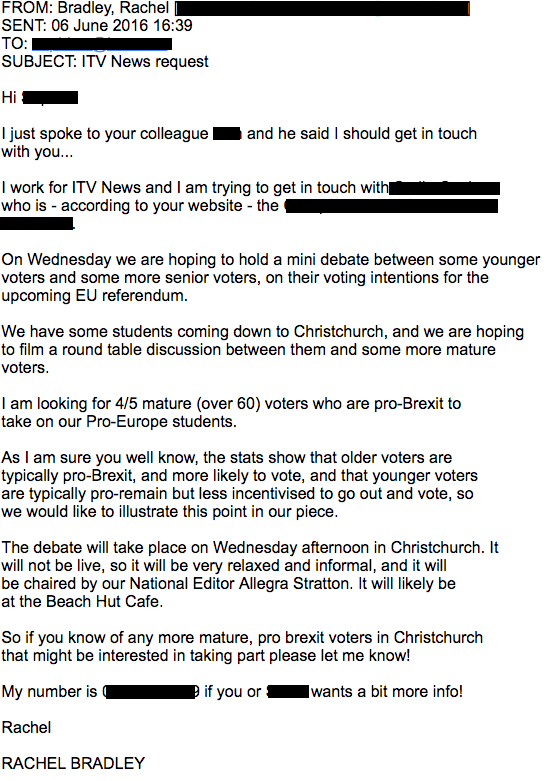 The e-mail from ITN producer Rachel Bradley said: "I work for ITV News and I am trying to get in touch with [REDACTED] who is – according to your website – the [REDACTED].
"On Wednesday we are hoping to hold a mini debate between some younger voters and some more senior voters, on their voting intentions for the upcoming EU referendum.
"We have some students coming down to Christchurch, and we are hoping to film a round table discussion between them and some more mature voters.
"I am looking for 4/5 mature (over 60) voters who are pro-Brexit to take on our Pro-Europe students."
Speaking to Breitbart London, one Leave campaigner contacted by Ms. Bradley said: "I was contacted yesterday by an ITV journalist asking if I could provide her with – VERY specifically – "older pro-Brexit voters" to go up against "young pro-EU voters" in a debate in Christchurch. Dirty tricks."
Another said: "I'm inclined not to help with the whole set-up as they intend. Here I am, 34, massively involved in leading the [REDACTED] campaign but [Rachel Bradbury] wants only older voters."
The news comes just one day after Breitbart London revealed that ITV producers reached out to black activist Imriel Morgan to have her ask Nigel Farage a series of aggressive, non-referendum related questions during the ITV debate on Tuesday night.
We then revealed how Ms. Morgan was a long-standing Remain supporter, with a history of writing for left-wing news websites.
ITV were only able to secure the Prime Minister's appearance after promising he would not have to debate head-to-head with Mr. Farage.
ITV told Breitbart London: "The ITV recruitment team reached out to scores of organisations and community groups in finding an audience for this programme. Imriel Morgan was recruited in exactly the same manner as all other members of the audience. She is not an active Leave or Remain campaigner, nor an employee or office holder of a political party. All members of the audience were invited to submit questions to the programme."
An ITV News spokesperson said: "As is standard practice in a newsroom, we research a number of ideas each week – some make it to air while others don't. In this instance, the idea was not developed for broadcast."