Council of Europe Ambassador and Amnesty International representative Bianca Jagger has tweeted out a web link attacking critics of embattled Labour Party leader Jeremy Corbyn for being black or Jewish.
The link, which directs to a Neo-Nazi website called Metapedia, describes Iraq War-supporting Labour MPs as "negros" and "Jews", with Oona King MP listed as "Judeo-Negress hybrid".
Ms. Jagger – the ex-wife of Rolling Stone Mick Jagger – took to Twitter at 4am last night to post links to a list of Labour MPs who voted in favour of the Iraq War. The tweet came as many in Labour's parliamentary party begin to mount a leadership coup against the long-standing hard-left activist and recently anointed leader Jeremy Corbyn.
But the list also makes reference to the sexuality, race, and religion of Labour MPs in favour of the Iraq War.
Of Clive Betts MP it says "Openly homosexual", while next to Chris Bryant MP it reads: "Infamous homosexual exhibitionist, brags about loving "rimming" and "fisting"".
Ivor Caplin's entry comes with the note: "Jew." while Claire Curtis-Thomas's record says "Married to a Jew."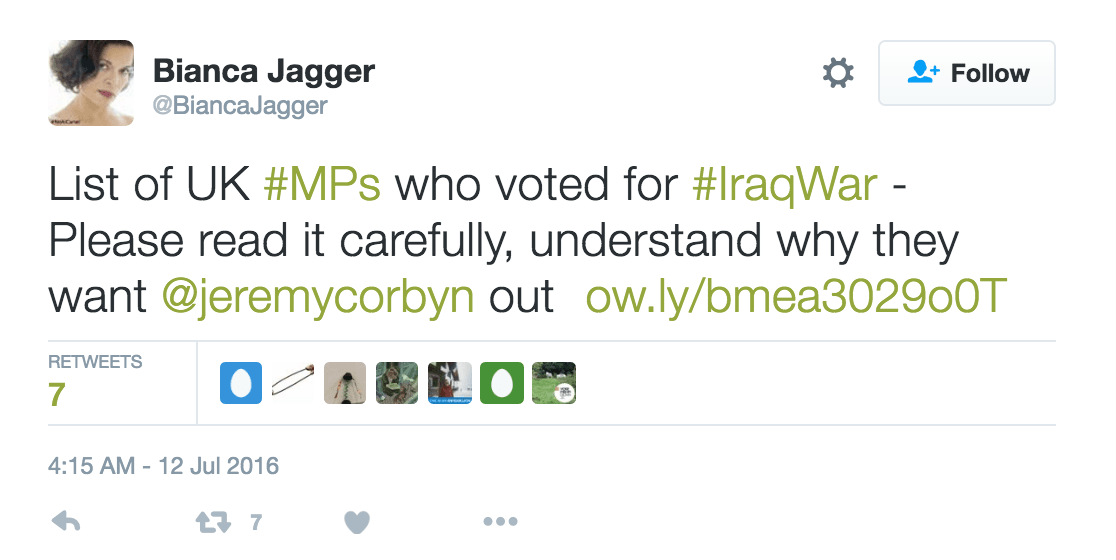 Ms. Jagger's actions, had they been taken by a UKIP or even Conservative Party donor or activist, would have probably led to headlines in major UK news outlets.
Instead, Guardian journalists Hadley Freeman and Patrick Wintour urged Ms. Jagger to pull her tweet. Ms. Freeman told Ms. Jagger via Twitter, "you're better than that".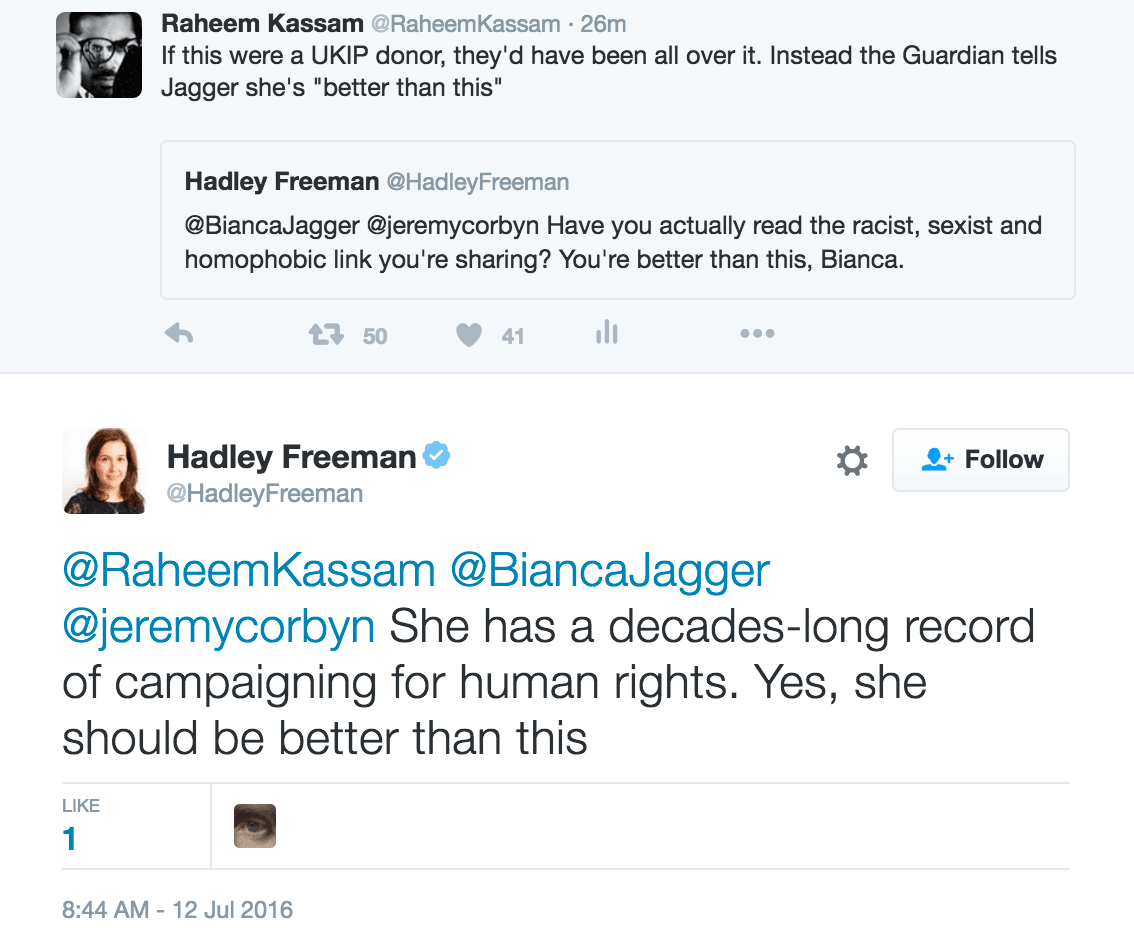 When quizzed on the soft-touch approach, Ms. Freeman told Breitbart London that she was going on holiday and therefore too busy to alert her news desk or file copy herself. She also insisted she had "told off" Ms. Jagger for the tweet.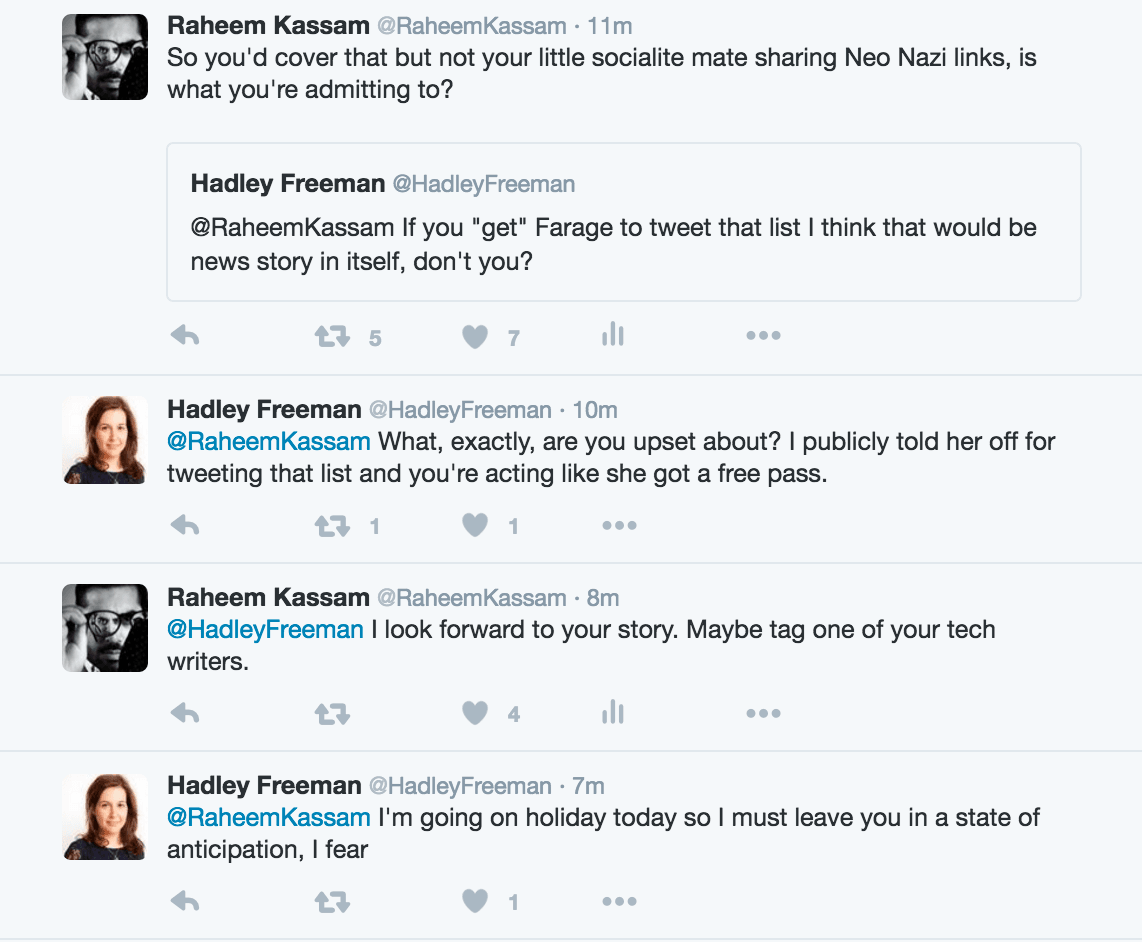 Ms. Jagger woke up this morning to a few hundred tweets claiming to be disgusted at her use of the Metapedia site.
She issued an apology in a statement that read: "I am mortified about the terrible mistake I made. I posted a tweet at 4.15am without reading the unspeakable contents of the website. I thought I was posting a straightforward list of UK MPs who voted for the war in Iraq, and I scheduled the tweet this morning. If you follow me on Twitter, you will know that I campaign against racism, xenophobia, bigotry and homophobia constantly. The contents of this website is not something I would endorse. It was a terrible, terrible mistake."
Her next tweet down reads: "If Labour NEC prevents @jeremycorbyn from participating in the #LabourLeadership ballot, I fear all hell will break loose #BlairiteCoup".
The news comes just a few months after she called for a 'non-violent revolution' in the Guardian itself. In the same month she wrote a critique of Brexit campaigners for the Huffington Post. Ms. Jagger is also an anti-fracking activist, as well as having worked with the hard-left 'Stop The War Coalition', and anti-Israel groups.
The incident will perhaps at least shed some light on how close the hard-left are associated with what they deem "fascism" or "far right" themselves.
Labour recently undertook an internal review into anti-Semitism within their own ranks, and Remain activists have routinely targeted Leavers with abuse over the past few weeks and months surrounding Britain's European Union referendum.