Members of UKIP are overwhelmingly right wing, happy with the direction the party is going in, and opposed to moving left to attract new voters, a YouGove poll has revealed.
Asked which direction the next leader should take the party in, around three quarters (73 per cent) said they wanted the party to stay on the right or go further to the right, compared to less than a quarter (22 per cent) who wanted it to move to the center.
The membership, YouGov concluded, firmly considers the party to be ideologically situated in about the right place on the left-right axis.
Announcing her leadership bid this morning, former Tory councilor Suzanne Evans said UKIP was "toxic" and promised "broaden" its support by moving to the center.
The poll revealed, however, that six in ten members believe ideological conviction was more important than compromising for electoral gain. Only 22 per cent were prepared to scrap favored policies in order to attract new voters.
Leadership favourite Raheem Kassam, meanwhile, has said he wants to keep the party on the same track and in line with the membership's views. For this, Mrs. Evens said he was "far right", adding: "Our members don't want that."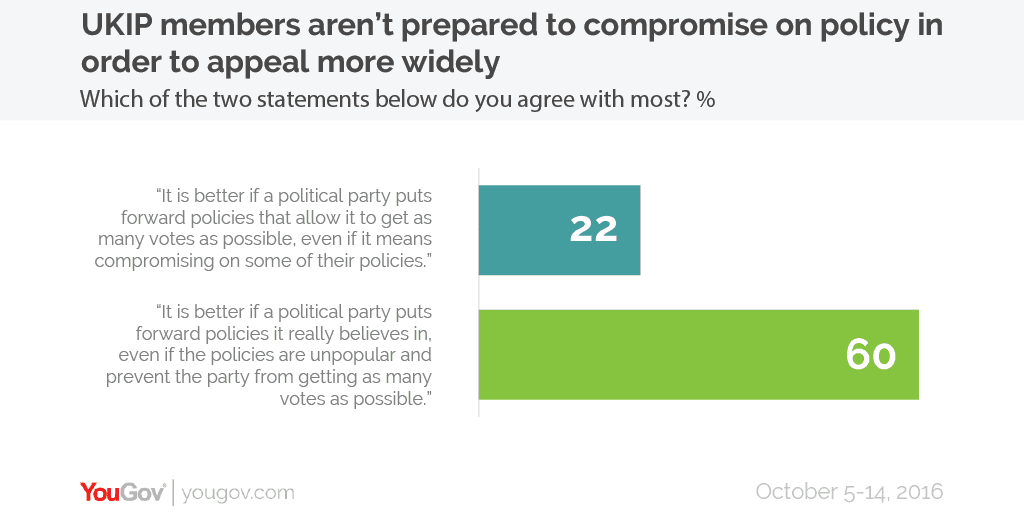 On how they politically identify, more than two-thirds of UKIP members (69 per cent) said they were on the right or right of centre, whilst just nine per cent consider themselves on the left.
More than 10 per cent consider themselves to be "very" right wing, whilst about half consider themselves to be either "slightly" or "fairly" right wing.
Members are more focused on Brexit and immigration than the general public. Three-quarters (76 per cent) think Brexit is a top issue, and 81 per cent consider immigration similarly – 34 percentage points more than the general public.
Members also believe the party is here to stay and should be aiming at Westminster after the Brexit vote. Nearly nine in ten (87 per cent) see no reason for the party to disband upon Britain's withdrawal from the European Union.
They are ambitious, too, with Party members believing they are on course to win 24 per cent of the vote at the next general election – almost double the 12.6 per cent they achieved in 2015.