Around 60 protestors gathered outside the U.S. Embassy in London last night to lodge their objection to the election of Donald Trump as the 45th President of the United States of America.
Chanting "black lives matter", "refugees are welcome here", and "Donald Trump has got to go", the small crowd waved placards showing Trump sporting a Hitler moustache and swastika, and gave short speeches.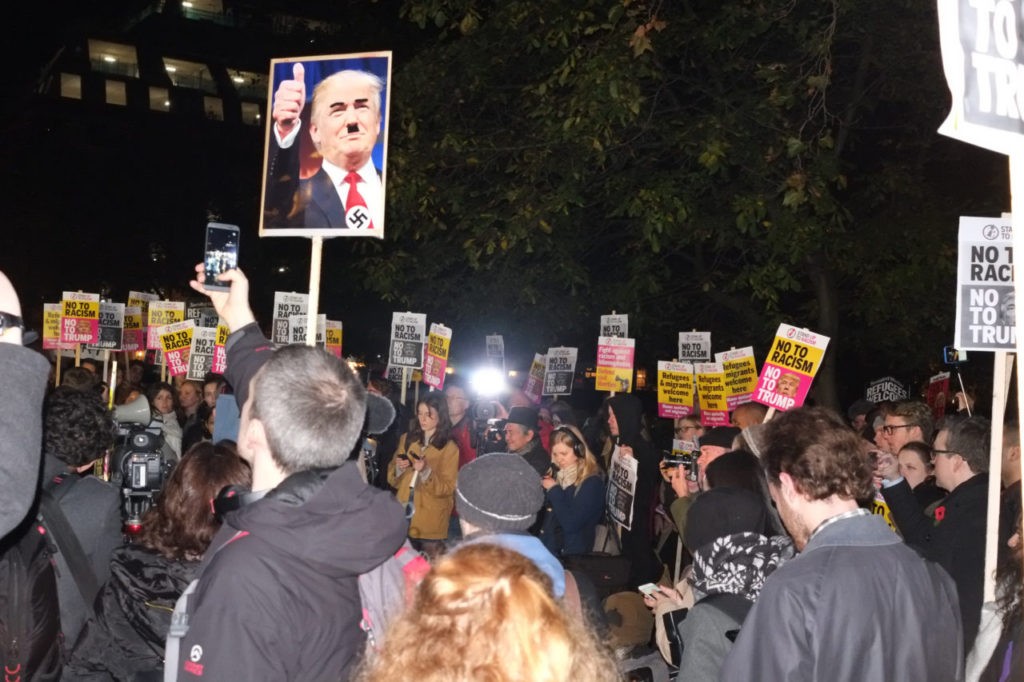 One white male protestor laid the blame for Trump's presidency on "old white people", who are "deciding the future" even though they "haven't got a lot of future left."
Claiming to speak "on behalf of all angry millennials", he added: "[Trump] may have been elected […] that does not mean we have to make it easy for him."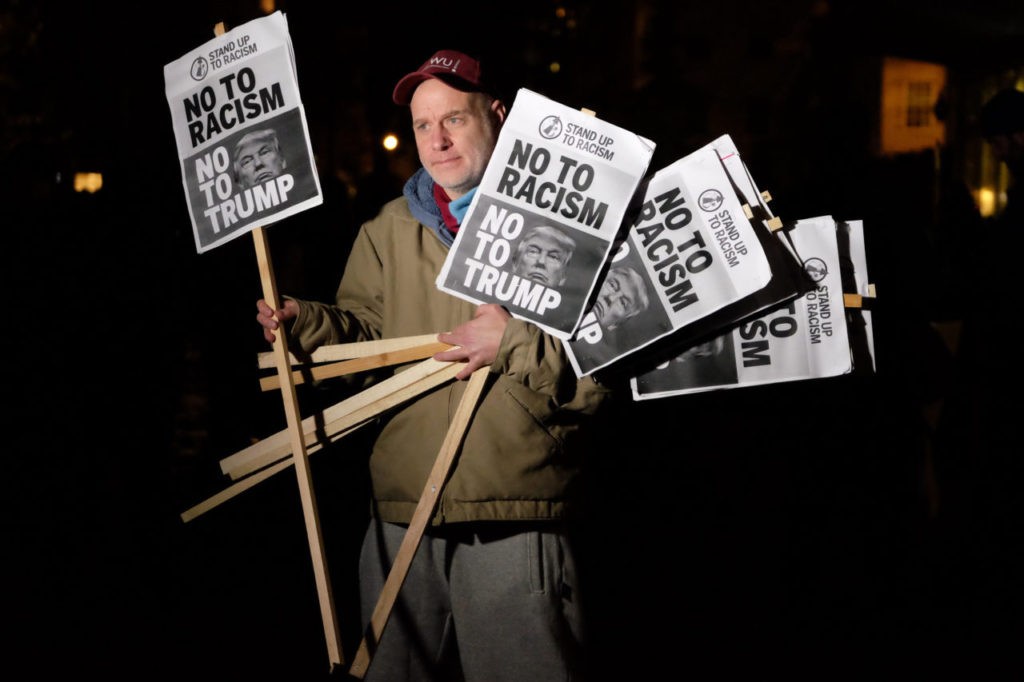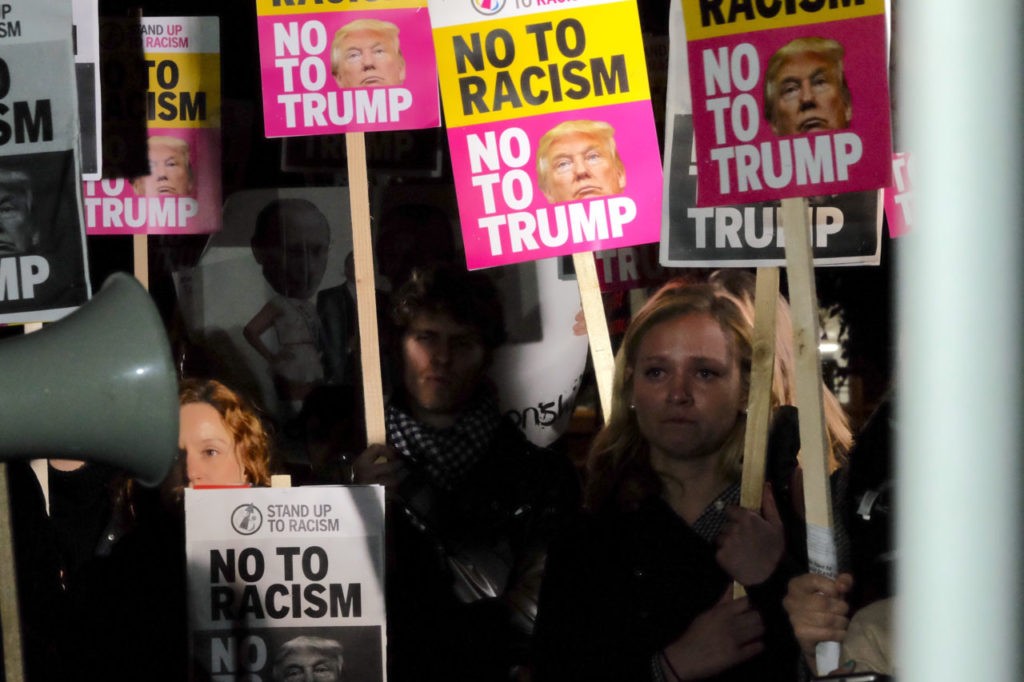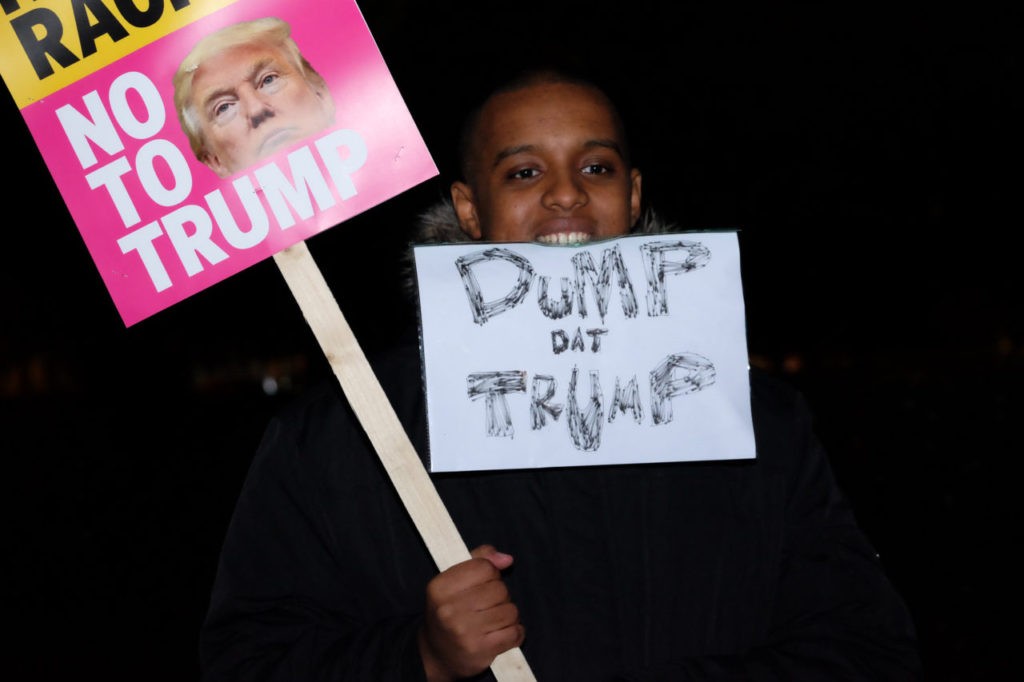 Meanwhile, to cheers and shrieks of delight, a white female protestor told the crowd she was at the rally "to support all the minorities, all the LGBT, all the disabled people, all the Mexicans, all the ethnic minorities, all the black people and all the women, to say that I do not stand with Trump and […] I will never stand with anyone like him".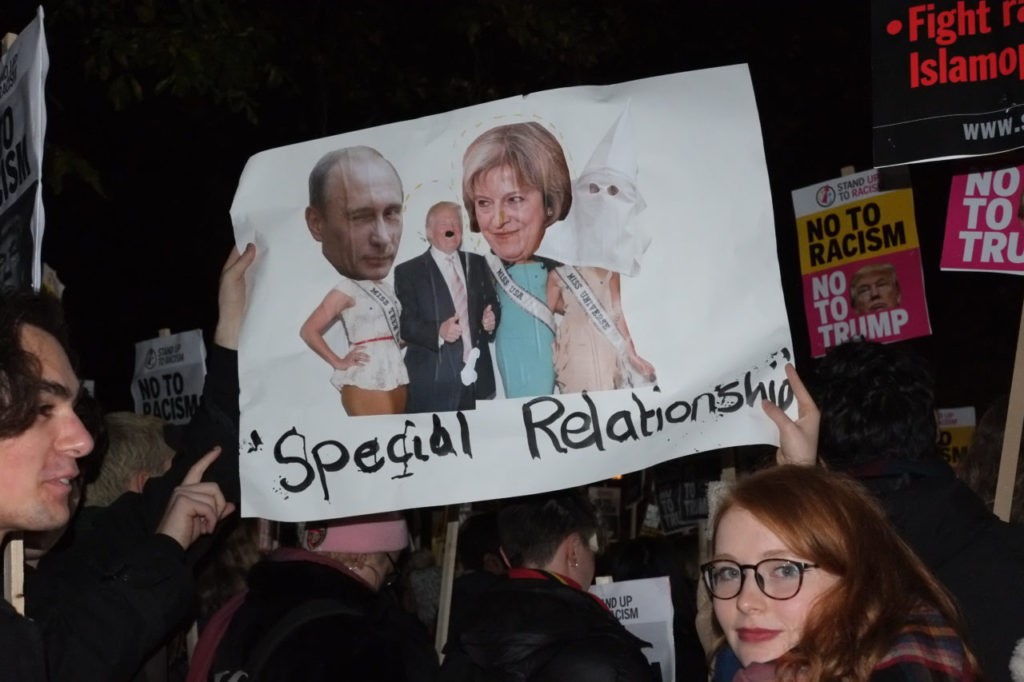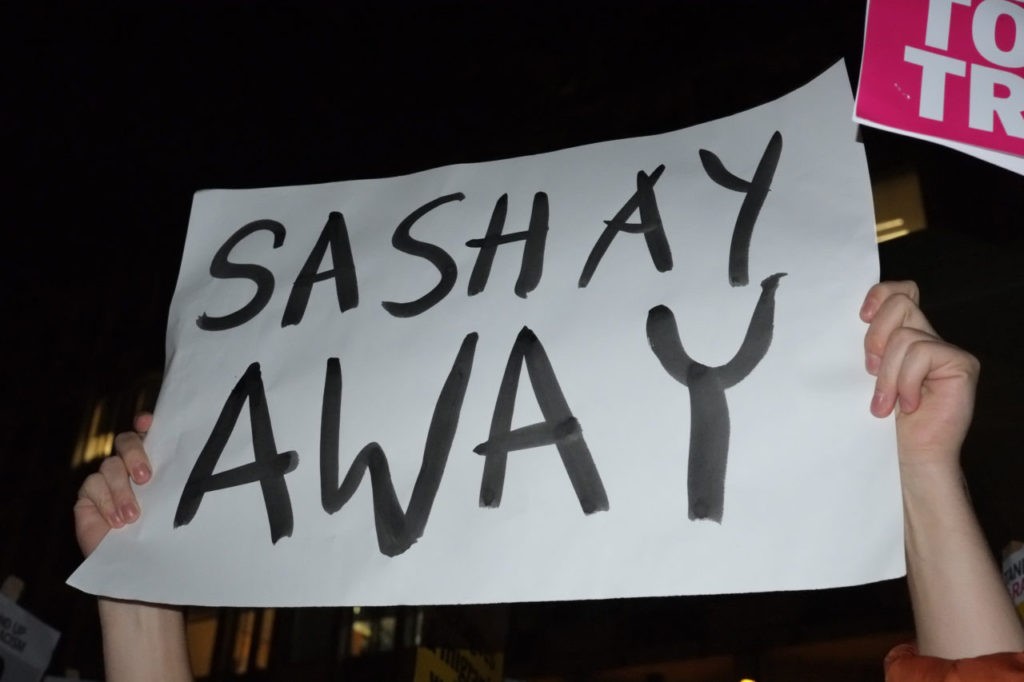 The rally was organised by Stand Up To Racism, a national progressive organisation backed by major trade unions including Unite, Unison, and NUT.
Sabby Dhalu, Stand Up to Racism Co-Convenor, said: "Donald Trump used the oldest trick in the book – he stirred up fear and racism in the context of a stagnant economy and the resulting fall in living standards – to mobilise a vote for him.
"Racism and sexism have been the hallmarks of Trump's campaign. Trump failed to disavow the Klu Klux Klan after it pledged support for him. The danger now is racists across the globe feel emboldened by Donald Trump's victory, and racism and sexism become normalised through the most powerful figure in the world. We call on anti-racists and all progressives to join us tonight outside the U.S. embassy."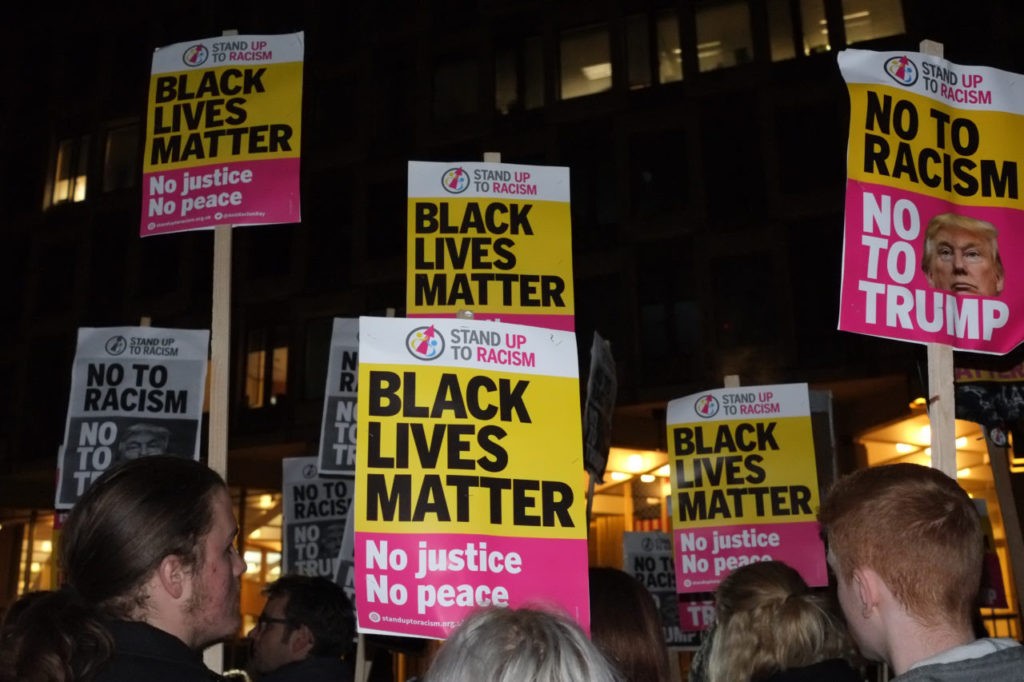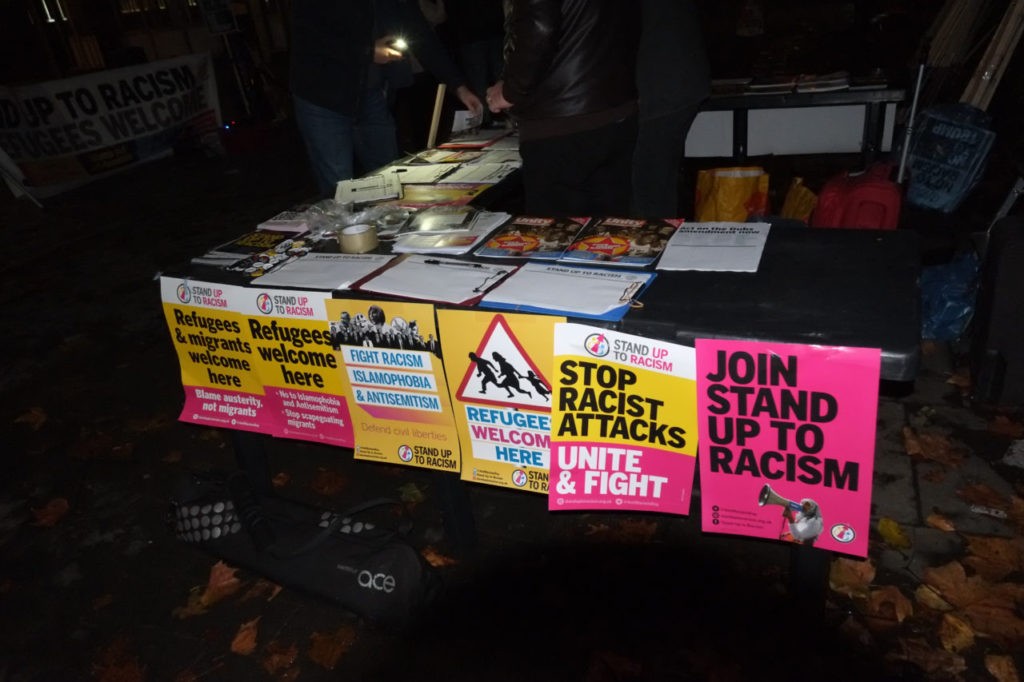 Weyman Bennett, Stand up to Racism Co-Convenor, said: "It's vital that all black and white people come together and oppose the politics of racism and division that Donald Trump represents. We must stand in the traditions of the Civil Rights movement and begin the anti-racist fight back. In Britain, a new anti-racist movement is born."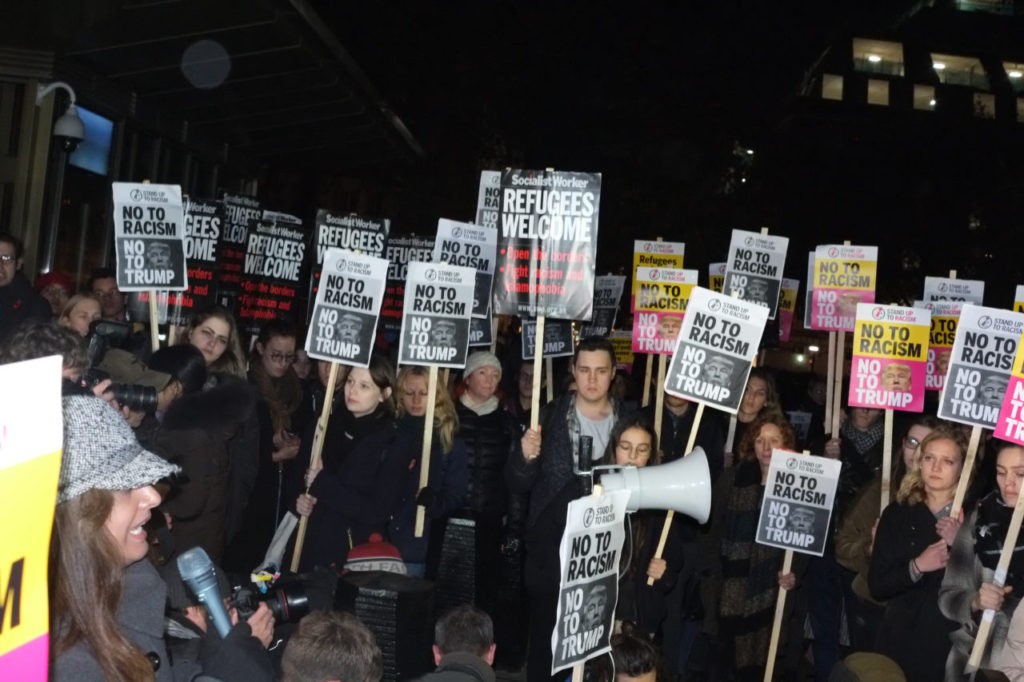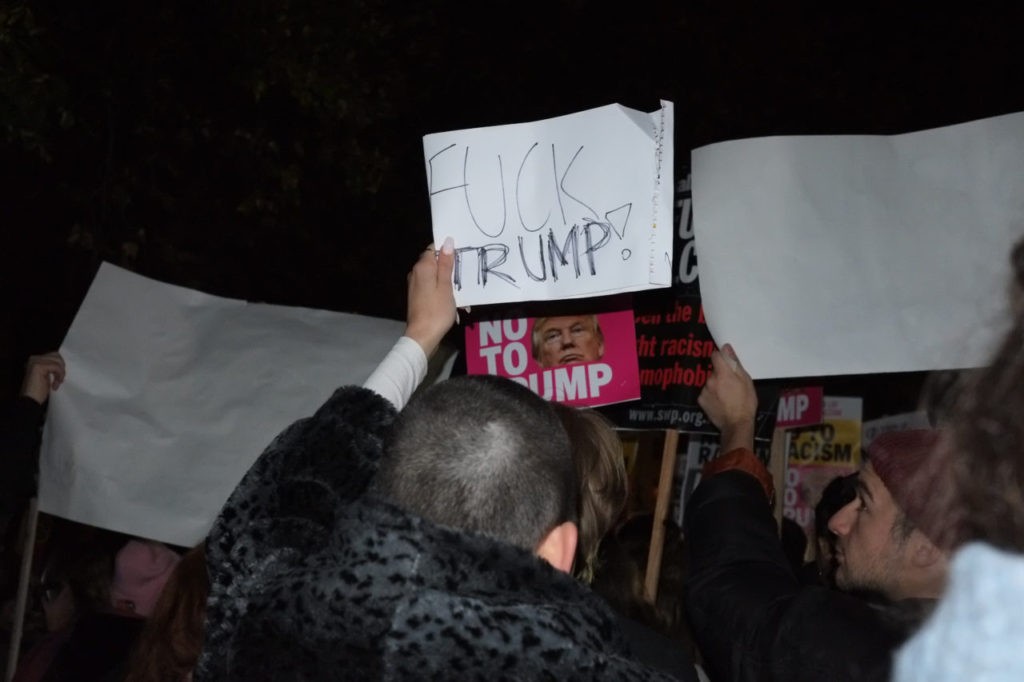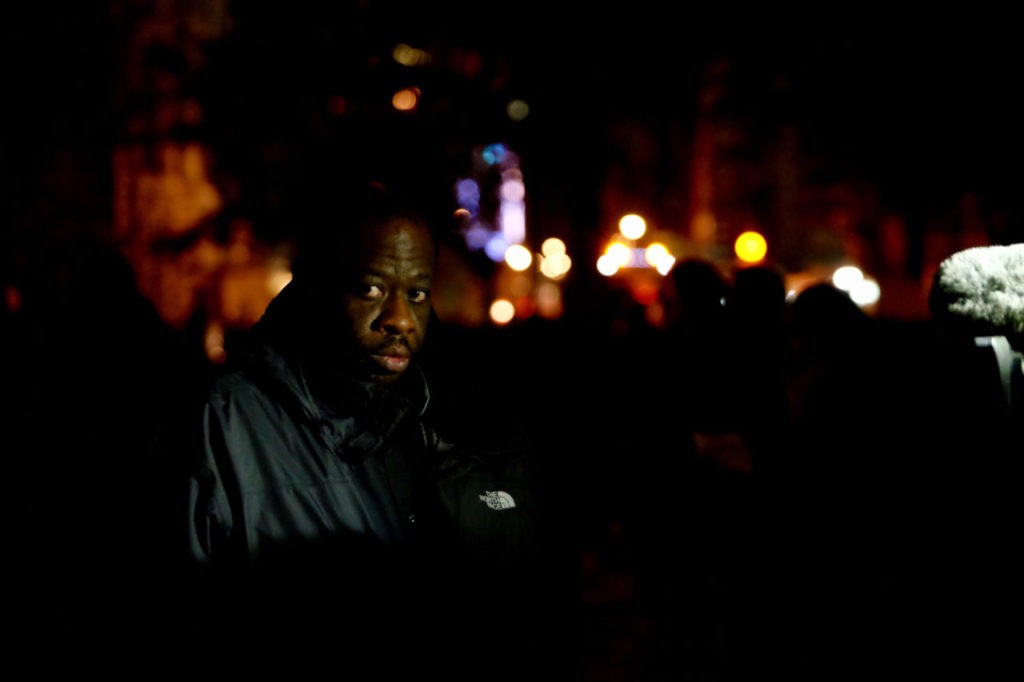 The organisation's recent national conference was addressed by Labour Leader Jeremy Corbyn, among other luminaries of the left.
Stand Up to Racism plans to organise a "mass demonstration against racism, backed by the TUC" to take place ahead of the invoking of Article 50, which will start the process of withdrawing Britain from the European Union.
All photos and video: Rachel Megawhat / Breitbart London
Follow Donna Rachel Edmunds on Twitter:

Follow @Donna_R_E

or e-mail to: dedmunds@breitbart.com