Britain's national broadcaster, the BBC, has dedicated an entire show to mocking the "monster" President-elect Trump and "crass patriotism" while deriding "irrational" voters in the "cultural drip tray" of the United States.
Presented by the left-wing comedian and Guardian columnist Frankie Boyle, the show features a crowd of Americans, who voted almost unanimously that "America hates women" and "anyone in the room" would be a "better" president than Mr. Trump.
However, in the opening remarks to "Frankie Boyle's American Autopsy", the presenter said he "hop[ed] no Americans" would ever be involved in "important decisions" again, adding: "Maybe we just have to accept Americans are irrational."
Throughout the 40 minute-long show, Boyle attacks American voters as stupid, stating: "This is a country of people who not only don't have healthcare – they don't want healthcare, and they're angry if someone offers them healthcare."
He claims Mr. Trump is the "worst mammal" for the job of president, who had "said a lot of mad, racist, and sexist stuff" and "looks like someone playing a president in a porno".
"There were Republican politicians who didn't vote for him – those are some of the worst people in the world – how can you lose them?" he also joked.
Later, he claims Mr. Trump had managed to "create a new low in America – somewhere we pretty much think of as, culturally, as the drip tray".
The panel also took aim at Christians. "If prayer works, they should pray to be less fucking stupid," spat Mr. Boyle.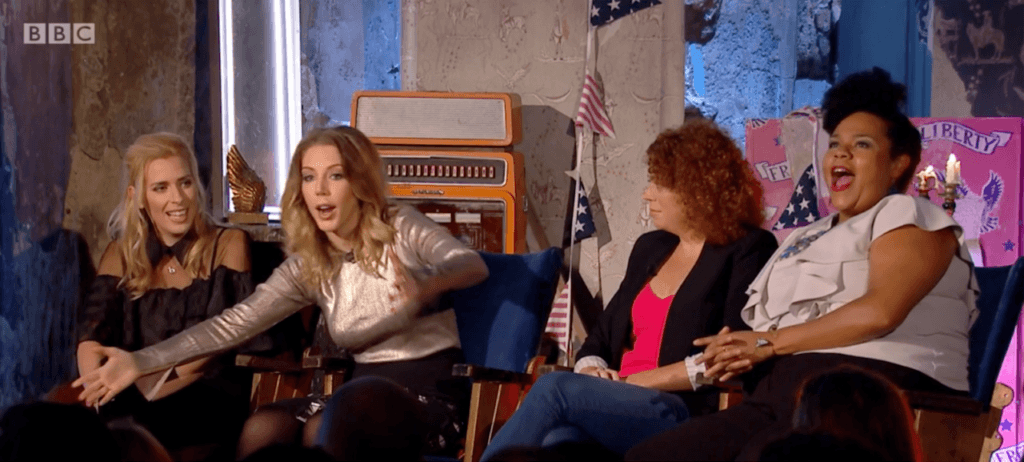 Other jokes included: "What's the difference between Trump and Islamic State? It's a beard."
And: "Do you remember when you thought that George Bush was the bottom… a guy who's so stupid that he can't really speak… [Mr. Trump] doesn't really have policies – they're more the sort of things a drunk would say on a bus when he gets shaken awake by a pothole."
There were just a handful of jokes during the programme, aimed at Hillary Clinton.
Mr. Boyle was joined by Sara Pascoe, a vegan and fellow left-wing comedian, Katherine Ryan, who regularly appears alongside him on BBC panel shows, and Michelle Wolf from the Daily Show.
Ms. Ryan said she was "gripped and horrified" by Mr. Trump's campaign, while Ms. Pascoe claimed it had given her "an anxiety disorder".
"I think he might do okay, because he's a liar, so maybe he's lying about all that horrible stuff he's gonna do," Ms. Ryan quipped.
She also said that "jail is a much safer place for a woman than Trump's America", in reference to Mr. Trump's now abandoned threat to prosecute Hillary Clinton.
During the show, Mr. Boyle put three "propositions" to a group of roughly 40 Americans in the audience to see if they agreed with his point of view.
Almost all voted for the motion claiming "anyone in the room would make a better president than Trump". The four who disagreed were called "a couple of perverts".
The second proposition was: "America hates women."
"Fifty-two per cent of white women voted Trump, so it might be that 'American women hate women'," joked the presenter.
During the following discussion, Ms. Ryan addressed "privileged" "white men".
She said: "Overall we're winning, I mean, look at us. And this goes for not just women but minorities as well. They can rape us, and beat us, and imprison us, and make more money than us, but we're still nailing it.
"And those men are angry and they hate us," she continued. "And there will be men watching this right now going 'not all men'… fuck you… it's not about you."
"The Islamic State will offer maternity leave before the state of Georgia will elect a woman as Commander in Chief," she added.
All but three of the Americans in the audience agreed that the U.S. "hates" women.
The third proposition Mr. Boyle put to them was: "The entire American entertainment industry should be burned to the ground." He argued that the media was biased and influenced by the U.S. military.