Almost half of Brits believe Donald J. Trump's state visit to the UK should go ahead, significantly more than those who think the Queen should not welcome the U.S. president.
According to a YouGov poll, 49 per cent of Brits want the planned visit to happen, compared to just 29 per cent who wish to see it cancelled. Fifteen per cent did not know.
Despite being in a clear minority, opponents of Mr. Trump's official visit have generated significant media coverage after nearly 1.7 million of them signed a petition against the trip and numerous anti-Trump protests were held across the UK.
The petition, on Parliament's official website, prompted MPs to respond quickly, promising to debate the matter on the 20th of February. The prime minister, however, has already confirmed the visit will go ahead despite opposition.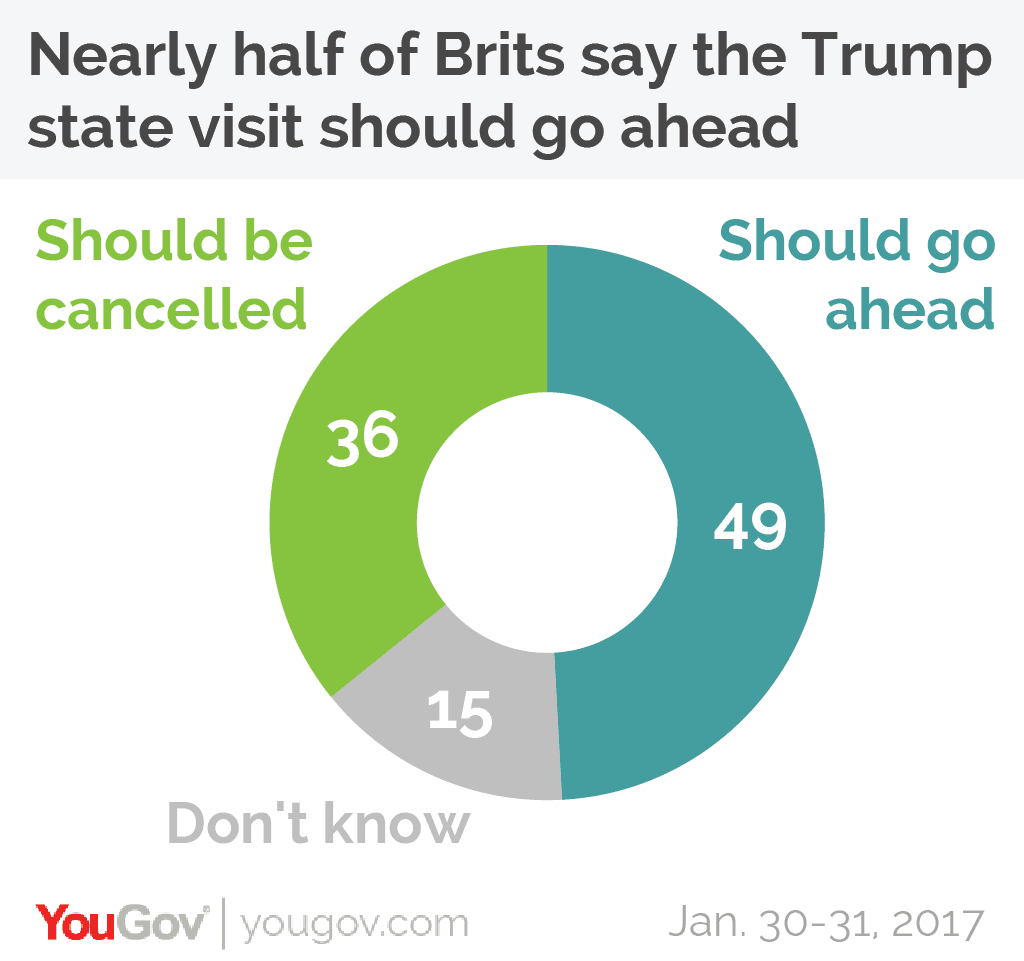 A counter petition, demanding the "leader of the free world" is welcomed because the "U.K. is a country that supports free speech" has garnered just over 200,000 signatures.
MPs are yet to respond to this petition, despite Parliament promising to "consider" a matter for debate if it surpasses 100,000 signatures.
That a minority of anti-Trump voters have been able to attract significant media attention suggests pro-Trump UK voters are more likely to keep their views quiet – similar to Brexit supporters.
According to the poll, UKIP (81 per cent) and Tory (76 per cent) voters are most likely to support the president's visit. People who voted Labour in 2015 (51 per cent) and young people (53 per cent) are the only groups where a majority want the trip cancelled.
Men are strongly in favour of the visit (60 versus 29 per cent) while women are split on the matter, with 39 per cent in favour and 43 per cent against.
YouGov chose to describe Mr. Trump's 90 day pause on immigration from some terror-linked states as a "migrant ban".
When asked what they thought about the "ban", exactly half of Brits said it was a bad idea compared to 29 per cent who thought it was a good one. A further 20 per cent didn't know.