UK Independence party (UKIP) leader Paul Nuttall joined key party spokesmen Monday morning to launch the party's new "integration agenda".
Speaking in Westminster, Mr. Nuttall stood alongside UKIP Deputy Leader Peter Whittle, UKIP Women and Equalities Spokesman Margot Parker MEP, and UKIP Education Spokesman David Kurten.
'@davidkurten speaking now. https://t.co/UZXy3iWvNr pic.twitter.com/FYALEAzor7

— UKIP (@UKIP) April 24, 2017
Among the many policies revealed by the speakers was a temporary ban on new Islamic schools being established, alongside new measures to tackle so-called Trojan Horse Islamist infiltration of those extant establishments. Education spokesman David Kurtan said schools promoting FGM or forcing girls to cover up would be investigated and any schools working with extremist Imams would be taken over by the government.
Schools entertaining anti-Jewish sentiment or boycotting Israeli goods would be investigated.
Yesterday, the party unveiled a number of pledges aimed at tackling Islamic extremism and promote integration, including banning the Islamic face veil and sharia law, which will be put at the centre of their general election campaign.
People with evidence of female genital mutilation will also be bound by law to inform police, and postal voting will be banned, according to the plans.
The burqa ban would put the UK in line with France, Belgium, and Bulgaria where the garment, which covers the entire body including the face, is outlawed.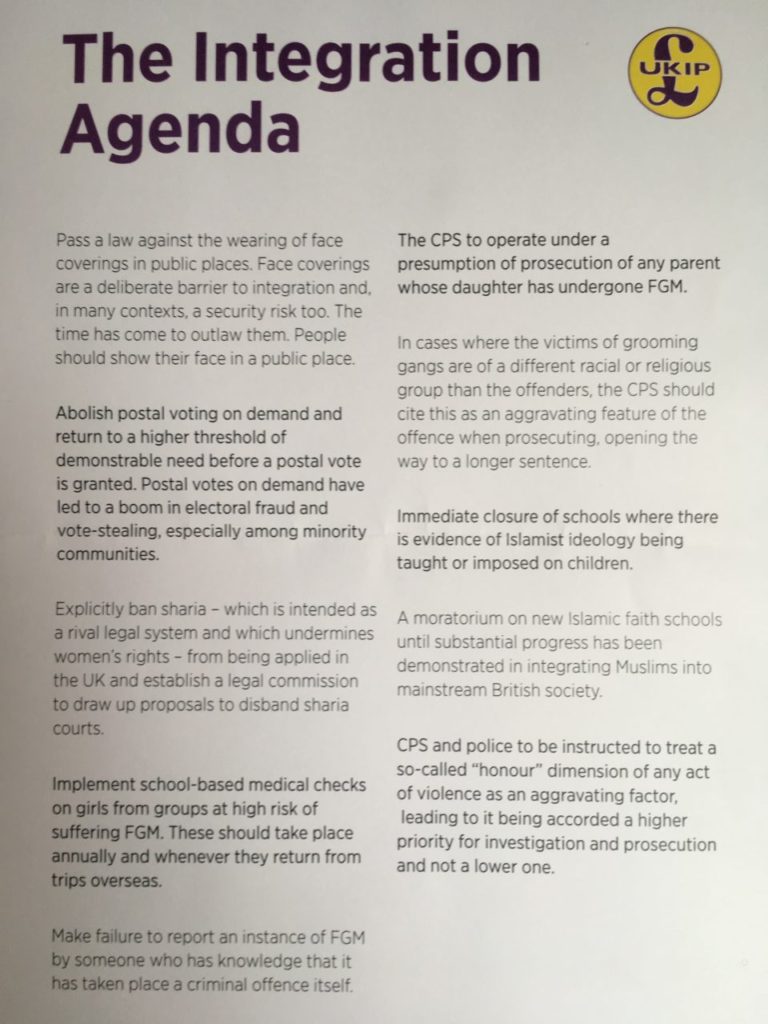 UKIP promised to ban the burqa in their 2010 manifesto, but withdrew the policy for the 2015 vote, choosing to focus on Brexit.
Speaking on The Andrew Marr Show on BBC One, Mr. Nuttall said Sunday morning: "We have a heightened security risk at the moment and for CCTV to be effective you need to see people's faces, because whether we like it or not in this country there's more CCTV per head than anywhere else on the planet.
"Secondly, there's the issue of integration – I don't believe you can integrate fully and enjoy the fruits of British society if you can't see people's faces."
When the presenter suggested Mr. Nuttall was making UKIP into an "anti-Muslim" party, he said the party was, in fact, fighting discrimination by banning sharia law.
"It cannot be right we have courts or councils in this country where the words of a woman are only worth half that of a man," he said. "That has no place in a liberal, democratic, functioning Western democracy."