The UK Independence Party (UKIP) has promised a "radical manifesto" for the general election, but with Suzanne Evans confirmed as the author of the document for the second election in a row, questions have been raised as to how significantly it will differ from the party's 2015 offering.
Launching the party's election campaign ahead of the general election in June, party leader Paul Nuttall told journalists in central London: "The manifesto, this time, will be radical on domestic issues."
But, despite UKIP announcing plans for an "integration agenda" earlier this week, which included policies such as banning the burqa and outlawing Sharia law, Nuttall was quick to steer to safer ground in his launch speech, moving first to attack the prime minister, Theresa May, on her record on Brexit and immigration.
"We are not convinced that the prime minister – who campaigned for Remain in the referendum – will get the deal that the British people want," he said.
"She is already beginning to backslide on immigration … She has said nothing to guarantee our waters and protect our fishermen, and she will not rule out paying a huge divorce bill once we have left the European Union."
Mr. Nuttall then went on to praise the party's 2015 election manifesto, calling it an "an excellent piece of work". He continued: "Suzanne Evans is writing the manifesto once again and is working away as we speak."
Nice day for a manifesto launch. At such short notice how different will it be to GE2015 document @paulnuttallukip #GE2017

— Oliver JJ Lane (@oliver_lane) April 28, 2017
A senior party source told Breitbart London that there was widespread concern about Evans's involvement in the creation of the manifesto. Evans has been seen as a divisive figure by many in UKIP who are concerned that she has been working behind the scenes to water down the party's anti-establishment credentials.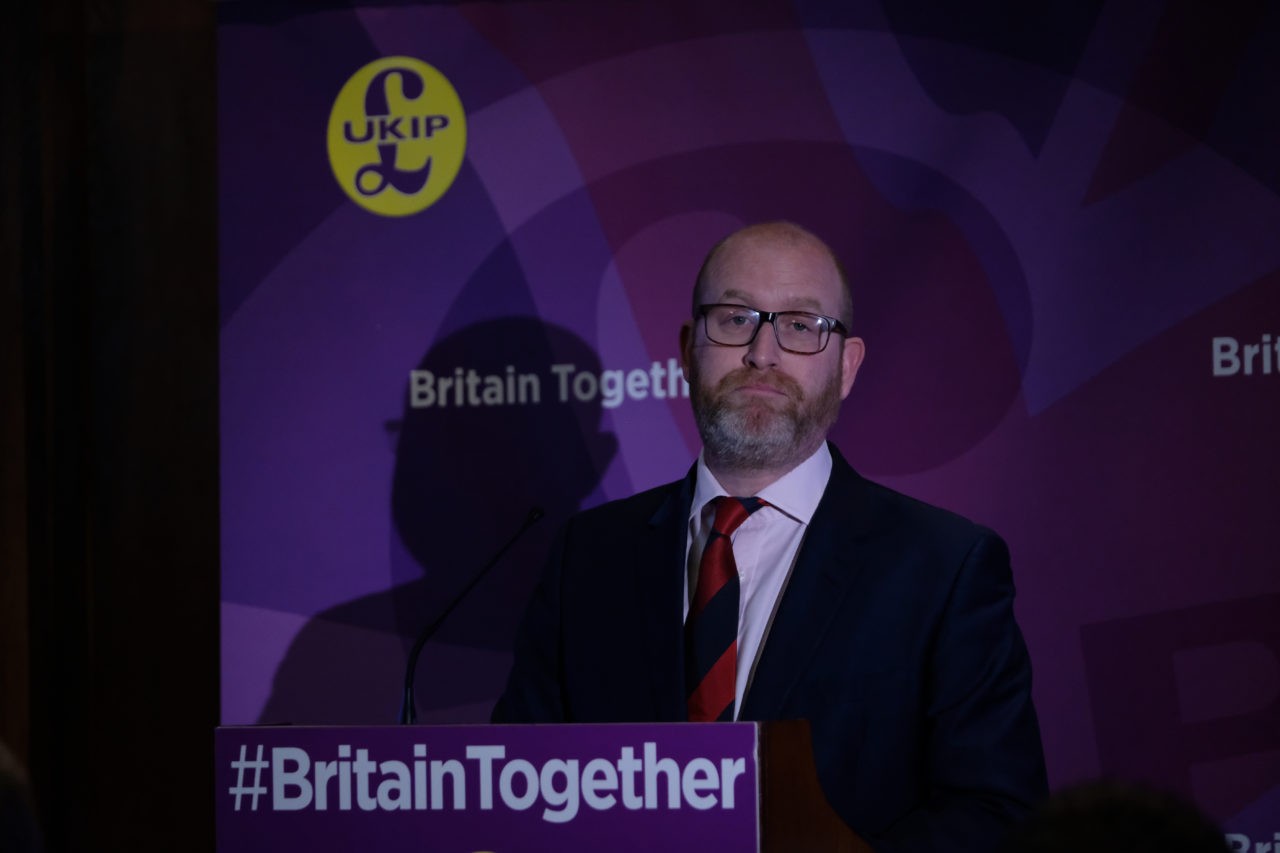 Fielding questions from the press, Nuttall confirmed that former leader Nigel Farage, who for many years acted as the party's figurehead, will once again take a leading role in the election campaign, saying: "Nigel will play a front of house role in this election. You'll be seeing him on TV, you'll be hearing his dulcet tones on the radio – he will be at the forefront of the campaign."
He also denied reports the party would be fielding only 100 candidates, saying "heaven knows" where that information came from, adding: "UKIP is going to cover the vast majority of the country.
"I've said that we're going to stand down in certain seats for true Brexiteers of all political affiliations, but we're talking tens, not hundreds," he clarified.
But he was forced to address the controversy over the integration agenda when a reporter challenged him on the party's record on Islam.
Nuttall denied the agenda was anti-Muslim, saying: "It's not. Actually, it's all about equality. It's all about breaking down barriers. It's all about integrating people into society. Because, as you know, a number of reports recently – [including those by] Trevor Philips and Dame Casey – have shown that integration is failing. Communities are becoming more and more divided.
"I would argue that face coverings prevent people from integrating fully in society. So I see it as a positive move."
The launch was overshadowed by so-called anti-racism campaigners who voiced anger at the party's integration agenda, but the party has defended the policy as merely bringing Britain in line with European nations including France, Belgium, and the Netherlands.
Speaking to Breitbart London following the launch, UKIP's education spokesman David Kurten AM said it was "quite astonishing" that the protesters had picketed the event, and that they clearly had not understood the detail of UKIP's policies.
"To make it clear, we're not against Muslims, we're not against Islam, we're against Islamism, which is this poisonous ideology which tries to teach people … that this country is not to be valued.
"If they thought about what we said and what we stand for, [they'd understand] that we want to do more for women, more for the moderate Islamic community than any other party because we're honest about the issues."